Toyota this week is issuing two recalls affecting SUV models. The first is to fix an ill-fitting battery in older Toyota RAV4s, the second to fix an ill-fitting lower front end in the Grand Highlander.
2013-2018 Toyota RAV4
This is a large-scale recall of over 1.8 million units of the fourth-generation RAV4 SUV. The affected vehicles could have been fitted with a slightly undersized battery that could move under aggressive driving, which in turn creates a risk of a short circuit and possibly a fire under the hood.
Toyota explained via a statement that the recall covers about 1,854,000 2013-2018 RAV4 SUVs. Transport Canada has yet to publish information regarding this recall, and we do not yet know how many vehicles are affected in Canada.
The problem is this: these RAV4s may have been fitted with a replacement 12-volt battery that's slightly smaller in size than the original, and thus fits less snugly in the slot for it under the hood.
"If a small-top battery is used for replacement and the hold-down clamp is not tightened correctly, the battery could move when the vehicle is driven with forceful turns. The movement could cause the positive battery terminal to contact the hold-down clamp and short circuit, increasing the risk of a fire."

- Toyota
Toyota has not said at this point whether it has received any reports of accidents, injuries or fatalities related to the problem.
Toyota is still working on a fix, but it says owners of affected vehicles will be notified starting in late December. The fix will likely involve a Toyota service centre technician replacing the hold-down clamp, battery tray and the positive terminal cover.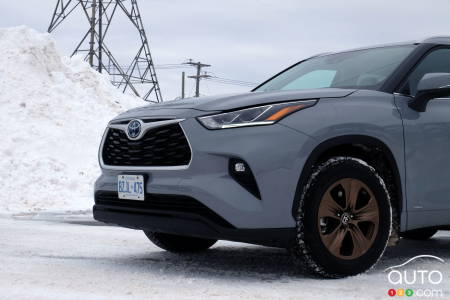 2020-2023 Toyota Highlander
The other recall is actually a follow-up to a recall of 750,000 Highlander SUVs announced last week in the U.S. on this model. Just over 50,000 Highlanders in Canada are being recalled to fix an assembly problem.
Transport Canada's notice regarding the recall explains that the current-generation Highlander's lower front bumper cover may have been improperly attached, at least in some cases. "As a result, if there is a minor impact to the front bumper, the lower bumper cover, engine under cover, and the fender liners could separate from the vehicle while driving."
There's an obvious risk to other vehicles, cyclists and pedestrians in the vicinity if pieces start falling onto the road.
Toyota will soon begin contacting owners of affected vehicles by mail to ask them to visit a Toyota service centre, where the front bumper cover will be inspected and properly secured. If needed, the upper and/or lower front bumper cover will be replaced.