This may be the most difficult review I've ever had to write. I stared at a blank screen on my MacBook for what seemed like hours. It dawned on me that the whole time I had the car, and later when I put fingers to keyboard, I was thinking back to the NSX with a technical mind, and not emotionally as I normally would. What ultimately drove me to this point is that my expectations for this car were unreasonable. Or were they?
The question I ask myself is: Should the new NSX be expected to do what the old one did? As in, send the Italian supercar builders of the time back to their shops to rethink the way they built cars? After mulling it over for several hours, I concluded that I need to consider the NSX as being more of a Honda than an NSX. Remember, the original NSX is considered by many to be one of the most significant sports cars of all time. I'm not sure we'll remember this second-generation NSX as fondly. Or will we?
The new NSX took its sweet time getting here, like a decade, but now that it's on the road, I need to tell you how fast it is and how well it handles. Also, we might as well address who it competes with to judge if it's worth the near $200k asking price.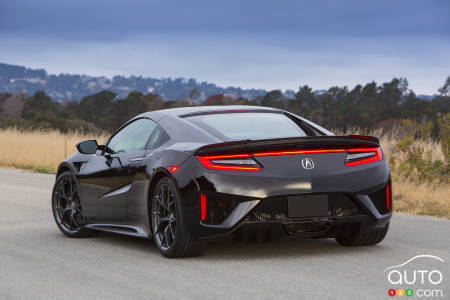 Any shade but black, for design's sake!
We need not discuss the car's styling too much. The new NSX is without a doubt a very attractive car. Its low-slung, wide stance and swooping roofline are every bit as exotic as a Lamborghini Huracán's, for example. Honda went to great lengths to style the car with numerous functional scoops and intakes, and let's not forget the lovely flying buttresses. Unfortunately, my tester's Berlina Black paint scheme camouflages all these efforts. As well, this car was covered in $30k worth of optional carbon fibre, inside and out, sadly all of it invisible.
The snug cabin suffers from the same lack of colour; the layers of black shades do not add class or mystery as an effect. In fact, a good glance indoors could lead you to believe that you're peering into an Accord Coupe. What you do get in the NSX, and not in the Honda, is the signature central tunnel transmission controls. Other than that, the dashboard's general layout is very Acura, that is to say functional. The optional power sport seats are designed for support, be it on a track or while on your way to the office.
My favorite aspect here is the grippy indented steering wheel which serves as the most important reminder that this is a special car. I must say that the available saddle, red or seacoast leathers would have done wonders for the car.
As I drove about, the sense that Honda invested heavily in creating an every-day useable supercar quickly became evident. A conversation can be carried at a normal tone even at speeds above the legal limit; to be honest, it can be very underwhelming. And though the NSX could be used as a means to cross the North American continent, you'd have to tow a trailer behind you. The next-to-inexistent storage and trunk space severely limit how long you can be on the road.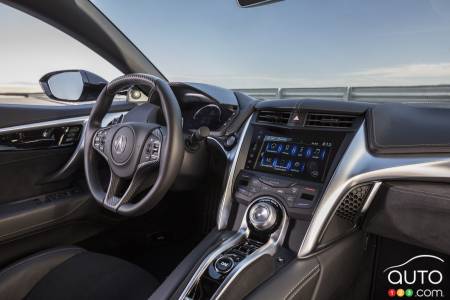 Of course, all of that is secondary, and by a longshot, if your desire is to drive fast. The new NSX is the most technologically advanced car I've ever driven. The only caveat about the drive is that it feels programmed.
Controlling the power
One example comes from repeatedly putting the launch control to good use. Brake, throttle, release brake, go. No matter how often you go through the motions, the results will always be identical. This car is an example of surgically precise engineering.
The twin turbocharged 3.5L V6 generates 500 horsepower and 406 lb.-ft. of torque. The total system output of 573 horsepower and 476 lb.-ft. of torque is the final result when the three electric motors outputs are tallied. As part of the rear transaxle, a direct drive unit slots between the V6 and the excellent 9-speed DCT. Up front, a twin motor unit (TMU), or one motor per wheel, combine to make this new NSX an AWD performer.
There are four ways to exploit the powertrain through the drive-mode selector on the center console. The Quiet mode enables full EV function for about 5km until the charge runs out. Sport mode is your default city-drive setup while Sport+ is destined for speeds, especially on winding country roads. And then there's Track. I lament the fact that there's no Individual/Custom mode, which could prove highly useful.
The active Magnetorheological dampers play a monumental role in the NSX' breadth of talents. They continuously adjust damping forces in fractions of a second, leveling out the worse road imperfections for improved comfort; however they are not perfect. On the track (in Track mode), I found them to be too unyielding, many times limiting the front tires' ability to adjust to directional and load changes. This was mostly apparent when entering a corner under hard braking, causing an understeer situation once the brakes were released and throttle reapplied.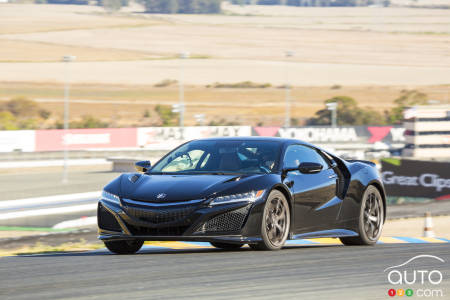 Other than that, the car is as impressive as anyone could hope. Said brakes, optional carbon ceramics here, are epically powerful and a must for anyone desiring to seriously drive their NSX. Here's a bit of trivia: The brake pedal is not connected to the brakes. It's a brake-by-wire system and it has once distinct advantage: there's no interference from regenerative braking. The DCT is astoundingly quick; though not as eerily predictive as Porsche's PDK, it's excellent nonetheless.
The NSX TMU's the real trick, as their individual functionality allows for turning at different rates of speed, thus doing two things at once: killing torque steer and in its stead, creating true torque vectoring up front. The NSX will claw its way away from an apex as though its life depended on it. Under the right circumstances, turn-in is quick and progressive, with good feedback.
Those right circumstances, in my opinion, are twisty country roads. I must confess that the track where the car was evaluated was very tight with constant directional changes. The NSX did not feel entirely at ease; I'm convinced that a faster track would have permitted the car to seduce me further with its skills.
The new Acura NSX is blisteringly fast, capable of repeated 0-100 km/h sprints in just over 3 seconds. It's also able to cruise about in pure electric mode, like a Porsche 918 can. There's no doubt that the NSX is a phenomenal car but I think what made this experience so difficult to assess was that I wasn't looking for a less-expensive 918, I was hoping for an emotional visceral connection to the car. What I got was a cold tool set that did everything I asked of it.
The price, and the competition
At $192,895, the NSX prices itself between heavy-hitting sports cars like the Jag F-Type SVR, Corvette Z06 and GT-R and the likes of supercars such as the Audi R8 V10, the Porsche 911 Turbo S and McLaren 570S. As tested, my NSX retailed for $245,000, lining it up with those last three.
Acura's new 2017 NSX is a sterling example of what Honda is capable of and the result is stunning; however I think they are, once more, ahead of the curve. The NSX may be too perfect, too soon.