You know, I really didn't want to like it. As a car nut who loves talking about how much more rewarding a classic BMW 2002 tii is to drive – cramped, noisy interior, questionable reliability and tinny body panels notwithstanding – than the latest ECU-filled example from BMW M or any other current performance line, the 2017 Lexus RX450h – hitherto part of the bestselling, bread-and-butter model line from a manufacturer that has "driver excitement" and "involvement" pretty far down the punch list on all but a select few models - is not the kind of vehicle that's supposed to get my fizz fizzing.
I don't know what happened, though. Maybe it's because I've gotten a little older and am ready to start a family. Maybe it's because my brain is learning how to better fall into lockstep with my heart's desires. Or maybe it's simply because no matter what you're previous bias may be, the RX450h is just a very…good…car.
Styling leader
I think that one of the biggest reasons I'm feeling this way is just how good the Lexus looks, especially in F Sport form as you see here. Yeah, that hourglass grille comes here in its most outrageous of forms – non-F Sport models get a slightly (but not much) tamer version with horizontal bars as opposed to my car's honeycomb treatment – but it's well complemented by scowly headlamp lenses underscored by hockey stick LED DRLs, aggressively-shaped foglights, multitude of side-panel creases, smoked and spidery 20-inch alloys (ours are the more traditional wheels on offer; others are even more space-agey looking) and folds and Lexus' take on the "floating" d-pillar made popular on Nissan's latest Murano crossover. I've had onlookers comment that, from certain angles, the latest RX doesn't look like an SUV at all, but more a sports wagon or hatch.
And you know what? Remember that enthusiastic old-cars-are-better-looking guy I introduced earlier? Well he agrees and he loves that grille, as it speaks to Lexus trying hard – some may say trying too hard, but not me – to differentiate the brand with aggressive exterior styling, which is not something Lexus has been traditionally known for from its volume sellers. This one? It's all edges and aggressive stance and don't mess-with-this lines. It looks like something from a movie set in the future and it is one of the most imposing designs Lexus has ever created. Like another historically conservative brand, Volvo, Lexus has turned the tables and is now leading the industry when it comes to exterior styling.
Don't forget the traditionalist, though
Thing is, when you start to make drastic moves like that, you're bound to upset the many folks that don't need the flashy grilles or rims or bright colours and indeed, don't really want them either. As you've probably already guessed I'm not one of those people, but it's not hard to understand where they're coming from. That great Matador Red Mica paintjob on our tester? That may not age well or be so trendy three or four years from now. Silver, black or grey colouring, however, will likely never get old and it's hard to grow tired of something when it didn't really inspire you in the first place.
Having said that, I'm sure that no matter what colour you prefer, you're going to like that other part of the traditional Lexus experience: a refined interior with quality materials and plenty of space.
It's wild: the RX may have the proportions of a fast hatch or wagon, but inside it's all SUV. The back seats especially are a sight to behold, providing enough head- and legroom for even the tallest passengers, which is nice to have even if you plan on rarely having anyone but the kiddies back there. Together with the massive dual sunroof it provides an airier interior, and even front seat occupants will appreciate that.
As for the front seaters, they're well-cared for too, with heated and cooled seats (to three levels each), power-recline first- and second-row seating, heated steering wheel , wireless charging and, at 12.3 inches, one of the widest infotainment screens you've ever seen. Its asymmetrical housing is a bit weird, but I guess that just goes with Lexus trying to add a little bit of edge to the interior so it can match the exterior styling.
The driver, meanwhile, gets a heads-up display and way-cool gauge cluster whose main gauge moves left or right depending on what you want displayed in there. It's not fully digitized, but it's pretty close.
Issues? Yeah, there are some; the dash is so deep that you can get the feeling that there's more vehicle in front of you than there is, the driver's seat position is a little high for me – this, of course, is one of the main reasons why so many buy vehicles like this – and then there's the infotainment system.
Unlike the rest of this new Lexus, said system is kind of more old Lexus; outdated graphics are the first thing that send one to that conclusion, but it's the way of moving through the system that is the most grating. Lexus offers a couple of versions of their system – some have touchpads, others (like ours) a joystick – but they all suffer from the same laggy on-screen cursor that all too often snaps to the wrong button.
Luckily, you aren't restricted to that joystick to control the sound system, as there are – mercifully – a set of traditional buttons sitting just below the screen that do the job just fine, thank you very much. The sound system is a fantastic one; 15 speakers of Mark Levinson power with surround sound means that no matter your audio format – AM, sat radio, Bluetooth streaming – the sound is rich and crisp. M & L have become absolute stars in the car audio biz, and their talents aren't wasted here.
A Hybrid with heart
Of course having said all this, you'd think the drive would almost be secondary to the rest of the experience, but you'd be thinking wrong. There's a good amount to like on this front, too, and it actually extends beyond a great, soft coddling ride - though it also does that when asked. It is a Lexus, after all, and that's what Lexi do.
Being of "h" designation – and with the blue-hued Lexus grille emblem to prove it – our tester makes use of Lexus Hybrid Drive, an Atkinson Cycle hybrid system good for a net 306 hp and 247 lb-ft of torque. It does have to be revved a little to really get going – peak power arrives at 6,000 RPM, peak torque at 4,600 – but I was nevertheless impressed by the progress once it got going. This is a large SUV that drives smaller than it has previously, and that's always a good thing.
While you will get the fantastically comfortable ride (as expected) around town, the RX450h is able to tighten up a little in F Sport Series 3 trim, as that provides adaptive suspension that responds to driver inputs and road conditions. To further push the point home, there are actually not one but two sport modes – Sport and Sport + -- that tweak things like throttle input and transmission response, though this being a CVT, there's only so much that can be done in that department. Good that they at least tried, though, and there is a pair of paddle shifters if you'd rather overrule the system and do all the work yourself.
Right below the wheel used to select those drive modes are two buttons, one of which controls EV mode. Now, it's not as if you can just select "EV" whenever you please and get full EV power, as a number of factors are weighed before the system can allow it, chief among them power storage. The car lets you know it, too, basically yelling at you in text form on the gauge cluster that "EV mode is unavailable" or "speed too high". What activating EV does do, however, is force the system to keep the powertrain in full EV mode for longer than it would if you just left it to its own devices. Fully charged, the RX450h can cruise easily past 50 km/h on full EV, making for an even quieter and of course more efficient ride.
The more time I spent behind the wheel of the RX450h, the more I could understand why these things are trading for huge dollars on the aftermarket. Lexus has managed to come full circle with their bread-and-butter crossover (it's the brand's biggest seller in Canada), making it great-looking and surprisingly amenable to a more involving ride, while still maintaining the spaciousness, creature comforts and tech that have made the RX such a popular choice for so long.
Road Tests and Reviews

Experts

Consumers
2017 Lexus RX 450h F Sport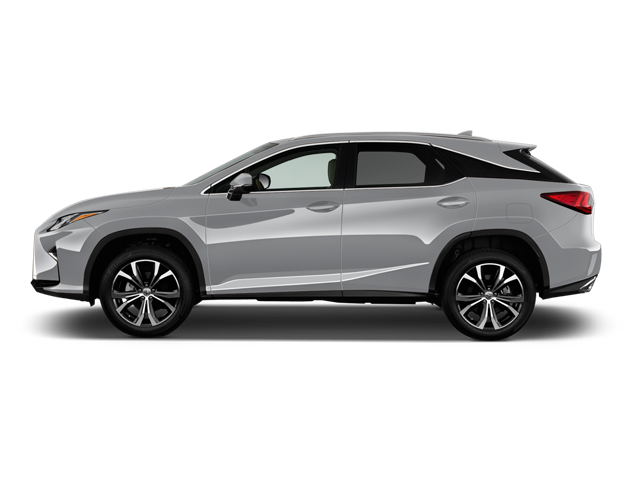 2017 Lexus RX 450h F Sport