"By the way," said my wife, "you look really good behind the wheel of that car."
With that, our post-Canada Day weekend convoy instantly became one of my most memorable. It's not that my wife is light on the compliments – indeed, marrying me is one of the best compliments she could ever have sent my way – it's just the fact that me, with my scruffy hair, ruffled plaid shirt and five o'clock shadow, could still pull off the look of a Jaguar F-Type SVR driver made me feel all warm and fuzzy inside.
Then, of course, I slapped myself back to reality. Of course I look good in this car. André the Giant in full-leotard spec would look good in this car. Tommy Lee Jones as the Two-Face Batman villain would look good in this car. Heck, the Elephant Man himself would look good in this car, because the Jaguar F-Type might just be the best-looking sports car on the market today.
A 2017 facelift saw the bumpers change slightly, the headlights go full LED and the taillights a little crisper looking, a little more 3D. They didn't change much, which is a good thing because the F-Type has always been a head-turner.
Even brighter
My particular Ultra Blue tester with smoked 20-inch wheels hiding bright yellow brake calipers (which pinch optional ceramic brake rotors – they're squeaky, but anchor-like in their effectiveness), is one of the most head-turning cars I've ever driven. I'm honest when I say that – try as I might – I couldn't find a bad angle from which to shoot this car. iPhone, Canon DSLR, disposable Kodak, collodion dry plate – doesn't matter. The F-Type would look good no matter how you shot it, and what with.
It's just so perfect in its edginess; the corners of the two-tone wheel spokes look sharp as a knife, you can picture the pointy SVR-spec carbon auto-adjusting rear wing slicing the air and all the cuts and moulds in the bodywork are spot-on. The functional rear diffuser grounds it all, and Jag has masterfully pulled off the long hood, cab rearward profile. Porsche, Mercedes, BMW and Audi should all take note – this is how you design a car.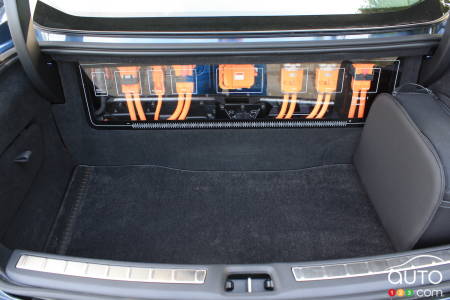 Inside edition
Inside you won't find quite as much flare – actually, you'll find less flare than some other F-Types as the copper start/stop button, shift paddles (an 8-speed auto is your only choice) and drive mode toggle have all been scrapped, replaced by chrome and black examples. The exterior colour-matching diamond seat stitching, however, is a nice feature and now – huzzah! – we have Jaguar-Land Rover's latest infotainment system, which is much more responsive and better-looking than previous. Still no Apple CarPlay or Android Auto support, though, and there isn't even a voice command option -- a pretty glaring omission this day in age. Especially when your car costs north of $145,000.
Best you just settle into the deeply-bolstered (but surprisingly comfortable) sports seat, poke that start/stop button, and the let the car do the talking.

Bark AND bite
Talking? That's a laugh. It's more like a deep-throated, teeth-gnashing possessed yell that becomes a banshee scream if you even dab the throttle. Perfecting the exhaust note was so important to Jaguar that during the car's launch at the 2016 New York Auto Show, they had us journos take one at full-chat through the Park Avenue tunnel to best hear what it had to offer. While I've seen and heard some of my colleagues call it a little immature and over the top, I totally get it. This is a car supposed to recall racing Jags of old – cars that won at Le Mans – and we know how much credence the engineers of those cars paid to noise reduction: somewhere between 0 cares given and maybe a slight tweak to the exhaust baffling – but probably not. This is how a car that looks like this, that makes power like this (575 supercharged hp and 516 lb-ft of it), should sound. Leave the adjustable exhaust note on the quieter of the two settings if you want to. I didn't.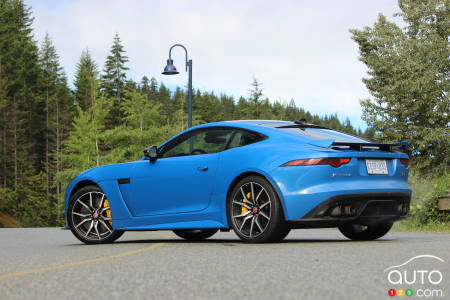 So, with its looks and its noise, it can talk the talk. Can it walk the walk? You bet your britches it can.
In fact, whether you've bet your britches or not, you're going to have to hold on to them. The SVR is available only with AWD, so when you've got it in Dynamic mode and have mashed the go pedal, the blast forward is so immediate and jaw-dropping – a supercharger instead of a turbocharger means much more instantaneous power delivery – that you'll actually have to catch your breath. The only time I've felt acceleration this ferocious in a production car was in the latest Porsche GT2. While I expected it from the Porsche – it is, after all, the most powerful 911 ever – the Jag caught me way off guard.
Of course, if you're going to channel any kind of race car, a quick sprint to 100 km/h is one thing, but it has to handle itself, too.
The SVR gets all manner of lightweighting (Inconel exhaust, plus optional carbon brakes, carbon roof panel and other carbon bits can save you over 110 lbs) and chassis tweaks and to make this all happen, and it makes for a mostly involving ride. You relish every turn you come across so you get a chance to put those fat 265-section Pirelli P Zeros to use. They're up to the task, spiriting you out of any bend with monumental traction.
The suspension is, as expected, firm. Especially on rebound where even in the softer drive settings, the dampers yank the body back town to the tarmac like an aircraft carrier arresting wire does an F-14 Tomcat. It's pretty heady stuff, and it was a lot to handle on one of the bumpier roads I tend to run tests on.
The steering is weighted well, but I did find myself wondering on numerous occasions just what was going on under the front tires. Eventually it comes into focus as the road begins to flow a little more, but it is a little off-putting at first.
Yeah, the steering could use a little work, but…
…it really, truly, hardly matters. There is just far, far, far too much going right for this car. Indeed, the Jag's competition in the form of the Porsche Boxster/Cayman and 911 doesn't suffer from that same affliction, but the Jag makes up for it in so many ways. It's faster than a 911 GTS, it looks better than that car and arguably any other sports car out there and the sense of occasion just can't be matched. It's loud and proud, and it's a supreme effort by Jaguar to show that they can compete with the best the current sport car world can offer.
Oh, and you can get it in a roadster version, too. Watch this space.
Road Tests and Reviews

Experts

Consumers