Entry-level luxury with a surprisingly feisty powertrain. This, in a nutshell, is what you get with the 2018 Lincoln MKZ - which is actually a Ford Fusion-based mid-size sedan but with a significantly upgraded interior, all premium materials and sophisticated tech. That Fusion connection surely reflects the fact that Lincoln's target with the MKZ is the younger, possibly first-time buyer of a luxury-class vehicle. This in itself is quite a change from Lincoln days of old.
Sporting a restyled front end and equipped, in its Reserve edition, with a muscular 400-hp V6 that is one of the more impressive motors to be found in the category, the car is undeniably worthy of the Lincoln name. The base model comes equipped with a 4-cylinder turbo that is responsive enough in its own right. My tester was an all-wheel drive Reserve and I found myself enjoying its positive acceleration and effortless passing ability more than I'd anticipated. No, this is not your Dad's Lincoln, even if its interior is more staid than some of the sportier entries in the segment.
First time in, I did lose a few minutes trying to figure out how to put the car in gear! Don't look for a gear knob or shifter. The buttons are placed vertically on the left side of the central console. It's a change I'm not convinced is an improvement. I never quite rid myself of the reflex of grabbing for a non-existent gear shifter when wanting to shift; when pulling up to a parking spot on a busy street to parallel park, it could get downright annoying. I guess you'd get used to it before long, though after a week I had not.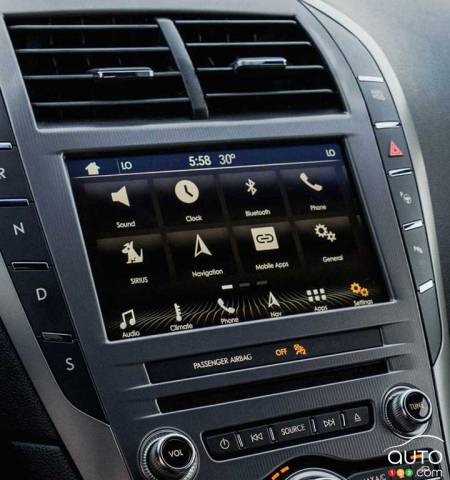 Meanwhile, the Sync 3 infotainment system on the central console's 10.1-inch touchscreen is quickly mastered and easy to use overall. Connecting my phone via Bluetooth was quick and a breeze. The setup is user-friendly and intuitively laid out. The automatic parking assist feature works, if imperfectly: one time out of four it seemed to blithely direct me straight towards a parked car until I applied the brakes. I was more convinced by the lane keep assist and blind spot monitor features, which were effective without being obtrusive or overbearing. I took a liking as well to the adaptive cruise control, which makes it possible to keep the cruise activated in much busier highway traffic than otherwise.
My one significant complaint about the interior of the 2018 MKZ is one that befalls so many models designed in the coupe-sedan mould that is so popular in the industry right now: The sloping roofline certainly helps give the sedan a sleeker, sportier look, and it improves aerodynamic performance, and thus fuel efficiency. But it also makes for a pretty cramped experience in the rear row of seats, even for adults of average height like me. Once I folded myself in there, my head was rubbing the ceiling. Which means that if you plan on putting adults in the back, you might need to ply them with bribes to keep them from whinging. Though if the quality of your bribery is lacking, at least they have heated seats to take their minds off the headliner stroking their hair. What's more, the downy soft suspension will also help prevent the head-stroking turning into painful knocks, even on potholed streets. Of which there are plenty on the streets in and around Montreal where I tested the car. On that front this Lincoln is a true Lincoln through and through, its adaptive suspension easily able to absorb run-ins with road imperfections. Even though the new MKZ is not exactly your Daddy's Lincoln, it still is, a little bit.
The trunk certainly is large, but I've gotten so used to the wide open access SUV hatches provide that I found its dimensions a little impractical. It's so deep that more than once I had to get creative to fish out some items that had settled in a back corner. I used a hockey stick. Speaking of which, the trunk passed the hockey bag test, as in, I could get it in there, though the opening is narrow enough to necessitate some pushing and shoving to make it happen.
Out on the road, the drive it offers is not exactly exalting, but neither is it sleep-inducing – the Reserve's V6 and its 400 horses help make sure of that. The engine hums more than it roars, but it's quite a pleasant hum. Sound insulation is quite impressive thanks to the car's undeniable quality of construction as well as the Active Noise Control system and makes for a serene ride – remember, Daddy's Lincoln and all that…
The Reserve edition of the 2018 Lincoln MKZ comes with 19-inch alloy wheels, the aforementioned choice of two engines and a 6-Speed SelectShift Automatic transmission with paddle shifters on the steering wheel. Inside, the door, steering wheel and instrument panel have real wood trim, and you get a heated, leather-wrapped steering wheel, virtually no hard plastic surfaces to bring you down, rain-sensing wipers, perforated-leather seats, 10-way power-adjustable driver's seat and a ton of other goodies that will make you forget you're kind of driving a spruced-up Ford Fusion.
The base model of the 2018 MKZ starts at just north of $41,000, and for that you get the adaptive suspension, intelligent all-wheel drive, 18-inch alloy wheels, front-row heated and ventilated seats, dual-zone automatic A/C, the 10.1-inch touchscreen, active noise control, 10-way power adjustable front seats, driver seat memory, etc. It's a pretty exhaustive list of equipment most of which you'll be glad to have, and I would say that unless it's really important to you to have the extra punch that the Reserve's 3.0L V6 gives you, this trim might just represent the better buy (the Reserve starts at $46,600).
Stories circulating last year indicated that Lincoln may be discontinuing the MKZ when its current lifespan runs its course, by 2020. There is still no confirmation of this, but if so it will signify yet another victim has been squashed by the steamroller that is the utility vehicle segment. However, its demise might yet be a question of in-name-only: Lincoln may be working on another luxury sedan set to replace it, but with a different name, not with alphanumerics.