Louisville, KY - Along with the launch of the redesigned new 2020 Ford Escape this past week – read our first drive review here – Ford also rolled out its new hybrid version for the occasion. During our recent encounter with the 2020 Escape in Kentucky, we had occasion to test-drive this new hybrid that will certainly please budget-conscious SUV buyers looking to save at the pump.
Obviously, most of the design and interior details of the model's redesign apply equally to the purely gas-fed 2020 Escape we reported on earlier and the hybrid model, so I won't go into detail on what's the same, but rather focus on what's different.
During my first encounter with the 2020 Escape Hybrid, I was happy to note that there's no sacrifice of interior space to make room for the battery pack. The Hybrid also loses no cargo room thanks to that compact lithium-ion battery that weighs 63 kg less than the nickel-metal hydrid item from the original Escape Hybrid, is 17.5 inches shorter and is 18 inches narrower.
As well, the Hybrid version comes with either AWD or FWD and with all the bells and whistles Ford offers for the Escape. That includes the digital gauge cluster because it's required in order to properly display the Hybrid's power-flow meter. Which is actually quite clear and informative, always ensuring with big, bold colours and graphics that you know when power's being used, and when it's being restored. That includes a meter that shows you how much power you regain after every full-stop braking manoeuvre. That's not new for hybridized Fords, but I was nevertheless happy to see it.
The powertrain
Combined output for the Escape Hybrid from both the gas engine and electric motor is 200 hp, in comparison with the regular Escape's base 1.5L engine that produces 181 hp, and the optional 2.0L unit that generates 250 hp. The Hybrid's powertrain includes a continuously variable transmission (the regular Esapce works with an 8-speed automatic transmission).
I was also happy to see what our performance was in terms of fuel economy; we ranged between 6.6L/100 km and 6.2L/100 km, this from an AWD-equipped vehicle with A/C blaring to combat 80-degree Fahrenheit temperatures. We weren't babying it, either; that's tough to do on windy, undulating roads that require numerous acceleration and deceleration inputs, and in any case real-life driving is what we wanted to approach as much as possible to see how his Ford hybrid stacks up against others.
The Escape Hybrid can actually run in full-EV mode as well too, though there's no way to lock it in full EV, or conversely to lock out the EV side to save it for more congested situations when fuel economy takes a hit. That's a shame, because even a little bit of care could mean really optimized fuel economy for drivers motivated enough to do it.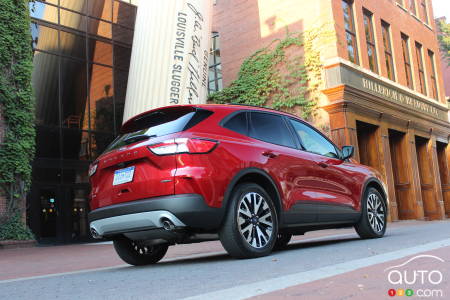 Take note that there is a plug-in hybrid version coming, too (likely half-way through next year), so perhaps then we'll be given a little more control over what the hybrid system is doing.
The pricing for the 2020 Ford Escape Titanium Hybrid version is set at between 36,549 and $38,049.
Road Tests and Reviews

Experts

Consumers
2020 Ford Escape