Quebec City, QC - "Sanctuary". It's one of those words that you always know what it means; there's no confusion when it comes to "sanctuary". It's relaxation, it's piece-of-mind, it's where you go when you need to shut off for awhile, regroup, and clear your head.
It's such a wonderful, pleasing word that Lincoln has used it as one of the main pillars of its brand, exemplified by their latest release, the Aviator three-row luxury SUV. It's a segment that has been growing lately, and Lincoln is one of the last to arrive on the scene. They've done so in a big way, however.
Inside
There are a number of ways you can achieve a feeling of sanctuary, and for the Aviator, one of the big ones was actually simplifying it inside and aiming for an airier, more pleasurable cabin. It was achieved to great success with the latest Navigator, and it's on the Aviator to be the next step in Lincoln's plan to reinvent the brand.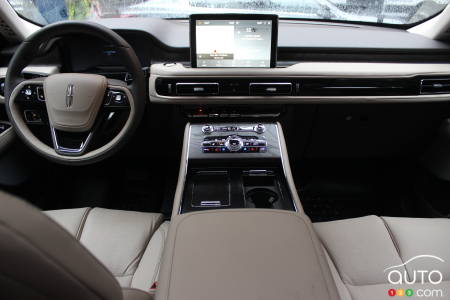 From the shape of the steering wheel (crafted so it offers the most unobstructed view possible of the digital gauge cluster) and how many buttons crowd its spokes, to the ultra-adjustable "Perfect Position" seats, to the massive full-length moonroof, this is an SUV that aims to stay out of your way as much as possible as you make your way to the cabin or ski hill.
So focused was Lincoln on simplifying things that even the voice activation button that usually appears on the steering wheel spokes has been moved to the wheel's 11 o'clock position, within perfect reach of your left thumb. I was worried that I'd be inadvertently pressing it throughout my drive, but that didn't happen, not once. Keeping with the theme are the cruise control buttons, most of which only appear once you've first activated cruise control itself.
The "decluttering" theme continues throughout; the centre stack and console are low on buttons, with most of the major commands confined to the 10-inch touchscreen. Because this is a three-row SUV and because those in the back are people too, they also get a touchscreen-activated climate control screen as standard. There's no gear lever, as that's been replaced by buttons as well – they're aligned just below the display screen and while that looks slick, they can be a little tough to see especially for taller drivers, as they're partially hidden by the vents that divide the upper and lower dash portions.
The materials used to coat the surfaces are – mostly – of high quality and luxurious to the touch. The leathers and woods are all real and of top quality; I could run my hands along the wood insert that frames the front climate controls all day. Sanctuary, indeed.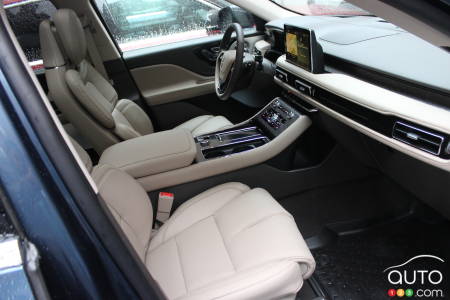 The seats are adjustable a million ways from Sunday (upper lumbar, lower lumber, each individual thigh cushion, side bolsters, and so on) so pretty much anybody should be able to find the porridge that's just right. The basic controls for them are adjustable by door-mounted controls, while the more intricate stuff – including the seat massage feature – is done via the touchscreen.
The second-row seats aren't quite as adjustable of course, but they're comfortable nonetheless, separated by an optional centre console that features a storage bin and could serve as sort of an armrest, though it does limit access to the third row of seating.
Since you then can't walk between the two second-row seats, you have to clamber around them, which is a bit of a chore. Once back there, the seats are mounted a little low (forcing the knees too high), and their cushions are a little firm. Of course they're only supposed to be used temporarily as opposed to over longer drives, but this is a luxury SUV that can easily climb into the $80,000 range quite readily and I'd expect a little more.
Outside
The exterior designers took a slightly different approach than those responsible for the interior, so instead of a Zen garden vibe, you see a number of stylistic touches that do justice not just to that name – Aviator – but to a specific time in aviation: the golden age of the 1940s-'60s, when airlines first went commercial and the skies were filled with romantic, silvery, streamlined motherships whose well-heeled occupants hung out at the bar during takeoff even if it meant spilling a little caviar on their finely-knit sweaters and dresses. Well, maybe not quite, but you get the idea.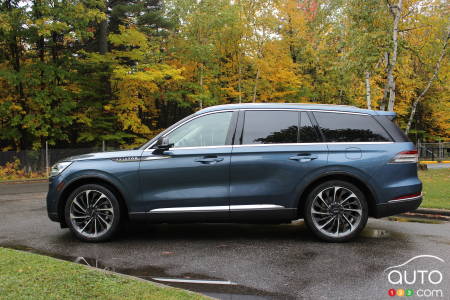 That's why the Aviator gets turbine-styled 22-inch wheels, and the taper given to the side windows is meant to reflect the shape of an airplane wing. Added to which, of course, you have that big meshed Lincoln grille, full-length rear light bar and adaptive LED headlights. Even the font used on the "AVIATOR" scripting on the front fenders and across the rear deck is a perfect fit for the era, looking as though its been crafted from heavy, durable chromed steel.
It's a vehicle that's very pleasing to the eyes, and I found myself looking over my shoulder most every time I parked it even though the vistas we encountered along the St. Lawrence River outside of Quebec City awaited.
For me, the Navigator – hitherto Lincoln's flagship and crowning jewel – is great but it's just so very big. The Aviator takes many of the lessons learned there and applies them to a tauter package, and it works wonderfully.
Power comes from a single engine choice for now – a 3.0L V6 good for 400 hp and 415 lb-ft of torque when using 93-octane fuel, and Lincoln say power could drop to about 350 hp when using regular fuel. Later this year, a plug-in hybrid variant will arrive, and according to Lincoln it will make a frankly startling 494 hp and 630 lb-ft of torque. No EV range has yet been revealed, but the 13.5 kw battery suggests something in the 35-40 km range.
That's for another day, of course; today was 3.0T day, so off we went into the kaleidoscope of colour that is southern Quebec in the fall.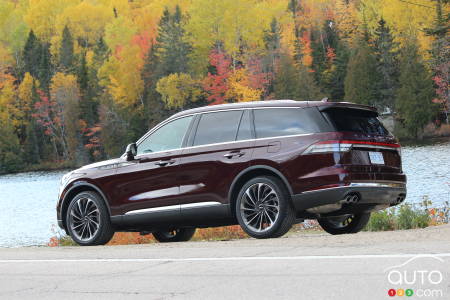 Quietude
The first thing you notice when firing the engine is actually more what you don't notice, that is to say the pleasingly low hum from the engine ahead of you. Even when toeing the throttle you can tell that much has been done with the bulkhead ahead of you to ensure you remain isolated from all the noise and vibrations emanating from up front. Once moving, the double-pained windshield and side windows do their part to ensure wind noise is reduced.
While you will deal with a little bit of turbo lag, power comes on nicely after that as the standard 10-speed automatic transmission and engine combine to keep you in the meat of the powerband whenever possible. That means quick throttle response when a high-speed pass is required, and nicely low revs when you're just cruising along.
Speaking of which, our testers came equipped with the Co-Pilot 360 Plus package, a $9,000 luxury group whose main party trick is an intelligent adaptive cruise control system that can "see" the traffic ahead and adjust speeds accordingly thanks to a camera mounted to the rear view mirror, but can also read road signs so will automatically drop your cruise speed if need be.
In addition to that, you can ask the system to allow for less or more speed tolerance, meaning if you're, say, leaving a 90 km/h zone for a 70 km/h construction zone, it will drop your cruise to no lower than 75 km/h or more (or less) if you set it via the infotainment screen. We tried this and aside from it mistaking a 70 km/h sign for a 20 km/h sign at one point, it worked without a hitch. What it's doing, meanwhile, is all displayed on the heads-up display which is a massive affair that contains almost as much info as does the main gauge cluster.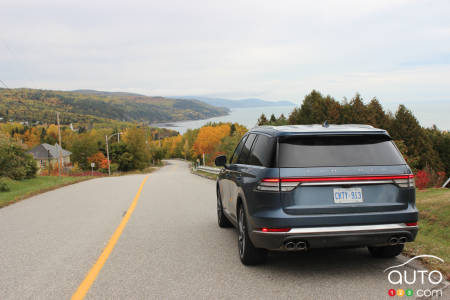 In addition to controlling your cruise control, that camera can also lower your high beams or read the road ahead for potholes and actually lift the wheel off the road surface in order to help reduce impacts. That does sound a bit like a novelty, but it serves as a proper match for the luxurious feel brought on by the various sound-deadening features.
Magnetically-adjustable dampers are standard, but our tester's $3,500 Dynamic Handling package adds air bladders instead of coil springs for an even smoother ride. And it is a darn smooth ride, though repeated bumps and surface undulations on country roads will cause it to get out of shape from time-to-time; that's not something as easily said of the BMW X5, for example, which really delivers a masterclass in ride and handling.
Those bladders, by the way, can deflate or inflate to lower the car by 50 mm for ease-of-access and better aerodynamics, or raise it by up to 15 mm for better ground clearance in adverse conditions. The former happens automatically as you approach the car or reach speeds of 112 km/h or more, while the latter happens automatically when you activate the "Deep Conditions" – yes, that's what it's called – drive mode, which is one of six, the other five being Excite (another bullseye for the drive mode-naming guy on that one), Slippery, 4 x 4, Normal and Conserve. Unfortunately, the suspension can't be adjusted independently of the drive modes.
As funny as the Excite mode sounds, it really does provide some extra punch for the powertrain as you dip into that throttle, as the transmission is allowed to hold on to gears for a little longer and throttle inputs allowed to hit their full potential. It's mostly a good feeling, though we found that gears are held for a little too long – especially during descents.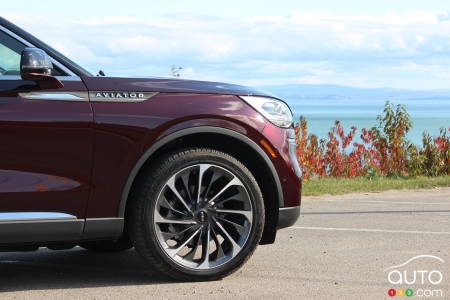 The interface used to control the excellent Revel sound system (28 speakers, including one mounted on the headliner) is slick. The 10-inch screen has huge buttons that are easily read and reached, and the layout – while skinned differently from parent company Ford's SYNC3 setup, works the same way – is one of the best in the biz, providing hotkey access to your most frequented menu, strung across the bottom of the screen. A 4G WiFi hotspot is included standard.
I only wish that you didn't have to revert to the screen so much for various in-car commands; I understand that this is what happens when it comes time to de-clutter the interior, but it can get rather redundant after awhile. From the seat and audio controls to the various driver assist settings, it's all done through that screen like on a Tesla and you know what? I don't like it there, either.
The big ones for me are the drive assist controls for your adaptive cruise and so on – why couldn't these be accessed via menus in your digital gauge cluster? While the steering wheel has been stripped of most of its buttons, it still features joystick-like controllers at the 9 and 3 'o'clock positions – why not use those for the electronic aids setting? At least there are redundant buttons for activating automatic steering intervention (part of the lane keep assist system) and follow distance, but these only appear on the wheel once cruise is activated.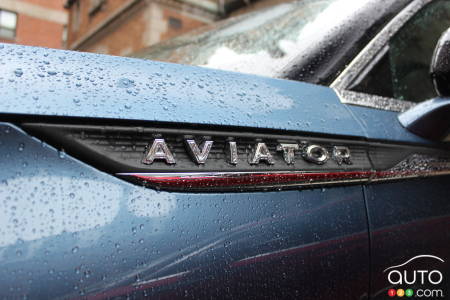 Conclusion
That aside, the 2020 Aviator is such a good, complete package that it's well-positioned to compete with the likes of the Volvo XC90 and Audi Q7.
Which it will need to do in order to justify the hefty price tag – our full-quipped tester comes in at $87,435 after an eye-watering $16,335 premium for options. That's a lot of cake and when you consider that the all-new Cadillac XT6 won't even crack seventy grand even with options, and that the Aviator is regularly going to be pitted against it, the Lincoln needs to perform, and perform well. Which it does; time will tell if it will be enough.
We like
- Super-quiet ride
- Winning exterior design
- Excellent audio system
- Premium interior feel
We like less
- Too many commands disappeared into the touchscreen rabbit hole
- Pain-inducing price tag when fully loaded
The competition:
Cadillac XT6
Audi Q7
Volvo XC90
Mercedes-Benz GLE
BMW X5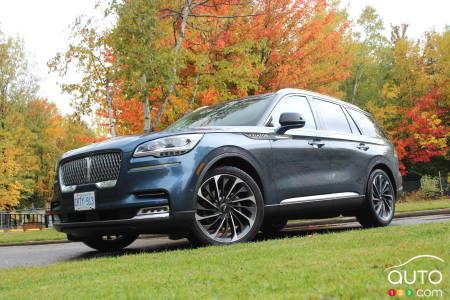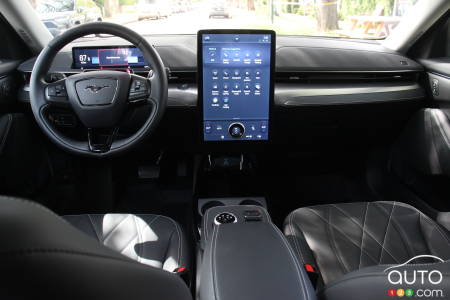 Road Tests and Reviews

Experts

Consumers
2020 Lincoln Aviator