Auto123 reviews the 2020 Nissan GT-R 50th Anniversary Edition, marking a half-century since the "GT-R" name first appeared on a car
I'm not sure what your description of "legend" is, but to me, while a lot of it has to do with accomplishments, notoriety and so forth, there seems the need for a little bit of mystery, too. After all, it's hard to consider something that's easy to define as "legendary".
Take the Nissan Skyline GT-R, for example. While the model itself has been around for decades, North Americans really only knew about it by reading various car buff mags from Japan and Europe. Or, perhaps more likely, by playing video games like Gran Turismo or The Need For Speed. Heck, even the latter – a popular gaming franchise in its own right – didn't get the Skyline in a North American version of one of its games until 2003's Need for Speed: Underground – about a decade after the franchise got its start.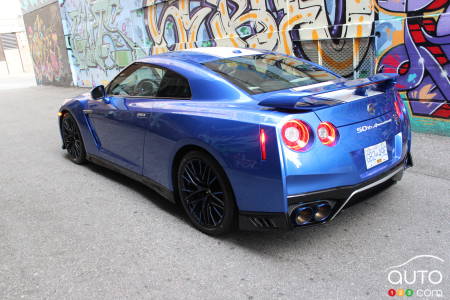 That also happened to be right around the time Paul Walker drove one in 2 Fast 2 Furious and just like that, the Skyline GT-R was everywhere, though unless you were an avid Gran Turismo player, you'd likely never heard of it. A legend one year in the making, then?
Well, not quite, because the pride of Tochigi, Japan has been around – in a number of forms – for years: performance coupes, sedans (even wagons!) have seen success both on the road and on the track since the '60s. But for a long time, Nissan just didn't see a market for it here.
Well, in 2008, with the debut of a new version of the GT-R (the "Skyline" name was dropped and moved to the Japanese-market Infiniti G35) that all changed as it was made available to all markets the world over.
Decades later, we have the Nissan GT-R 50th Anniversary Edition" – 50 being the years that have passed since the "GT-R" name first appeared on a car with 1969's boxy "Hakosuka" GT-R.
Of course, this latest GT-R is pretty far from boxy; it's a bonafide two-door coupe now with a cab-rearward profile and a long nose. Indeed, as speedy and steeped in legend as the previous-gen car was, its boxy shape may not have had quite the effect on North American buyers more accustomed to using Toyota Supras, Porsche 911s and Corvettes for their premium sports coupe fix.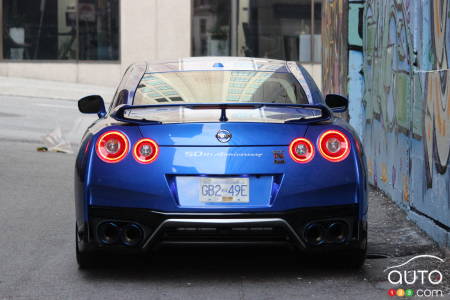 Special edition
The "50th Anniversary" designation means this edition adds two-tone wheels (with matching stem caps!), badging and special paint (an additional $1,000 gets you an even shinier hue). In addition to the Bayside Blue seen here (marking the first time the colour has been available on the current-gen GT-R), it's also available in silver and white.
For me, blue is the way to go especially with the striping seen here, conceived to recall the liveries used by the racing Hakosukas. Is it too much? Heck no. In fact, I might go even further into the aftermarket world and add a blank number sticker and stripes to the door.
Inside, the requisite "50th Anniversary" badging appears here and there, and there's also a special steering wheel, diamond-print Alcantara headliner, exclusive seat colour and embroidery and kickplates.
All good stuff, but the highlight for me is the gauge cluster. The face is finished in carbon fibre and reminds me of my favourite GT-R: the bonkers, widebodied 1995 R33 GT-R LM. I also like the "Hand Crafted Stitch" labels attached to the seats – just one of those funky little details like the Swedish flag on Volvo's seat tags that just shows you're in something special.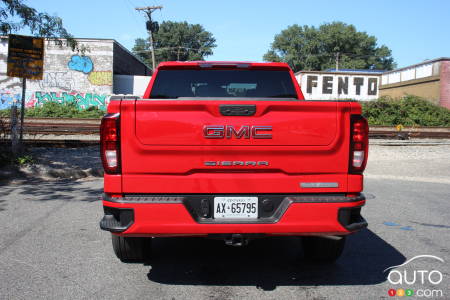 That "specialness" is cranked up about 10 notches when you settle into the perfectly-shaped driver's seat (what a seating position!) and fire it up with the press of a button. This, of course, also activates a infotainment system that is decidedly a Jekyll and Hyde affair. On the one hand you've got Nissan's standard infotainment – it's similar to what the rest of the lineup has, just with a slightly older GPS system – and on the other, you've got a sub-system accessed via the "function" button mounted to the right of the screen. This, dear readers, is where the magic happens.
You know right away that you've happened on something special; remember that GT-R gospel that is the Gran Turismo series? Well, those same folks helped design and engineer the system, called the "Polyphony Digital", and their banner appears at the base of the screen on start-up. Talk about worlds colliding. But then, these two have been intertwined for quite some time now.
Beyond the graphics, there are a total of 18 parameters that the system measures and displays, from the Gs undertaken during braking to the boost level,to engine oil pressure and more; you can even customize your displays across five menus. It may seem a little old-school with the plethora of screens we're seeing on dashes and instrument clusters these days (the all-new Range Rover Evoque has four), but it's darn cool.
What you don't notice quite as much, however, is the exhaust note; those quad titanium pipes (with body colour-matching blue tinted tips – oh yes) may look the business, but when you're in the cockpit, windows up, the sound they produce has nothing on a Ford Mustang, Dodge Challenger or even an Abarth 500. As you soon find out, though, sometimes when you have the "go", you don't really need the "show".
An everyday supercar
Plus, along with the comfortable front seats, deep trunk and user-friendly cockpit (with three cupholders!), the quieter engine/exhaust note makes for a proper everyday supercar. Not to mention the toggle switches mounted at the base of the centre stack, which modify your traction control, powertrain and suspension.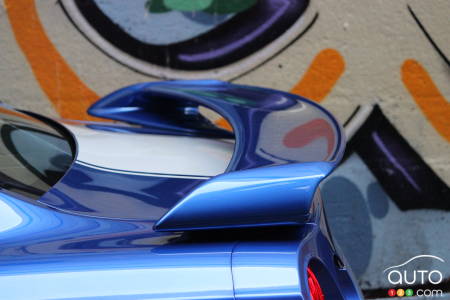 Rare is it that you'll feel such a difference between drive modes; with the powertrain set to "save" (whatever that means), the suspension set to "comf" (more obvious, that) and TCS in its strictest, you've basically got a bonafide grand tourer. Switch each to "R", however, and it's supercar time.
And it is a supercar – make no bones about it. Power from the twin-turbo 3.8L V6 is rated at 565 hp and 467 lb-ft of torque, dispatched through a twin-clutch 6-speed auto transmission connected to all four wheels for a 0-100 km/h time of in and around three – three! – seconds. The transmission is paddle-activated, of course, each shift providing a satisfying thunk as it engages. Like a race car. Would a manual be nice? Maybe, but then you'd lose the everyday usability a bit and while I like rowing the cogs as much as the next guy or gal, I know it's just not as fast.
Which is magnified with the GT-R because everything happens so instantaneously, from throttle response, to gear change, to turn-in and on and on. This car may be big and wide, but it's taut and would give anything it's up against – from a 911 to a McLaren 570 – a run for their money in the chassis fidelity and firmness department.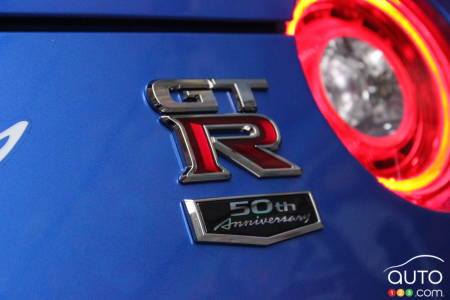 Public Service Announcement: Be responsible
You really do want to be careful, though; the GT-R is massively fast but as I said before – it's also quite sound-insulated so you'll be doing some downright illegal speeds before you know it if you're not careful. It's a situation that's not helped by the fact that since the speedo goes up to three-hundred forty, 100 km/h sits at the 7 o'clock position on the gauge. That means if you were to take the numbers off the speedo but leave the needle, what looks like 100 km/h in a Mustang is actually – wait for it – 220 km/h in the GT-R. And that's only about two-thirds 'round the dial.
Luckily, the massive brakes – 15.35-inch at the front, 15-inch at the rear – easily and progressively shave off speed as you depress the pedal. Indeed, the only thing as impressive as how the GT-R accelerates is how it comes to a stop, and with very little front-end dive, to boot.
Still, what we have here is a case of reduced noise + rock solid handling + big power = another dimension of motoring that requires attention. It's just so easy to go so fast in this thing that you hardly even realize it.
Which, when you think about it, has always kind of been such a big part of the Skyline/GT-R's appeal, especially when it looked more boxy and pedestrian than it does now. Even now, though, with all its 50th Anniversary bells and whistles, the GT-R remains one of the most accessible fast cars you'll ever drive, which in turn makes it almost the everyman's supercar (assuming that everyman has a spare $140,000 or so lying around) which I feel has kept it true to its roots, and thus worthy of the "legendary" moniker.
Consult our listing of pre-owned Nissan GT-R vehicles available in your region of Canada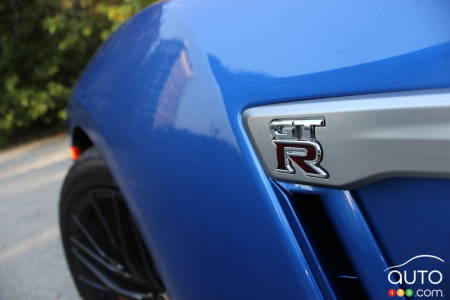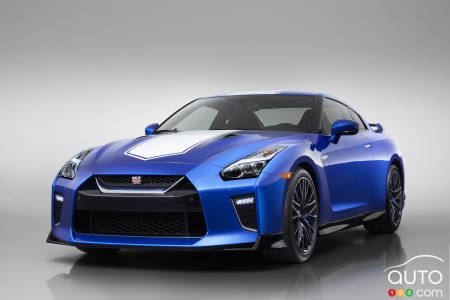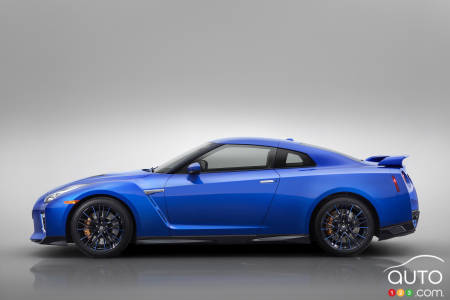 Road Tests and Reviews

Experts

Consumers