Auto123 reviews the 2023 Alfa Romeo Giulia Estrema.
When it comes to compact sports sedans, Alfa Romeo's Giulia is at once under the radar in North America and a favourite among fans of the format who have actually driven it. With its solid performances and unmistakably Italian design, the Giulia has carved out its own little niche in a competitive segment.
The Giulia Estrema is a new variant for 2023, squeezing itself into the range between the Veloce and range-topping Quadrifoglio models.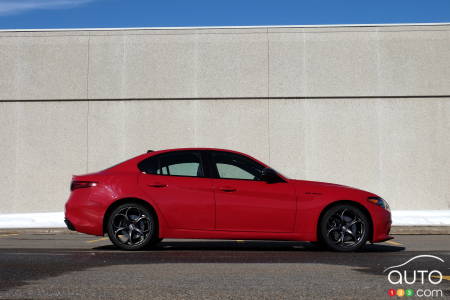 Design of the 2023 Alfa Romeo Giulia Estrema
It's all about striking a balance between style and performance with the Giulia. Despite a number of contemporary flourishes, the current model is not a dramatic departure from its predecessors. it maintains the brand's signature sleek and sporty design language, so the front end features the iconic Alfa Romeo triangular grille, now flanked by sharp LED headlights. Some might find that front grille a bit much. Sometimes I do, sometimes I don't. It's bold, anyways, and it's less garish than some of BMW's bigger kidney grilles.
From the side, the Giulia Estrema has a well-proportioned silhouette with a long hood and a slightly sloping roofline, contributing to its sporty character. That's further emphasized by the 19-inch alloy wheels finished in dark tones. The rear end features quad exhaust tips and a subtle lip spoiler, contributing to its aerodynamic profile.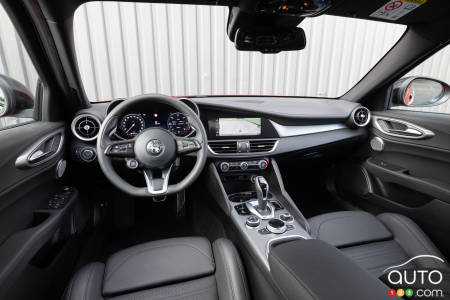 Interior of the 2023 Alfa Romeo Giulia Estrema
The interior is, as befits Alfa Romeo tradition, a driver-focused cabin. The materials used are of high quality, with a blend of leather, Alcantara and carbon-fibre accents. The sports seats offer good support and comfort, ensuring a snug fit for the driver. Snug is an apt description for the second row, which doesn't offer a ton of head- or legroom.
While the infotainment system is a step in the right direction compared to its predecessors, it still falls short of competitors like BMW's iDrive or Mercedes-Benz's MBUX. The 8.8-inch touchscreen is responsive, but the user interface isn't as intuitive, and the system lacks the advanced voice control features found elsewhere.
Cargo space is decent enough – this is a compact sports sedan, remember - but that trunk opening is narrow, which can make getting a bulkier suitcase in tricky if not impossible.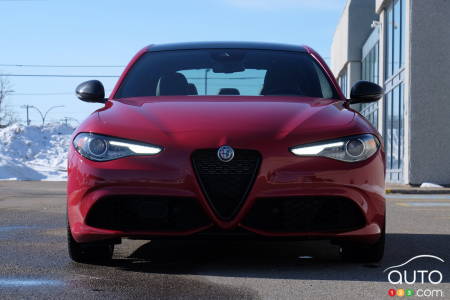 Powertrains of the 2023 Alfa Romeo Giulia
The Giulia can be had with one of two powertrains, starting with a turbocharged 2.0L 4-cylinder engine (280 hp, 306 lb-ft of torque). It delivers respectable performance, reaching 0-100 km/h in around 5.5 seconds. But, the engine doesn't deliver quite the low-end grunt of some competitors and could benefit from a smoother stop-start system. All-wheel drive is standard on all models, in fact only the Quadrifoglio performance variant can be had with RWD.
That top-of-the-line Quadrifoglio model boasts a 2.9L V6 developed in collaboration with Ferrari. With 505 hp and 443 lb-ft of torque available, it's undeniably quick, launching from 0-100 km/h in just over 3 seconds. This engine provides a thrilling driving experience, with a spine-tingling exhaust note.
Here are the variants of the 2023 Giulia and their starting pricing in Canada:
2023 Giulia Sprint - $56,895
2023 Giulia TI - $59,795
2023 Giulia Veloce - $63,995
2023 Giulia Estrema - $66,495
2023 Quadrifoglio - $95,445
Specifications sheet of Alfa Romeo Giulia Sprint 2023
Specifications sheet of Alfa Romeo Giulia TI 2023
Specifications sheet of Alfa Romeo Giulia Veloce 2023
Specifications sheet of Alfa Romeo Estrema 2023
Specifications sheet of Alfa Romeo Quadrifoglio 2023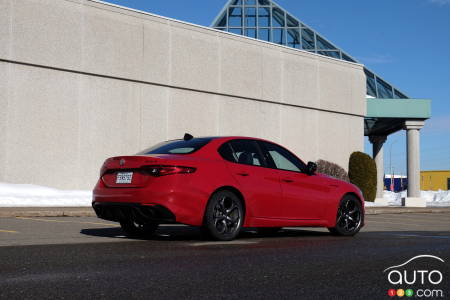 Driving the 2023 Alfa Romeo Giulia Estrema
What it doesn't quite deliver in terms of raw punch, the Giulia Estrema makes up for in overall driving dynamics. If you like a sporty and engaging ride, this is for you. The chassis is well-balanced, and the suspension setup delivers a comfortable and agile ride. The steering is precise and offers very pleasing feedback, and the car hugs curves very well indeed. In most situations but especially on winding country roads, this is an enjoyable car to drive.
But if you want more brute power, consider the Quadrifoglio model. The power from its V6 is awe-inspiring, and the car's nimble handling makes it a joy on twisty roads. The adaptive suspension allows drivers to adjust the ride quality to their liking, but the ride can get a bit firm in its sportiest setting.
The Giulia isn't as refined as some of its German rivals. Road and wind noise can be intrusive at higher speeds, and build quality might not meet the expectations of those used to the precision and craftsmanship found in competitors' cabins. Moreover, Alfa Romeo's reliability track record has raised concerns, and the brand hasn't fully addressed these issues.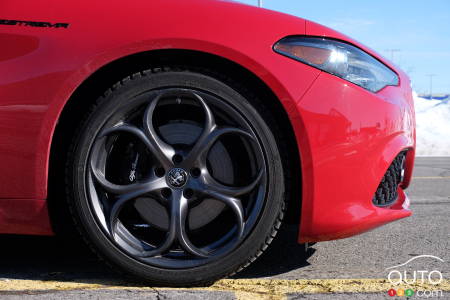 The final word
If driving enjoyment from car that remains practical in the day-to-day is important to you, the 2023 Alfa Romeo Giulia Estrema is an appealing choice. It offers distinctly Italian styling, two distinct powertrains and satisfying performance which you can upgrade to thrilling if you're talking about the Quadrifoglio variant.
The Estrema is designed for buyers who want a higher end Giulia but who don't want to spend the extra $25,000 for that powerful V6 of the Quadrifoglio.
Take note though, that the Giulia lags behind in terms of interior technology and build quality, and concerns about reliability persist. Potential buyers should weigh these factors against the competition to determine if this Italian sport sedan is the right choice for them.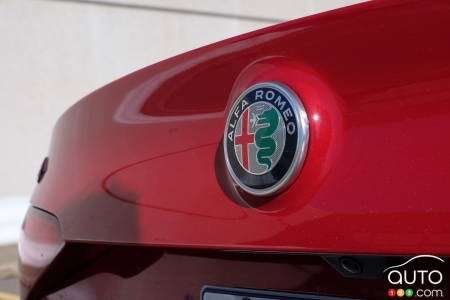 A few of your questions about the 2023 Alfa Romeo Giulia Estrema
Is the Giulia Estrema suitable for everyday use and practicality?
Sporty and dynamic it is, but the car also offers a comfortable and well-appointed interior, making it suitable for daily commuting and long journeys.
What is the fuel efficiency of the Giulia Estrema?
While the Giulia Estrema's focus is on performance, it offers reasonable if not class-leading fuel efficiency in the sports sedan segment. Official figures are 10.5L/100 km city, 7.7L/100 km highway and 9.2L/100 km combined.
Competitors of the 2023 Alfa Romeo Giulia Estrema
Acura Integra
Audi A4
BMW 3 Series
Cadillac CT4
Genesis G70
Infiniti Q50
Lexus IS
Mercedes-Benz C-Class
Volvo S60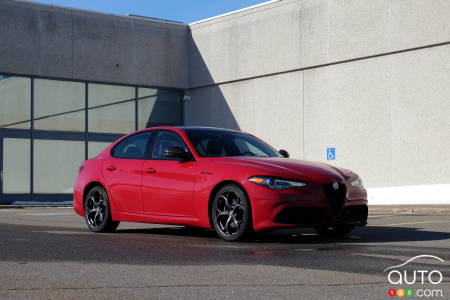 Road Tests and Reviews

Experts

Consumers