• Auto123 reviews the 2023 BMW M340i xDrive: Here's what you need/want to know.
The 3 series sedan from BMW continues to lead the way when it comes to delivering not just a sporty, dynamic driving experience, but a – yes - practical one. We drove the 2023 M340i xDrive, which has some pretty high standards to maintain - and does it, well.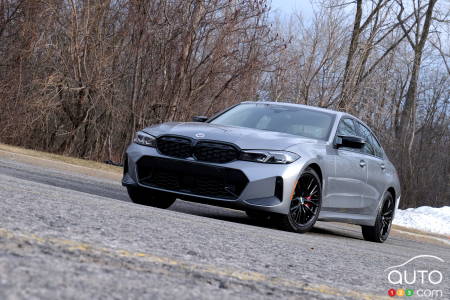 What's new with the 2023 BMW M340i
For 2023, BMW has given its lovable little sedan some aesthetic updates outside, both front and back, as well as substantial upgrades inside with a new multimedia display that will leave only the most curmudgeonly unimpressed. There are tweaks to the trim lineup as well.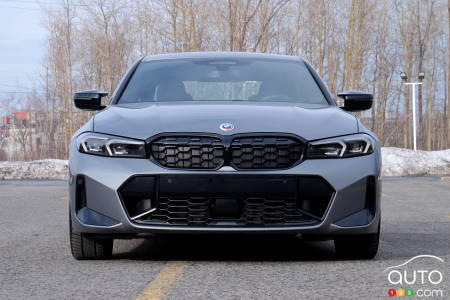 Exterior of the 2023 BMW M340i – 8/10
The changes aren't massive this year, the model retaining its back-leaning silhouette led by that long hood and cabin set far back on the chassis. Both front and back bumpers have been mildly redesigned and feature modified intakes/exhaust openings. The kidney grille element on the nose has been slightly altered, and the whole rides on new freshly redesigned wheels.
Note that this year the 3 Series' M340i model sports the special BMW badge made to mark the 50th anniversary of the brand's M division.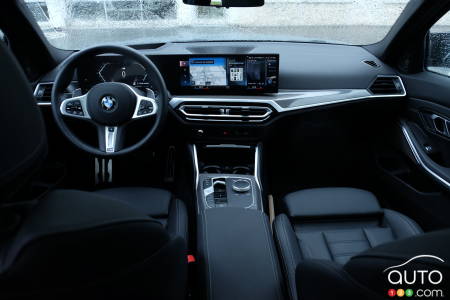 Interior of the 2023 BMW M340i – 8.5/10
The big deal here of course is the introduction into the 3 Series of BMW's curved data/multimedia display screen. That display integrates a 12.3-inch data cluster in front of the driver and a 14.9-inch multimedia screen. Both run with BMW's new iDrive 8.0 system, and BMW-practiced users will note there are fewer physical buttons to twiddle with than before. Among the other changes are a redesigned shifter (though note that the paddle shifters on the steering wheel remain).
The new curved screen display is a visual treat, with resolution excellent and response times even better. No surprise, you can configure both the data screen and the multimedia display to your heart's content, if you're willing/happy to put in the time. The interface is 'smartphone-style' with tiles and such and I found it very intuitive, even if it is packed with menus and sub-menus. That's what BMW owners want and expect, though, so who am I to argue.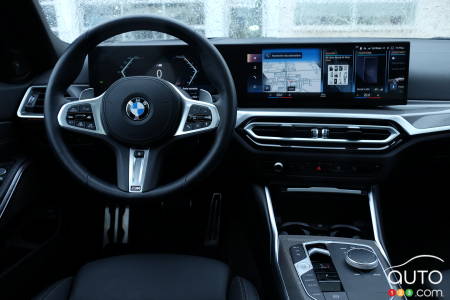 I will argue that there should maybe be more physical buttons for certain basic commands. For me, climate and audio controls are musts; no driver should be forced to quit watching the road to start roaming through menus to find those oft-used commands. There is a voice assistant, yes, but not everyone likes to use that.
The front seats of this M340i are comfortable and while they provide proper support when attacking winding roads, they're also accommodating enough for daily use. The seat bottoms feature extendable supports for those longer-legged than me.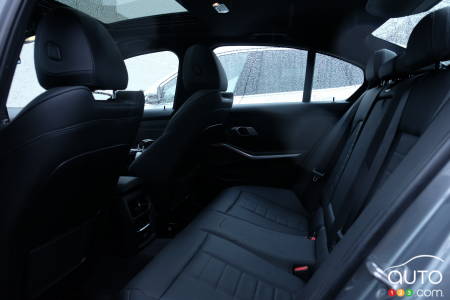 I spent only minutes in the back row and space is tighter there, as you'd expect, but I felt it would be manageable for an average-sized adult even on a lengthier road trip. The seats themselves are plenty comfortable.
There are 481 litres us cargo space behind those rear seats, which isn't earthshattering but isn't awful either. It's what you should expect from a smaller sedan.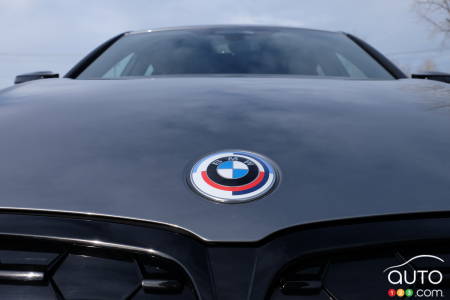 Powertrains of the 2023 BMW M340i – 9/10
It's status quo for the model here, with the 3 Series still available in three configurations:
2023 BMW 330i – 2.0L 4-cylinder turbo engine (255 hp, 295 lb-ft of torque)
2023 BMW 330e – Same engine, but in a PHEV configuration (288 hp total output, range of 37 km)
2023 BMW M340i – 3.0L inline-6 turbo engine (382 hp, 369 lb-ft of torque) w/mild-hybrid system
All three engine configurations work with an 8-speed auto transmission, and all can be had with BMW's xDrive all-wheel-drive system (it is standard on the 330i and M340i).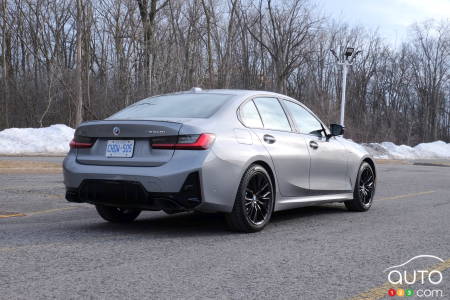 Driving the 2023 BMW M340i - 9/10
Our tester was the M340i variant with xDrive AWD system, which is likely the format most of those drawn to the 3 Series for its compact sportiness will want to have, long as budget permits of course.
In this form, the 3 Series is a supremely pleasant machine to pilot, right from a start because acceleration is quick, instantaneous and effortless. This 3 Series is not as small – or as light – as it once was, but it feels sprightly and light on its feet. Even better, the auto transmission is extremely competent and makes quick, responsive shifts that pretty much eliminate any lag as you charge your way up in linear fashion to the speed limit. Along the way, you have a very enjoyable musical accompaniment from the engine and the twin exhaust tips.
The steering is BMW-level precise, no surprise there, and fairly weighty which is nice because you'll be tempted to take this road-hugging car aggressively into curves. And when you do, the adaptive suspension works marvellously.
Sport and especially Sport+ mode sharpen all the settings noticeably so you can really pick how sporty and tough on your lower back you want the car to be. Know that even in Comfort mode – which delivers a fairly comfy ride – the M340i is still a sharpened machine fitted with a firm suspension.
Braking meanwhile is smooth yet biting, just as you'd need.
Fuel consumption for the 2023 M340i is rated at 10.3L/100 km city, 7.4L/100 km highway and 9.0L/100 km combined. During a week of cool springtime driving, we averaged 9.1L/100 km in evenly mixed driving.
Pricing of the 2023 BMW 3 Series
Here is what it costs buyers in Canada for the different variants of the 3 Series, including our tester the M340i:
2023 BMW 330i xDrive – $55,000 CAD
2023 BMW 330e (RWD) – $54,900
2023 BMW 330e xDrive - $58,900
2023 BMW M340i – xDrive - $68,000
The final word
For a small car, the 2023 BMW 3 Series is pretty big, and for a small car, it's pretty expensive. But on both fronts, these days, it's about average for the segment. And in return, this refined and mature sedan offers a deliriously satisfying ride both on a daily basis and when you want to push things.
Strong points
Superb on the road
Relatively fuel economical
Attractive look (no huge double-kidney grille!)
Weak points
Suspension a bit firm
Space a little tight in back
Expensive when well-equipped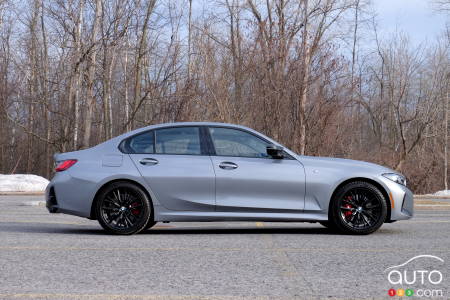 Competitors of the 2023 BMW 3 Series
Audi S4
Cadillac CT4-V
Genesis G70
Mercedes-Benz C 43