• Volkswagen has unveiled a new concept, the ID.X Performance.
A concept shown this week by Volkswagen aims to mark a new stage in electric performance.
Presented at the ID. Treffen auto show in Locarno, Switzerland, the ID.X Performance concept reinforces VW's commitment to electric performance and offers a foretaste of what may come to market in the future. Perhaps even to North America.
An attention-grabbing design
Essentially an offshoot of the ID.7 sedan, the ID.X Performance is distinguished by unique design elements. The front of the car is marked by a distinctive black grille flanked by matching air vents on either side. A continuous red border, evoking classic GTI design, surrounds the vehicle.
Other design elements, such as carbon-fibre diffusers and 20-inch sport alloy wheels shod with Michelin Cup 2 R racing tires, enhance its sporty appeal.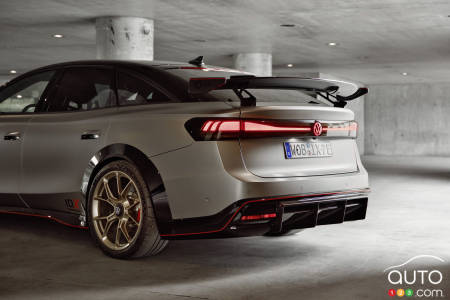 Performance-oriented back end
At the rear, the car wears a large spoiler and the carbon-fibre diffuser integrates seamlessly with the red trim. Adding to the car's sporty appeal, it sits 60 mm closer to the ground than the ID.7, giving it a more aggressive stance.
Under the hood: power and versatility
The ID.X Performance uses Volkswagen's MEB architecture, commonly found in VW's modern electric vehicles. Equipped with two electric motors, the concept car generates an impressive 550 hp. Like the ID.7, it also supports DC fast charging at 200 kW.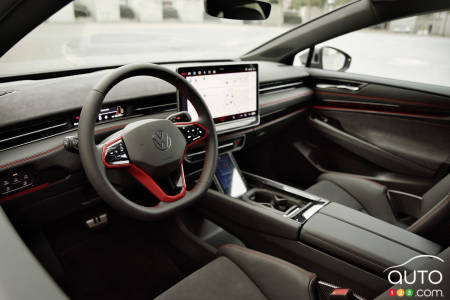 A look into the future
Although Volkswagen has not yet confirmed the ID.X Performance's transition from concept to production model, an enhanced ID.7 GTX with an aggressive design and improved aerodynamics may well be offered in Canada in the future.
With this latest unveiling, Volkswagen continues to signal its commitment to expanding its electric vehicle lineup. Canadians eager for high-performance electric options will be keeping a close eye on these developments.