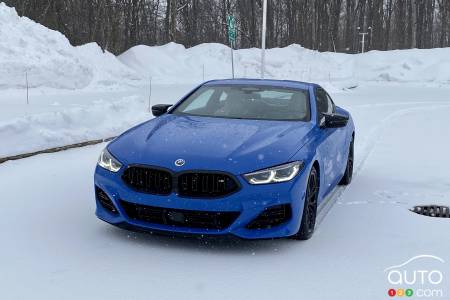 • Auto123 reviews the 2023 BMW M850. Here's what you need to know.
• A ferociously powerful car, the 2023 BMW M850 can drive smoothly just the same.
Towards the end of the winter, we were able to test drive the 2023 BMW M850 in Quebec. In the middle of a snowstorm. The weather conditions could have led us to simply put off our trip, but why be wise? We decided to put this sports car to the test on a 200-km trek. In a snowstorm. Here's what our little road trip behind the wheel of this devilish car was like.
The car, this beastly M850, is a high-end sports coupe with a twin-turbocharged 4.4L V8 engine producing 523 hp and 553 lb-ft of torque under its hood. Mated to an 8-speed automatic transmission, the M850 is capable of reaching a top speed of 250 km/h, and doing 0-100 km/h in just 3.7 seconds. Under ideal conditions, of course.
The car is equipped with the xDrive all-wheel drive system, which distributes power and traction between the front and rear wheels. This was a feature that warmed our hearts before we set out; the Pirelli Sotozero tires made us feel even more confident.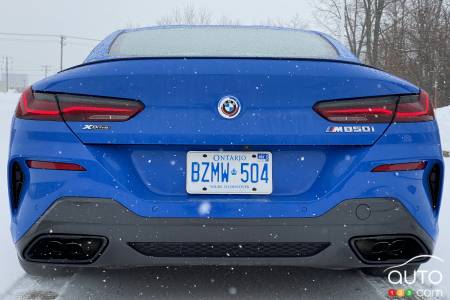 What's new for the 2023 version?
The BMW 8 Series has been a familiar luxury coupe for several years, but the 2023 version makes some minor changes to the exterior. The colour palette has expanded, with the addition of six new colours, bringing the total choice to a whopping 55 different possibilities, including 11 metallic finishes. It can be challenge for buyers to choose the perfect colour for their car, put it that way. Luckily they're all available at no extra cost. Another notable change is the addition of an illuminated grille and M8-style side mirrors.
Inside there are changes as well. The infotainment system's touchscreen, which was already large at 10.3 inches, is now an even more monstruous 12.3-inch. BMW calls it the Live Cockpit Professional screen.
As a reminder, all M cars get the classic BMW M logo in commemoration of the 1973 race cars and to mark 50 years of the M division.
The exterior
The 8 Series was primarily a two-door coupe or convertible. These days, you can also get it as a four-door Gran Coupe. Our test model was the 2-door hardtop. Less spectacular than the 4-door or the convertible, the 2-door has the merit of being a little more discreet.
That said, the long nose that characterizes this sports car is immediately noticeable. Fortunately, BMW has shown a little restraint vis-à-vis the front grille and not made it comically big. The narrow headlights and the air inlets at the bottom of the car give it a very aggressive look. We really like the style.
The rear of the 2023 BMW M850 is characterized by slim, horizontal taillights, a rear diffuser and dual tailpipes, reflecting the twin-turbo V8 engine. The elegant and sporty design gives this car a modern and yes, discreet, appearance.
Our tester's Santorini Blue colour helped highlight all the sporty black demarcations that came with the $2500 "Dark optics" option. The latter adds brake calipers and the M Sport performance package, Shadowline laser headlights, formidable at night. The M Shadow equipment was included in this option package, which includes black accents all over the grille, window surrounds and exhaust pipes.
Weak points
A little low-sitting for winter
Fragile rims and tires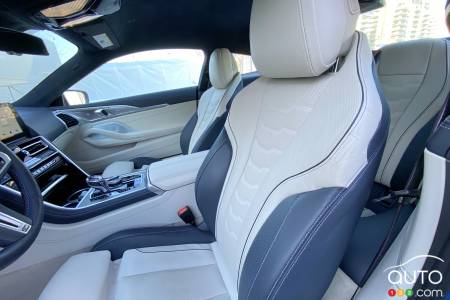 The interior
As soon as you open the driver's door, the first thing that jumps out at you is the cockpit. Yes, the name is appropriate, because the raised console slightly positioned towards the driver, the leather sport seats and the ergonomic steering wheel immediately put this car in the performance category.
Once seated, you're drawn to the huge screen and the various buttons for adjusting the ventilation and multimedia system. The heated and ventilated front seats, electrically adjustable in 14 directions, allow you to find the best setting for driver and passenger comfort.
In the centre of the console, the glass shifter sits proudly among buttons and knobs for adjusting suspension, driving modes and the multimedia system, all more or less without taking your eyes off the road.
As for the rear, there's not much to say. There are two seats more suited to welcoming your backpack than humans. We tried that once, just to get a person home. We had to move the front passenger and their seat forward to the point of discomfort in order to fit a person who was only 5.2" tall back there. In short, it's good for emergency lifts, but don't count on it too much.
Strong points
Driver's cockpit
Multimedia system
Seat comfort
Weak points
Little storage space
Backseat space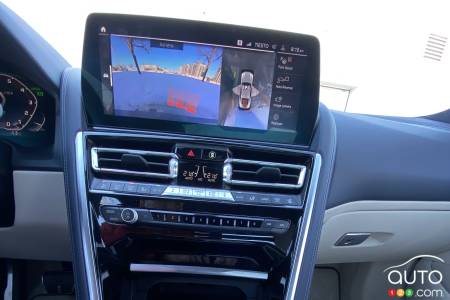 Safety and technology
A 12.3-inch touchscreen is standard on every 8 Series. The centre console is rather crowded and requires some knowledge of BMW interfaces. Once you've found your bearings, it's very easy to navigate through the various options.
For having tested a variety of vehicles each year, including several luxury models, we can say that BMW's system is far from being the most difficult to use. It's intuitive and doesn't require you to go too far into the options to get features up and running. Apple CarPlay and Android Auto are wireless and there are rarely any connection issues.
There's no shortage of security features. Among them, automatic emergency braking, forward collision warning, lane departure warning, pedestrian detection and a rearview camera.
One feature we really like at BMW is the driver assistance system. It's very easy to use and works nicely, especially in traffic jams. It brings the vehicle to a complete stop and then starts it up again as soon as the flow of traffic begins again.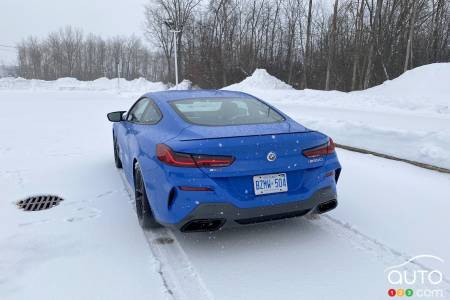 The drive
As mentioned, we had a snowstorm awaiting us for our getaway. Temperatures sat around -6 Celsius and the experts were calling for 10 to 15 cm of snow. Not exactly the ideal setting for a 523-hp performance car.
Wouldn't you know, the car's behaviour in the snow surpassed our expectations. There is no Snow mode on this car and if you want to reduce power a bit, you have to go to Eco mode.
Well we never even considered activating this mode – how could you with this car - weather nastiness or no. So we stayed in Normal mode for the entire trip. The car behaves like any other sedan with a much smaller engine size. To our surprise, at no time did even moderate acceleration result in an avalanche of power that would have made our vehicle uncontrollable.
This vehicle is very easy to drive, even if, at times, you want to have a little fun. A good acceleration and you'll immediately understand why it's a fast car!
Test drive conditions
Weather conditions: Snow day!
Road type: 20-percent city, 80-percent highway.
Average speed: 105 km/h on highway
Total duration of our test drive: 4 days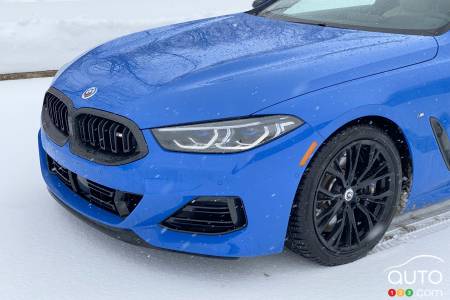 The final word
Driving a BMW M850 is an incredibly rewarding experience. Once you get this car a'running, the car's lively engine purrs agreeably, and if you suddenly mash the right pedal, hang on to your bonnet.
It's important to note that this car is not exclusively for experienced drivers. While the BMW M850 is a powerful and capable car, it is equipped with many driver assistance systems and advanced safety features, making it accessible to all levels of drivers. Even in challenging weather conditions.
Some of your questions about the 2023 BMW 850:
What is the fuel economy of the BMW M850?
Officially, the BMW records a consumption of 13.5L/100 km in the city and 9.5L/100 km on the road. For our part, we recorded over 15.0L/100 km in the city – not so hot – but also just over 8.0L/100 km on the highway – kind of hot, actually.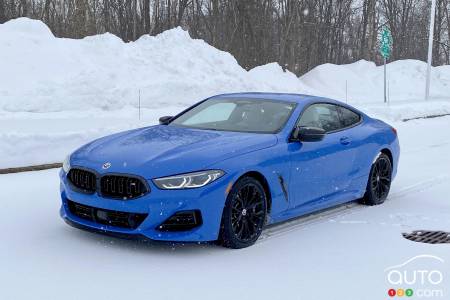 The main competitors of the 2023 BMW M850 :
Mercedes-Benz S-Class Coupe : A luxury grand touring car with a stylish design. It offers a little more room in the back, but is much less sporty than the M850.
Porsche 911: A sports car icon. It's fast, agile and offers exceptional performance, while remaining easy to drive on a daily basis.
Aston Martin Vantage: A sports car with a powerful twin-turbo V8 engine. It offers an elegant and luxurious interior.
Lexus LC 500 : A high-end sports car with a bold design. It offers impressive driving performance, as well as an elegant and comfortable interior worthy of a Lexus.
Audi R8 : An exotic sports car with a cutting-edge design and state-of-the-art technology. It offers exceptional driving performance thanks to its V10 engine.
Maserati GranTurismo : An Italian designed sports car with a V8 engine. It offers exceptional performance, as well as a high-end interior with state-of-the-art equipment.
Jaguar F-Type: A sports car with a very elegant design. It offers sporty driving performance thanks to its V6 or V8 engine, as well as a luxurious and comfortable interior.