• Auto123 reviews the 2023 Ford Maverick Hybrid Lariat.
The Maverick name at Ford may no longer be attached to a semi-sporty two-door coupe, but don't let that deter you from having a look at the latest small pickup from Ford. Following in the footsteps of the original Ranger – it and the Maverick are about the same size – the new truck is here to provide the practicality of a pickup bed at a fraction of the cost – and a doubling-down on efficiency – of your typical pickup.
As a bonus, in doing so it has become one of the cooler vehicles Ford currently produces.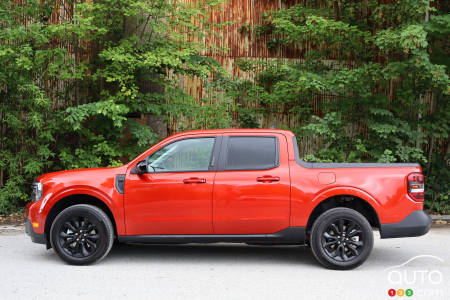 Exterior of the 2023 Ford Maverick – 8/10
When seen in the flesh, the big headlights and taillights, plus the blacked-out grille and wheels all make for a truck that happens to be one of the coolest-looking passenger vehicles out there. Even the paint, which is called "Hot Pepper Red Metallic" is the perfect fit for this little trucklet.
Various custom builds of the Maverick are already starting to appear online, and I can see why. It may have a boxy shape, but boxy is in these days and Ford is looking to capitalize on that.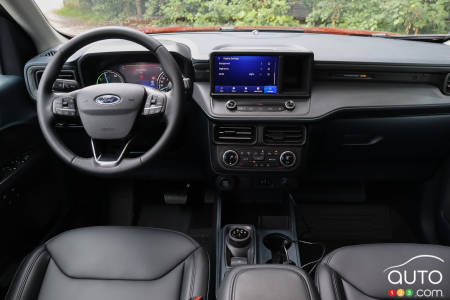 Interior of the 2023 Ford Maverick – 7.5/10
Inside, the environs are definitely utilitarian. The dash is square and upright, the steering wheel is a basic three-spoke unit while the gauge cluster gets a futuristic, partially digitized treatment. There are precious little buttons and knobs to clutter the dash.
The Maverick may be roughly the size of a previous-generation Ranger, but it rides lower on a unibody so you sit lower and have more headroom as a result. It may look like it has a chopped top, but sitting inside you won't realize it… until you look out the back window. It's not that tall and since its middle pane opens and closes, Ford has had to build in some extra housing in the form of thick black plastic, reducing rearward visibility further still.
Other than that, outward visibility is fantastic – it takes the Hyundai Santa Cruz to the cleaners in this department – thanks to large side windows and squared off corners. Not only is the Maverick easy to steer through tight quarters and park, it's a joy to do so.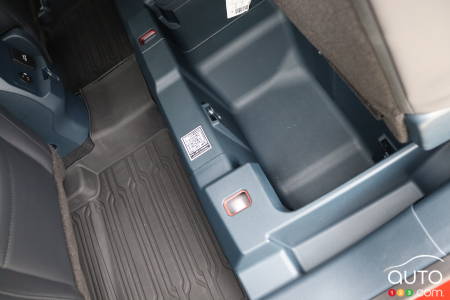 The bins at the base of the centre stack are given a slightly rough coating so anything you store there – sunglasses, smartphones, Nutri-Grain bars, wallets – won't slide around too much. That's when you're not using it as a wireless charge pad.
While I appreciate the luxury provided by the synthetic leather seats, I do miss the cool contrast-orange stitching and other surfaces found in the XLT model. What you can do with the Lariat, if you want a little more character inside, is spec a two-tone brown/grey colourway.
The open-ended door pulls are a little awkward to use at first, but they do serve a purpose. Being a small truck, the Maverick doesn't have the massive door cards of the Ranger or F-150 trucks, so in an effort to maximize storage there, they've cut the door pull short so you can more easily store a tall water bottle.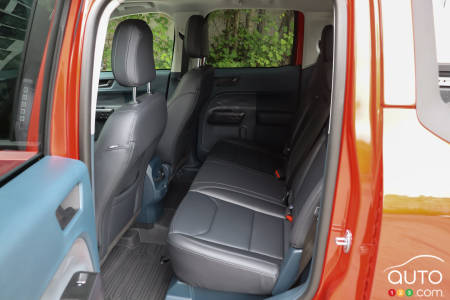 In back, you won't find a huge amount of legroom, but headroom's good and there is under-seat storage. The bottom seat cushion is actually a bench that folds up as one unit – there's no split here – to access the bin. It's nice to have, but it means no flat load floor and it cuts into back seat floor space that's already limited. Rear set passengers do get their own USB ports.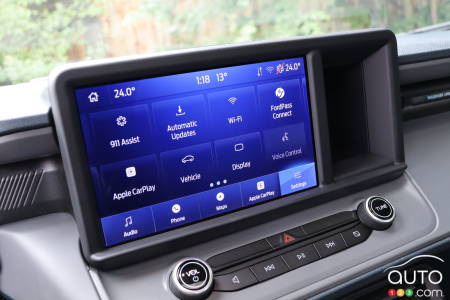 Technology in the 2023 Ford Maverick – 8/10
There are USB ports up front as well – one USB-A, one USB-C – as well as a standard 8-inch infotainment display. Which is fine, and Ford's SYNC system is good with big buttons and an easy-to-use interface as well as Apple CarPlay and Android Auto.
What's weird is that big space beside the screen. I originally thought it was there because there is a bigger display available and that space would allow for it. Which isn't the case. It's a storage bin with a removable tack-y pad that can be removed and washed; it seems someone vestigial as its shape and position doesn't seem like it could fit all that much.
Turns out, Ford is all about 3D printing these days and they've actually turned to the 3D printing community – this is a thing, apparently – to 3D print random things that could do work in the Maverick. One of those things is like a kind of vertical webbing that fits in that bin, and can be used to store pens and tire pressure gauges in a reasonably orderly fashion. Without that, though, it looks unfinished.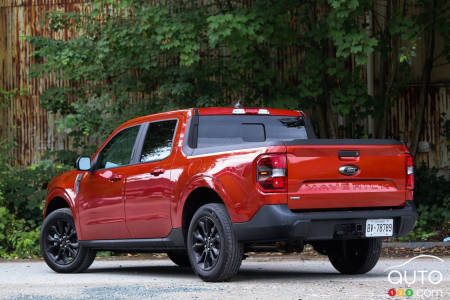 Towing and Hauling with the 2023 Ford Maverick – 7.5/10
One of the reasons the Maverick is so easy to park is that it's not that long – only about 25 inches or so longer bumper-to-bumper than the Bronco Sport, with which it shares underpinnings.
Part of that is because the only bed length you can get is a 4.5-footer, meaning the bed is about as long as it is wide. There is a bed extender feature that adds another two feet or so, but there aren't any bed access aids to speak of – no extra steps, no self-lowering suspension – though the rear bumper does get a grippy topper.
Of course, since the Maverick is a pretty low truck to start with, the bed walls aren't that high and are fairly accessible from the side for even average size adults. There's no underfloor storage in the bed like the Santa Cruz has, but there is a power outlet and a storage cubby in the passenger-side wall.
When it comes to towing, the hybrid sits at 2,000 lb, which should be enough for those buyers looking to replace a CUV with this Maverick and need it to tow kayaks as opposed to concrete. If you want a little more, upgrading to a 2.0L turbo model provides an optional tow package that allows for up to 4,000 lb of tow capacity.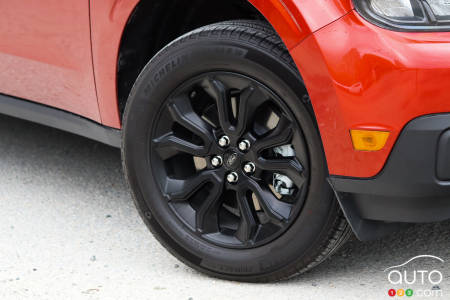 Driving the 2023 Ford Maverick – 7/10
In hybrid form, the Maverick makes 191 hp and 155 lb-ft of torque, fed to the front wheels via a CVT. 2.0L models get more power and AWD, as well as a more traditional 8-speed auto.
As for the fuel economy of the hybrid, it rang in at 6.8L/100 km during my test. That's a tick below what Ford claims for the combined cycle, which is always good and was done without me hypermiling or even spending the whole time in Eco mode, which is joined here by Tow/Hail, Slippery, Sport and Normal.
Yes, Sport. This hybrid pickup with under 200 hp gets a Sport mode, and it actually makes sense because even with the CVT there's enough get-up-and-go here to disguise both the CVT and hybrid powertrain. Throttle response on tip-in is good, and I was never left feeling trapped when it came time to make a pass on the highway.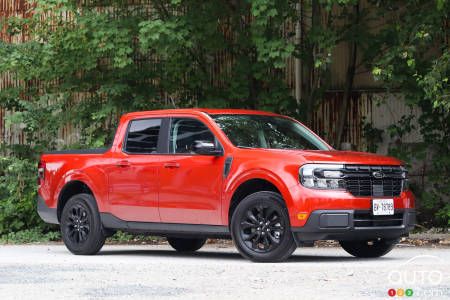 Note that even in Sport the Maverick starts to feel a little strained as you really get on it, especially on mountain roads as I was. It's no deal-breaker mind you, and if you're after more power, there's always the AWD EcoBoost model.
Good as the powertrain is, the real stars are the ride and handling. In addition to the great inner-city manners we spoke of, the Maverick makes its way through faster highway sweepers with good body control as well and the steering is nicely weighted and kinda feelsome, so you have a good idea about what's going on beneath you.
At the same time, the ride has little of the jarring and the rear-end bob you get from body-on-frame pickups with leaf springs. The Maverick has Macpherson struts up front and a torsion bar at the rear, replacing the multi-link set-up the 2.0 EcoBoost AWD models get. Ford has tuned the suspension well and for me, who was expecting a choppier ride due to the Maverick's workmanlike styling and size, it was a breath of fresh air.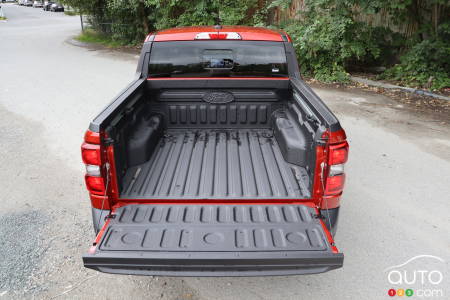 Some of your questions about the 2023 Ford Maverick
Is the Maverick Lariat trim hybrid only?
Not at all – every Maverick trim (XL, XLT, Lariat) can be had with either engine, and they all come with the hybrid powertrain as standard. If you want AWD, however, you need to select the 2.0L model.
Can I select from a variety of cab styles?
Unfortunately not. Like the bed length, all Mavericks come with the one cab configuration: four door Supercrew.
The final word
While there are faster, bigger and more technologically advanced cars and trucks out there, Ford has found a combination of all of that and delivered a cool, useful truck. Just like the famed pilot-instructor from Maverick, the movie, the pickup is more than the sum of its parts. It's great in town, it's fuel-efficient and it looks absolutely boss in this spec.
Strong points
Awesome exterior styling
Efficient hybrid powertrain
Maneuverability in tight confines
Ford SYNC4 infotainment
Smart in-cabin storage
Weak points
Lack of variety in bed lengths or cab sizes
Hybrid requires FWD, gas requires AWD
No flat load floor in rear cabin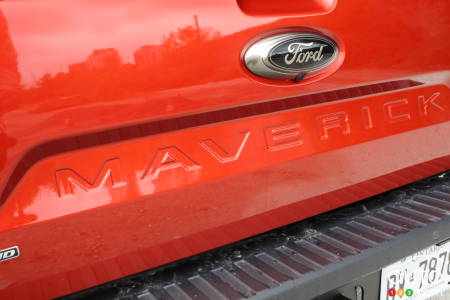 Competitors of the 2023 Ford Maverick
Hyundai Santa Cruz