• Auto123 reviews the 2023 Ford F-150 PowerBoost.
While the Ford F-150 Lightning EV may be here and stealing hearts across the land, it is not the be-all, end-all when it comes to alternatively powered versions of the world's best-selling passenger vehicle. One should not ignore the F-150 PowerBoost hybrid. There's lots to like here, and it does without some of the irritants of the all-electric Lightning, for instance the inflated price tag, range anxiety and reduced capabilities.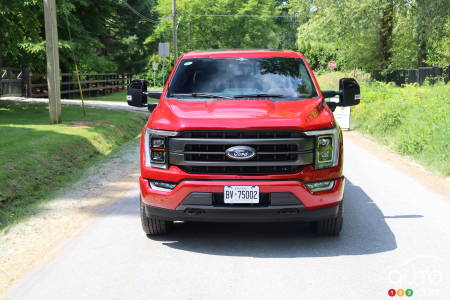 Exterior of the 2023 Ford F-150 PowerBoost - 7.5/10
There's very little to differentiate the Lariat PowerBoost from a standard F-150 version. The badge on the doors is pretty much it as Ford has left the real styling change to the Lightning. Otherwise, our tester's Rapid Red Metallic Paint with contrasting black 20-inch wheels, front grille and wing mirrors is about as go-fast as any F-150 this side of a Raptor is going to look.
Certainly the truck sends a clear lifestyle message - you could easily see one of these towing a pair of Sea Doos or rigged with a tailgate-mounted tent. Our vehicle's FX4 package, meanwhile, adds underbody skid plates and side decals. It may not move the needle much in terms of separation from other F-150 models, but it still looks darn cool.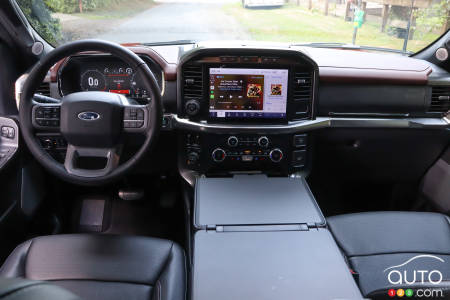 Interior and technology of the 2023 Ford F-150 PowerBoost - 8/10
The exterior styling may not be singular, but the interior is more of a departure, starting with its power-folding shift lever. With the press of a button, you can fold the console-mounted shifter into a small storage bin, leaving room for the armrest to transform into an entirely flat work surface perfect for a laptop, tablet or sandwich while on the job.

It's a great feature, though perhaps it would have made more sense to have it fold mechanically with the release of a pin, say. This electric motor is just another source of maintenance. Another wish, that if left in "flat" mode after you park and lock, it would automatically deploy once you start up again.
Other important interior bits include SYNC4 infotainment, displayed across a massive 12-inch touchscreen display with Android Auto and wireless Apple CarPlay. Also, the digital gauge cluster with one of the more unique instrument clusters you've ever seen, and optional fold flat front seats so you can rest at the jobsite.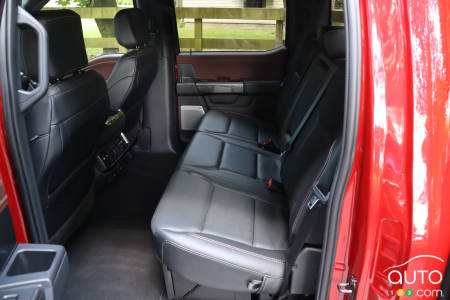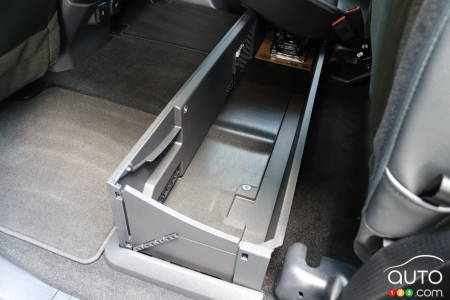 Capabilities of the 2023 Ford F-150 PowerBoost – 8.5/10
Our SuperCrew cab gets a flat floor in the back for lots of legroom and gear storage (including lockable under-seat storage). Size-wise, it's almost identical to the second row of the Expedition SUV with which it shares a platform. There's actually more legroom in the pickup. Put simply: it feels massive inside the F-150 and does justice to the SuperCrew name.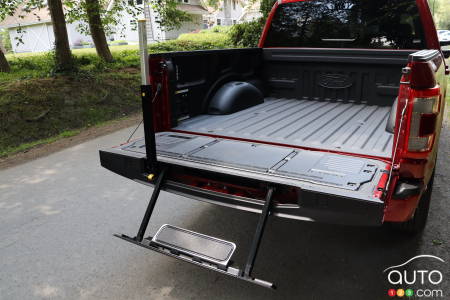 Ford has also paid special attention to the bed out back. It has all the requisite anchors and accessory rails, but it gets bonuses like side steps that extend beyond the back of the cab, so you can use them to help access the front of the bed. The tailgate is power-operated on the Lariat and when it's open, it becomes a workbench complete with etched-on ruler, c-clamp mounts, holders for your phone, tablet and coffee and a smart bed access system. It's a two-step process to open first the step then the hand-hold, but once done, it provides easy bed access.
Then there's something called Pro Power Onboard (PPO), a fancy name for an on-board power generator. The Powerboost hybrid's battery allows for a 2.4 kW of charge and can be optioned up to 7.2 kW, so not only can you power a bandsaw at the job site or a TV at a tailgate party, you could probably also power a house. Or a tiny village.
With PPO, you don't have to waste precious bed space to accommodate a separate generator. It's a great addition that adds a tonne of functionality.
While the PowerBoost has more horsepower than every F-150 model save the Lightning and two Raptor models, it does give up some capability in terms of towing and hauling to the EcoBoost model. That variant can tow 14,000 lb and haul 3,250 lb, compared to 12,700 and 2,120 for our tester.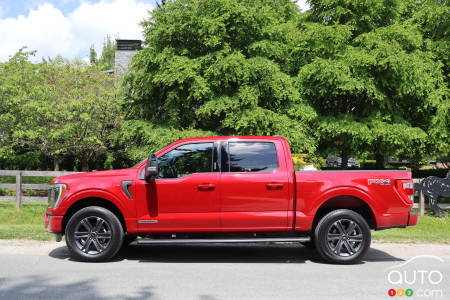 Driving the 2023 Ford F-150 PowerBoost – 8/10
Power from the 3.5L V6 hybrid comes in at 430 hp and 570 lb-ft of torque, so slightly less power than the Raptor. Power comes on nice and smoothly and the transition from EV power to gas power is subtle, with no real vibration as the gas engine comes online, just a smooth transfer of power and gutsy progress down the road ahead.
There are eight drive modes to choose from including Eco at one end of the performance spectrum, and Sport on the other; in between are Tow/Haul, Mud/Rut, Slippery and so on. These play with the various electronic driver aids, transmission and engine to provide optimal progress over any terrain and under any form of duress.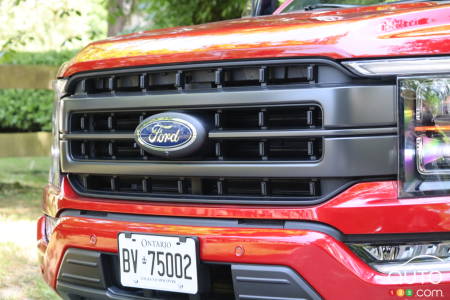 Some of the modes rely more on the gas engine while others – Eco, for example – turn more heavily to the EV motors. Power is transferred to all four wheels through the same 10-speed automatic transmission as the gas trucks get.
It's a fantastic powertrain, and while it's down on power to the Hybrid Max powertrain found in the Toyota Tundra, it makes up for it by being better on fuel. Which, many would argue, is why you'd buy something like this.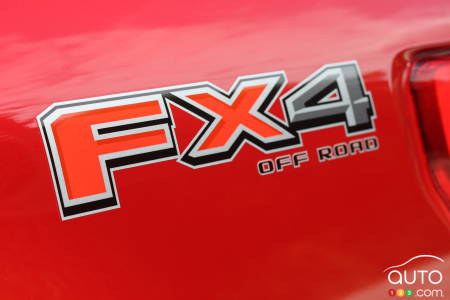 FX4 package of the 2023 Ford F-150 PowerBoost
The FX4 package adds offroad-tuned dampers as well as monotube rear shocks and a rock crawl mode. It makes the F-150 feel a little more floaty over bumps on smooth roads, but you will appreciate all that extra off-road oomph as the goings get rougher.
Since you can't spec the PowerBoost for either the Tremor or Raptor, the FX4 package is the only way to get better off-road performance with a PowerBoost-equipped truck. It goes the other way, too, because you can's spec FX4 for the Lightning, making the PowerBoost FX4 the model for those who want an off-road electrified pickup.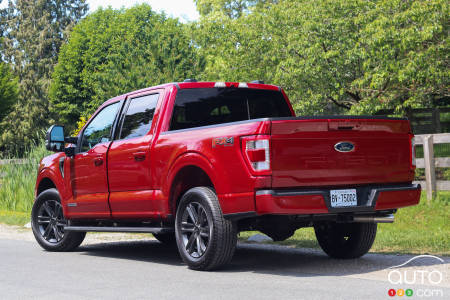 Some of your questions about the 2023 Ford F-150 PowerBoost
How many F-150 models can have PowerBoost powertrain?
The Lariat, King Ranch, and Platinum all have the PowerBoost option, while it comes as standard on the Limited trim.
Which bed lengths and cab sizes can you get with the PowerBoost?
All PowerBoost-equipped trucks can be had with either a 5.5- or 6.5-ft bed, and only the SuperCrew cab is available.
The final word
The least-expensive way to get into a PowerBoost truck is to start with a $65,750 Lariat model and add an extra $4,575 for the PowerBoost. I absolutely love the power it delivers and the fact that it gets the more powerful PPO options, but the 11.3L/100 km I registered is a 3-litres-per jump over what Ford claims for it.
As is often the case with hybrids of almost any stripe, you'll have to drive a lot to earn back the savings in fuel. Driven more conservatively – and for a longer spell than I did – I'm sure the advantages would come more into focus and I wonder if more buyers will just be happy with the extra power it delivers.
Bottom line? This PowerBoost hybrid is a very compelling alternative and one that I think folks that use their trucks as a family transporter as well as a gear hauler will appreciate.
Strong points
Paint and black detailing a nice combo
Very roomy
Flat workspace option
Good fuel economy
Bed access
Good fuel economy
Good power deliveryWeak points
Weak points
Not distinctive style-wise
Hybrid system weight affects towing and hauling
FX4 package means a little more body movement over bumps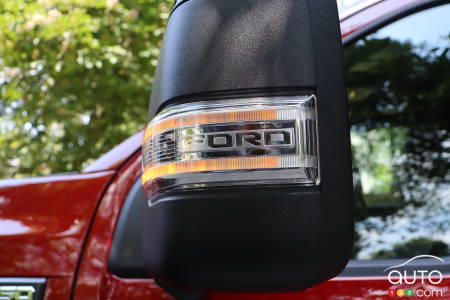 Competitors of the 2023 Ford F-150 PowerBoost
Chevrolet Silverado
GMC Sierra
Ram 1500 eTorque
Toyota Tundra Hybrid MAX
Specifications sheet of 2023 Ford F-150
Road Tests and Reviews

Experts

Consumers