• Auto123 gets in a first drive of the 2023 Ford Super Duty pickup.
The Ford Super Duty series of pickups – more specifically, the F-250, F-350 and F-450 – have been redesigned for 2023. The biggest new deal is the addition of a high-output Powerstroke diesel V8 making 500 hp. Oh and 1,200 lb-ft lb-ft of torque. That's not a typo. It's capable of towing up to a whopping 40,000 lb (about 10,800 kg) depending on the variant. That's about 11 Toyota Priuses.
See also: 2023 Ford Super Duty: Here's the Canadian Pricing
See also: Ford's Super Duty Range Gets Design and Tech Updates for 2023
See also: 2023 Ford Super Duty: A Towing Capacity of up to 40,000 lb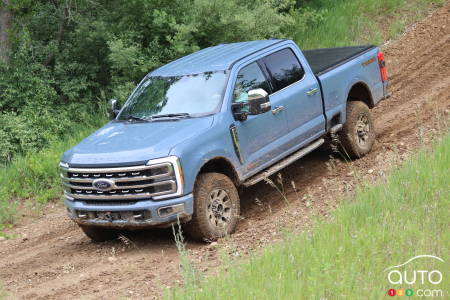 Exterior of the 2023 Ford Super Duty – 7/10
There are a number of grille styles ranging from the base blacked-out plastic of an XL work truck, to a chrome treatment with a spiralling bar between the stacked headlamps, evocative of the famous "snake" logo of the King Ranch trim. That King Ranch, meanwhile, joins the XL, XLT, Tremor, Lariat, Limited and Platinum trims for 2023.
There are no new trims, but the XL truck gets an off-road package that sits just below the well-known FX4 package and provides beefier 33-inch Bridgestone Dueller off-road tires, a higher ride height and higher front splitter for better approach and departure angles.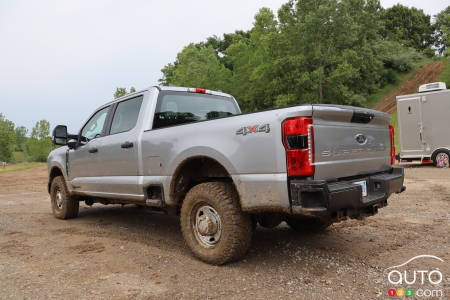 The XL doesn't look particularly special, but add the high-output diesel motor and you have quite the raucous truck on your hands. It also makes for a great fleet vehicle for forestry services and the like. All models get the Super Duty stamping across the leading edge of the hood. All three Super Duty models are available with Regular, Super or Crew cabs and each truck can be had in 4 x 4 or 4 x 2, depending on trim.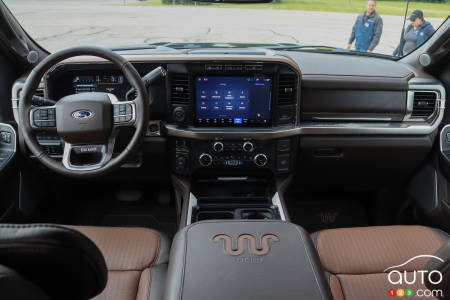 Interior of the 2023 Ford Super Duty – 8/10
How the Super Duty feels inside depends on which trim you've selected. In base XL trim, the vinyl seats and steering wheel cover plus 8-inch infotainment display and front bench seat make it clear: this is a truck that's meant to work and to be easy to clean and maintain.
Things change two steps up the range with the Lariat. It adds optional contrast-colour piping, cooled seats, new 12-inch display, digital gauge cluster and even some faux woodgrain inserts. It's a nice place to sit and the quality of the materials and fit and finish are all good.
Ram has had the top spot when it comes to a pickup's interior for some time now, but this latest Super Duty has been given such a comprehensive once-over that it's almost equal, save perhaps the Ram's vertical dual-pane infotainment screen.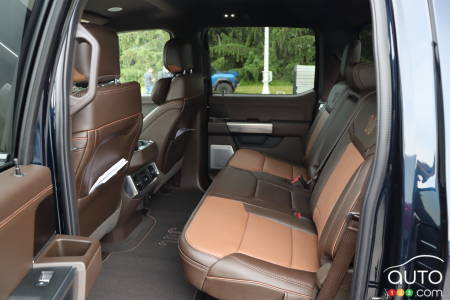 Upgrading to Limited or – my favourite – King Ranch ratchets things up further. Here you get items and choices like:
Brown leather seating
Chrome trim bits
The famous logo on the seats and headrests
New etching between the two gloveboxes
Flat rear load floor
Three cab sizes
Optional full-length sunroof (optional)
Optional power sliding rear window (optional)
Bang and Olufsen audio (optional)
Wireless charging
Apple CarPlay and Android Auto
Heated and cooled rear seats.
In all trims, the seats are more comfortable and supportive than previous (and can fold flat) and the ergonomics – from the shape and level of the armrests to the placement of the cupholders – are spot on. The shifter is column-mounted no matter which truck you opt for, but only on more basic models do you get a flat work surface between the front seats.
Tech in the 2023 Ford Super Duty – 9/10
There are a number of tech adds that make living, towing and hauling with the truck easier. New for 2023 is trailer hitch assist, which adds a hitch view to your back-up camera to more easily line up your trailer hitch.
Once moving, the central display can become a blind-spot camera that includes the length of your trailer and activates as soon as you flip the indicator. That joins Pro Trailer Backup Assist (PTBA) which allows the truck to steer for you as you back up, making trailering easier for novices and the experienced alike.
We've seen PTBA before, but what's new is the tongue scale system that shows you (on your multimedia screen) how balanced your trailer's load is, and how much capacity you have before you reach the limit.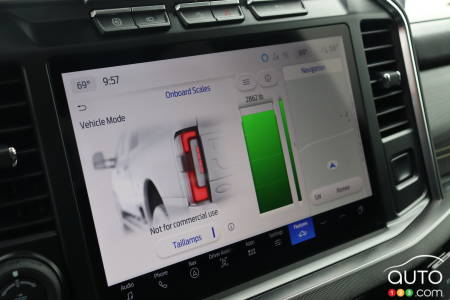 Also, say you're trying to load a skid loader onto a trailer, but you're not sure how best to place it on the trailering surface. To help with this, the taillights feature a bank of four lights that flash if the weight isn't perfectly centered. Skid loader too far back? The lower bulb flashes. Too far forward? The upper bulb flashes. It also works to help you balance your payload, too.
An optional Pro Power Onboard generator system is also here, and the 2.0 kW it generates is enough to power any number of tools at the jobsite or gear at the campsite.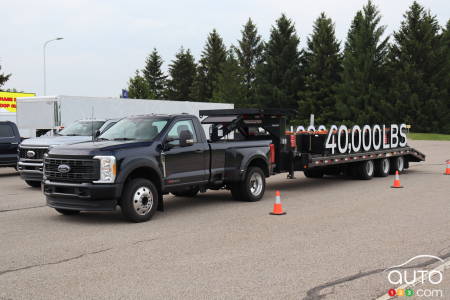 Towing and hauling with the 2023 Ford Super Duty – 9/10
Here's what you can pull with each version:
F-250 - 7,030 kg (15,500 lb) with a conventional hitch and single rear wheel
F-250 - 6,759 kg (14,900 lb) with a gooseneck
F-250 - 6,305 kg (13,900 lb) with a fifth wheel
F-350 - 9,070 kg (20,000 lb) with a conventional hitch and single rear wheel
F-350 – 9,933 kg (21,900 lb) with a gooseneck
F-350 - 9,435 kg (20,800 lb) with a fifth wheel
You can haul up to 3,628 kg (8,000 lb) on the truck itself. Greater still is how you can extend your bed by keeping the tailgate open but not lose the use of your backup camera. Ford has installed a second camera atop the tailgate so that when it's open, you can still use it. This helps you back up as close to your loading surface as possible.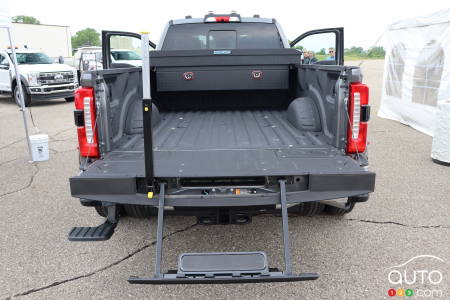 Add the tailgate's bed access step as well as additional steps on the bumper corners and just ahead of the rear wheels and there are few spots you can't reach within the bed (which ranges in size from 6.75 to 8 feet).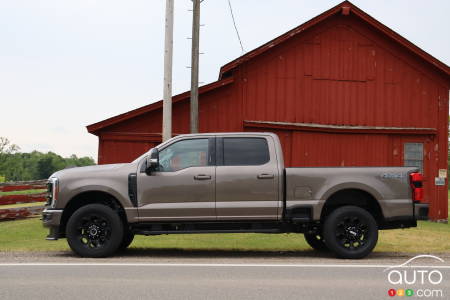 Driving the 2023 Ford Super Duty – 8.5/10
We started the day at the wheel of a gas-powered Lariat truck and while it doesn't have anywhere near the torque of the diesel engines – both of which make over 1,000 lb-ft – the 430 hp and 485 lb-ft of torque the 7.3L makes is enough to tow over 8,845 kg (over 19,000 lb) depending on spec. (there's also a 6.8L version on the base XL model good for 405 hp and 445 lb-ft).
For this portion, we drove unloaded through highways and biways of central Michigan, and while our crew cab short-box truck is no lightweight, the gas engine and 10-speed auto transmission worked well in concert to move us down the road. It all happens with a wonderful growl from the V8 as well, helped along by the dual-exit tailpipe sprouting out behind the right rear wheels.
You could drop this motor in a smaller truck and it likely wouldn't feel much faster. Not sure whether that's due to the engine being too overpowered for a small truck or too underpowered for a large truck. It does make more than the 5.7L Hemi offered by Ram or the 6.6L V8 used by GM on its Sierra and Silverado trucks). Bottom line, we weren't pining for the diesel engine.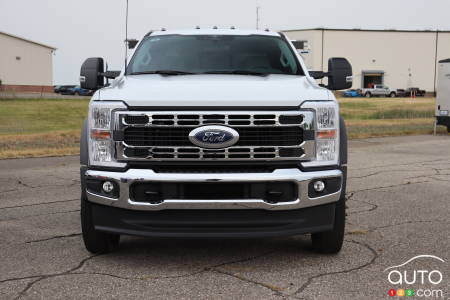 Until, of course, we got the diesel truck, in the same body spec, but in Limited trim. Then we felt how massive 1,200 lb-ft can be, both in terms of performance and price. Note that it costs over $13,000 to get the big motor in Canada, meaning you can't get the most powerful Super Duty for less than 70 grand – and that's for a base XL model. Opting for the less-powerful option will save a couple grand.
Depressing the gas pedal won't return a sports car-like response – the engine does weigh in at about a tonne, after all – but the well of torque gives the impression that acceleration just won't ever stop.
To really put the Super Duty's locomotive chops to the test, we were given the chance to tow a number of trailers in a number of trucks, including a 37,000-lb horse trailer and a 40,000-lb flatbed loaded with weights. On Ford's Michigan proving grounds, we tackled 7-12 degree grades, roundabouts and narrow passages so we could test the mirrors, trailer blind spot system, brakes – both of the friction and mechanical variety - and the various trucks' overall ability.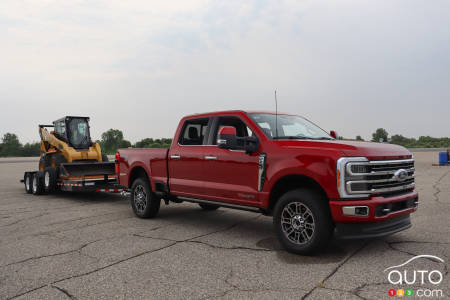 The bottom line is they acquitted themselves well – for the most part. You are never going to fully defeat physics and there was definite fore and aft bob as we made our way around in the more heavily laden vehicles, but we could tell that loads in the 10-20,000-lb range are going to be dispatched with little drama.
Here are a few of your questions about the 2023 Ford Super Duty
How do I achieve the highest towing capacity for my Super Duty?
To get that 40,000-lb tow capacity, you'll need to opt for an F-450 4 x 2 single cab with long box, dual rear wheels, high-output diesel and gooseneck trailer.
How do I achieve the highest payload capacity for my Super Duty?
An F-350 4 x 2 with 6.8L gas engine, dual real wheels and a regular cab gets you the max haul rating of 3,628 kg (about 8,000 lb).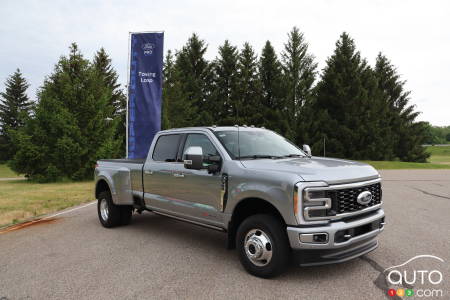 The final word
Take those mechanical capabilities and add all the features that make it easier to tow and haul, and you can see how this latest Super Duty is aiming to be the king of the pickup truck world and it definitely has the bonafides to make a real push. The high-output diesel is fantastic, the interior is laden with tech and comfort and the overall capabilities are immense.
There are of always going to be those loyal to one truck brand or another, but you know that for the agnostic buyer looking to get into the heavy-duty pickup game, the 2023 Ford Super Duty is going to draw its fair share of attention.
Strong points
Great styling variety across all trims
Black Appearance package
Strong build quality and materials used
Lariat and up offer top-drawer luxury
Strong diesel powertrain
Smooth ride
Weak points
Grille/headlight designs a little too space-aged
Some glare with the screen displays
That diesel powertrain is expensive
Some bob under heavier loads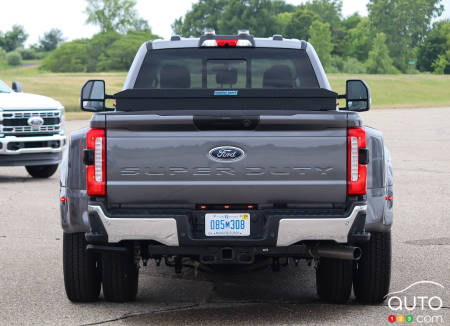 Competitors of the 2023 Ford Super Duty
Chevrolet Silverado HD
GMC Sierra HD
Ram 2500/3500 HD
Toyota Tundra Hybrid MAX
Specifications sheet of 2023 Ford Super Duty