• Auto123 reviews the 2023 Honda Accord Hybrid Sport.
My friends, sit back and let me tell you the story of the Accord. Honda's sedan long ago earned its reputation for ruggedness and reliability, and as the ideal vehicle for families looking for a stylish sedan. Its battles with the Toyota Camry for market share in this once-dominant segment were legendary. Over the decades, this spacious, practical car has evolved but never transformed itself. Recently it has acquired a new quality, that of fuel frugality - especially with the hybrid model we test drove.
Even as it receives moderately significant changes and a new silhouette, the 2023 Accord is generally still very reminiscent of the generation that came before. Knowing Honda's "careful" approach to change, that's no surprise.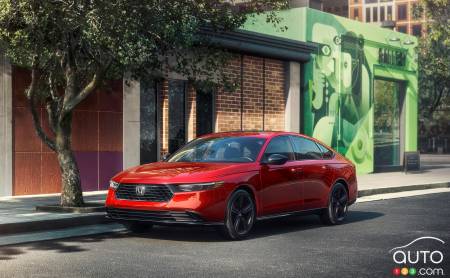 Design of the 2023 Honda Accord Hybrid Sport
A long hood and sloping roofline help bring out the model's elegant personality. The front end is sleek and harmonious, with a simplified grille and headlamps, while the rear lights add a touch of elegance. All in all, its charming design doesn't overdo it to attract attention. This is a common feature in this segment.
Finally, the overall sobriety of the lines does a good job of concealing the Accord's rather imposing size, which you discover only when you climb aboard.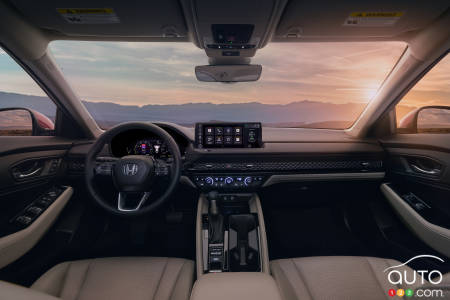 Interior of the 2023 Honda Accord Hybrid Sport
When you do that, you discover a layout very similar to that seen in other Honda models recently updated. The new design is enhanced by decent-to-high quality materials. In typical Honda fashion, the main controls are easily accessible and in intuitive places. Honda finally has righted the wrong it committed in hiding basic commands within the onscreen menus, so you have buttons for the audio volume, for adjusting the climate control temperature and for toggling through the drive modes.
The digital instrument panel does a wealth of configurable data. The controls are well laid out and the ergonomics are exemplary. Honda has also integrated the instrumentation into the dashboard in a harmonious way.
Getting in and out of the cabin is a breeze. Taller folks may find themselves getting intimate with the headliner, but on the whole, space in these quarters is generous, especially for long-legged occupants.
Sightlines are very good with blind spots reduced to a minimum in size, the slim columns and vast rear window providing a great view outward. Cargo space is large enough to hide all your treasures.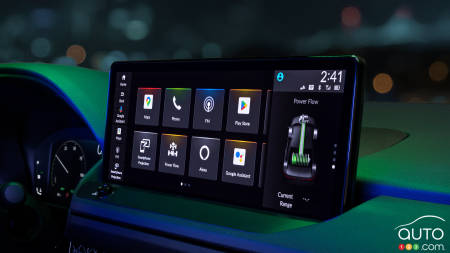 Our Hybrid Sport tester came with a 12.3-inch screen, a display configured for Apple CarPlay and Android Auto. Google is present as well as the integration of services, but only for the range-topping Touring model, not our Sport model. Which is a pity, because these features would go some ways to making the lower trim models feel upscale. A package of options, including an optional Bose system and Google Assistant, would transform the Sport-L into a more desirable model.
You do get the Honda Sensing package, a suite of systems designed to guide you through any and all trials of the realm. The lane-keeping assist feature can sometimes be overbearing, but overall you and the tech coexist fairly peacefully (and safely).
And let's not forget the ease with which adaptive cruise control can be accessed at the touch of a button on the steering wheel. The technology is not intrusive, and in no way disturbs the tranquillity of the journey.
Driving the 2023 Honda Accord Hybrid Sport
The Honda Accord Hybrid uses a 2.0L 4-cylinder Atkinson-cycle engine that generates 146 hp and 134 lb-ft of torque on its own. It's coupled to an entirely new fourth-generation hybrid system featuring two electric motors. Together, the engine and electric motors produce 204 hp and 247 lb-ft of torque. The engine/motors work in tandem with a continuously variable automatic transmission (CVT), with power going to the front wheels.
The hybrid system automatically switches from gas to electric or a combination of the two, depending on driving conditions. Here's the really good part: Fuel consumption is rated at 5.0L/100 km city, 5.7 highway and 5.3 combined.
Honda deserves credit for minimizing the disagreeable traits of the CVT, namely that it tends to fall asleep on the job. This transmission deftly simulates gear shifts, generally at the right times.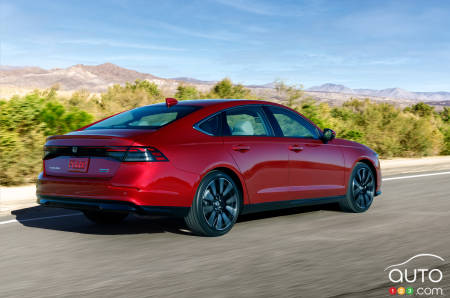 As far as handling and steering are concerned, the Accord hangs on to bends with elegance, though don't go calling this Sport sporty. The model's greatest qualities on the road is its overall driveability, a product in large part of solid construction and quietly working mechanics. Honda just needs to add a touch of daring and a thrill of excitement to make it truly interesting.
The final word
The latest Accord is a solid choice. It's spacious, practical and easy to drive. Our hybrid version is also surprisingly fuel-efficient. The base EX version starts at $37,000, while our test model starts at $44,000, and you'll be close to $50,000 for a hybrid Touring version. In return, you're unlikely to e visiting your neighborhood Honda service centre all that often.
Your questions about the 2023 Honda Accord
Why choose a Honda Accord over its competitors?
Honda remains a leader when it comes to powertrain efficiency, this despite a certain absence of innovation in recent years on that front. Overall, it's hard to be disappointed with the Accord, which has always offered – and continues to offer – solid performance, ample interior and cargo space and good quality finishing.
Strong points
Discreet exterior design
A style that disguises its size
Nice living space
Quiet running
Easy-to-handle screen
Fuel economy
Weak points
Discreet exterior design
Unnoticeable in a crowd
Rear headliner a little low
Rear doors could open wider
Safety and technology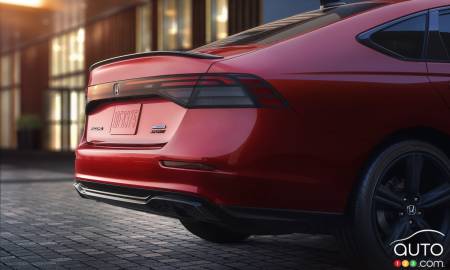 Competitors of the 2023 Honda Accord
Hyundai Sonata
Kia K5
Nissan Altima
Subaru legacy
Toyota Camry