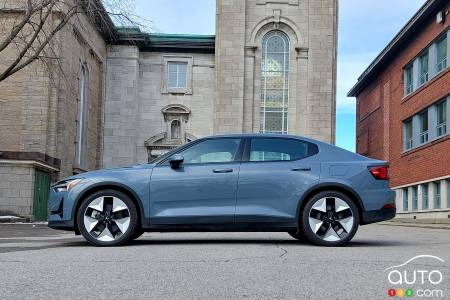 • Auto123 test-drove the 2023 Polestar 2.
• Here are your questions about this new electric model, and our answers.
The Polestar 2 is an electric vehicle belonging to Volvo's new electric brand, operating as a stand-alone marque. This sedan is stylish and practical, thanks in part to its low ride height. The model is equipped with a large 78-kWh battery and an electric motor powering the front wheels, with the option of a more powerful all-wheel-drive configuration that includes two electric motors.
According to the EPA, the car has a range of 434 km in front-wheel-drive version and 418 km in four-wheel-drive configuration.
Inside and out and even performance-wise, this is a familiar environment, if you're familiar with Volvos that is. Some may assume this is a Volvo sub-category, a line of "cheaper" Volvos, but that isn't the case. So let's see why you should opt for this Polestar 2 rather than the Volvo C40, its competitor (even though that's considered a crossover and this Polestar is a sedan).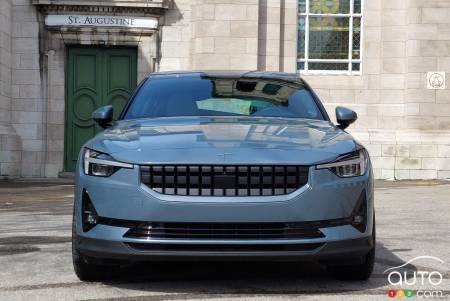 The Polestar 2, a cut-rate Volvo?
For Volvo brand insiders, there's no doubt that there's a strong resemblance here to the parent company's products. The Polestar 2's T-shaped headlights and grille are seamlessly integrated into the vehicle's front design. Instead of a conventional air vent, the Polestar 2 features an elegant, squared-off surface that blends harmoniously with the rest of the body. The Polestar logo sits proudly front and centre.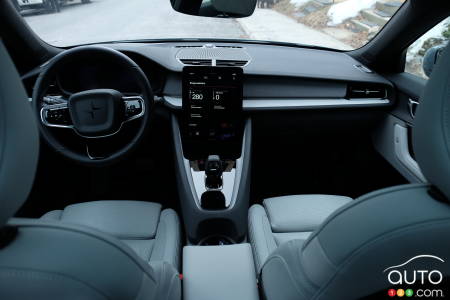 How about the interior of the Polestar 2?
The interior is as clean and cool as the exterior. It has a modern look, with a small gearshift lever and a small 11.2-inch touchscreen connected to Google. Whether you like it or not might depend on whether you can connect to Google interfaces.
The main screen manages all the vehicle's parameters, from the climate control system to the multimedia system and the entire Google suite. We would have liked to have had a few buttons in place, but we also understand that these buttons run counter to the purity and meticulous finish you'll find inside this vehicle.
The Polestar 2 isn't a large car, but it does offer decent space for front and rear passengers. Although the vehicle may look big from the outside, inside you'll quickly feel claustrophobic. The high side-panel pillars leave a little less glazed space, so there's a feeling of a lack of space on board. Fortunately, the vehicle handles very well in tight parking spaces, thanks to the front and rear parking sensors and especially the 360 cameras if you opt for the $5,700 "plus" package.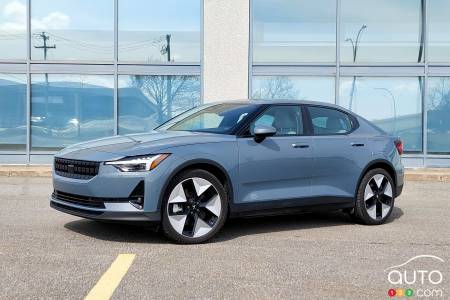 How does the Polestar 2 drive?
Depending on your choice of powertrain, the Polestar 2 gives you access to 231 hp, 434 km of range with front-wheel drive, or 408 hp and 418 km of range if you opt for all-wheel drive.
The 408-hp configuration dazzled us with its power and driveability. The 0-100 km time of 4.1s is worthy of a true sports car. As for braking, the car brakes as hard as it accelerates. You feel safe behind the wheel of the Polestar 2.
There's no doubt about it, this is a Volvo. Once you've reached your destination, unbuckling your seatbelt and stepping out of the car automatically switches the vehicle off. Even if this isn't the first time you've experienced this way of switching on and off your vehicle, it's still unsettling to get out of the car without pressing a stop button.

Why a Polestar 2 rather than the Volvo C40?
During our week-long test drive, we were seriously asking ourselves the question. Which to buy between a C40 and a Polestar 2. The Polestar 2 competes directly with the Volvo C40 Recharge, even if technically we consider the former a car, the latter a crossover.
Volvo's C40 starts at $63,184 with all-wheel drive and offers 364 km of range. The Polestar 2 AWD starts at $60,450 and offers a range of over 400 km.
But don't forget that the Polestar 2 is also available with front-wheel drive. It is possible to opt for a model without options and with front-wheel drive for a price starting at $53,950. That's an attractive proposition for those who want a top-of-the-range electric vehicle while benefiting from various government subsidies.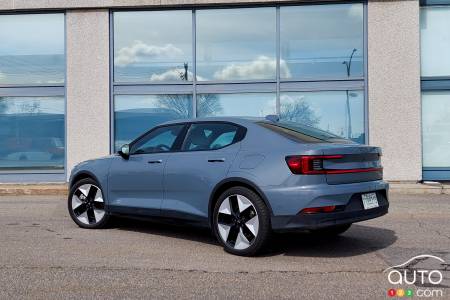 Should I buy a Polestar 2 or not?
In our opinion, this EV is a very attractive choice. It's a pure Volvo product with all the benefits of a Volvo without the high price tag of a C40 or XC40. Another positive point is that, according to the various Polestar forums, new customers generally seem to be able to get their hands on a model in less than 6 weeks. So if you want an electric vehicle fast, there was Tesla and now there's Polestar.
Competitors of the Polestar 2
Tesla Model 3: Probably the Polestar 2's most direct competitor, the Tesla Model 3 is a leader in the electric vehicle market thanks to its long range, impressive performance and extensive recharging network.
Audi e-Tron: This mid-size electric vehicle offers a comfortable ride and a luxurious interior.
BMW i4: This electric sedan promises a sporty driving experience while offering a decent range.
Hyundai Ioniq 5 and 6: The Ioniq 5 and now 6 are the new stars in Hyundai's electric vehicle range. The Ioniq 5 crossover has proven itself since its debut, while the new Ioniq 6 electric sedan, with its futuristic design, is positioned as a very attractive alternative to the Polestar 2.
Kia EV6: The EV6 offers a range comparable to that of the Polestar 2, while retaining a modern design. It also offers a variety of 2- or 4-wheel drive configurations to meet different driver needs.
Volvo XC40 and C40 Recharge: The XC40 Recharge shares much of its technology with the Polestar 2, as both brands are owned by the same group.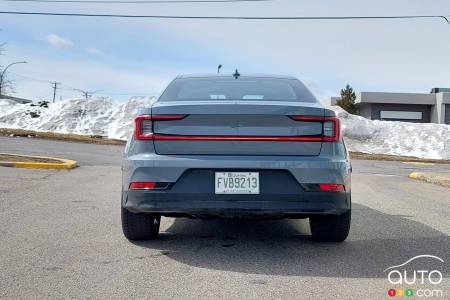 Road Tests and Reviews

Experts

Consumers