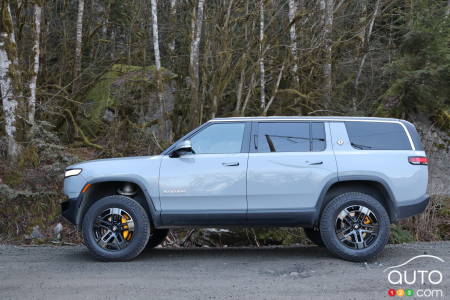 • Auto123 reviews the 2023 Rivian R1S, the "other" Rivian.
• For fans of big SUVs who like lots of power and lots of style, here you go.
Up to now, for most folks, the word Rivian conjures the image of … a pickup. The R1T pickup has been the tip of the spear for the EV maker in the public imagination.
Actually, the Rivian R1T is one of those vehicles that, if I'm honest, kind of snuck up on me. Maybe because its gestation period was such a nebulous affair. There was the intervention – then non-intervention – of Ford, there was the low recognition of the Rivian brand name, there was the crazy styling, etc. But the fact is, that R1T came seemingly out of nowhere and beat Tesla's Cybertruck to market by… well by infinity, since we still don't know when (if?) that electric pickup is coming.
And then there's the R1S SUV version, even more of a mystery figure than its pickup counterpart. Most people I talk to don't even know the SUV exists. That was "intentional" on the part of Rivian, which really pushed the pickup-ness of its product initially, because that added even more uniqueness beyond the wild light bar up front and bright colours.
The R1S SUV is in a different arena. EV or PHEV SUVs are more common than pickups – think BMW iX, Tesla Model X, Volvo XC90 Recharge and so on. The R1S may have a slightly tougher road to buyers' hearts as a result.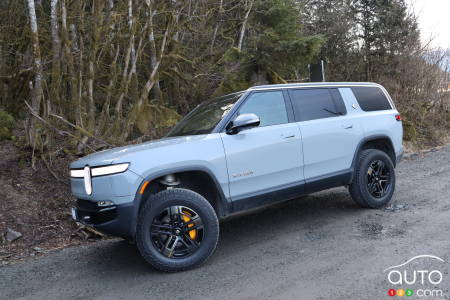 The exterior
That front end with its full-width light bar and vertical headlamps is always going to be divisive, but I don't think too many will complain about the rest of the exterior styling. The cabin gets an almost "chopped" look that's coolest with the vehicle set to its lowest ride height (the four-corner air suspension that allows this also keeps the Rivian flatter through corners). Also the off-road wheels and tires on my tester are a good fit and shroud bright yellow brake calipers.
And that front end? Well, it's futuristic but given what companies like Kia, Mercedes' EQ division and others are churning out these days, Rivian's polarizing design might be standard stuff on the car/light truck landscape before long.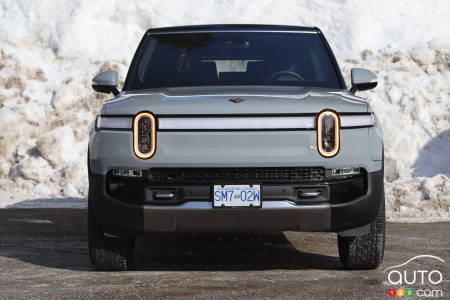 Still though, some will get turned off when the R1S is sitting at its highest ride height (there are four levels altogether). In that stance, since it has a pretty low roof, it really does look like it's on stilts. Then again, as people have pointed out to me, SUVs that offer this kind of feature often look weird when set to their highest. It's just that given the rest of the R1S' styling package, it's especially noticeable.
Overall, though, it is an awesome-looking thing that pulls off the neat trick of very obviously being a current – even futuristic – SUV, but with great nods to the squared-off SUVs we all know and love, such as the Jeep Wrangler or Land Rover Defender.
Strong points
Futuristic, distinctive front end
Chunky off-road tires fit well
Weak points
Weird-looking when at highest ride height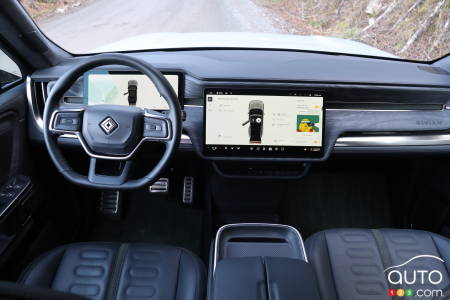 The interior
The R1S' interior is like a cross between MEC and Matt and Nat. There's vegan leather everywhere (the company's CEO, RJ Scaringe, is a vegan), some very classy wood inserts, bronzed buckles on the doors and front seatbacks that look like they're made from a repurposed MSR stove. Even the keyfob is in on the deal, because it's a carabiner. Well not really, but it looks like one. There's even a removable Bluetooth speaker with mounted USB-C port that uses the same tech the rest of the Meridian speakers found inside do. That's another level, right there.
More practically, the interior is an open and low-clutter space. Like in a Tesla, the main display – all 16 inches of it – is your go-to spot for nearly everything, including driver aids, drive modes and even mirror and steering wheel adjustment. I generally prefer physical buttons but such is the way of the world these days. At least in the Rivian, you don't have to deal with a fingerprint-baiting touch panel, just a digital display.
But you'll have to stick with Rivian's native interface – there's no support for Apple CarPlay or Android Auto, or for Alexa or Google on-board. Hurrah for Rivian's native interface being developed in Canada, but the navigation system had a number of problems on my test route. I test every navi system on this route and Rivian's is imperfect, asking me to take exits I knew would slow me down. The route I actually took from my own memory got me home 20 minutes faster.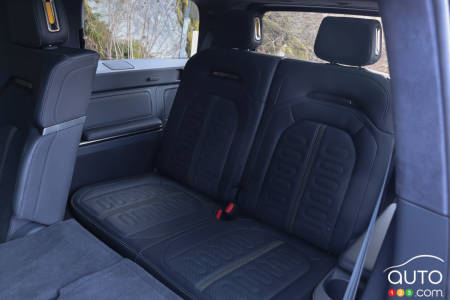 Comfort-wise, the front cabin is a roomy, airy place (aided by a full-length moonroof) that provides a good seating position and great view out. The second row has more room than what's found in the R1T and is roomy enough for two adults to sit comfortably.
That row has its own USB-C ports, and since the Rivian features a quad-zone climate control system, each back seat occupant gets their own climate controls, including heated seats. The third row is not for taller folks, but thanks to that boxy shape the headroom isn't bad and there are two USB-C ports, cupholders, and wall-mounted storage bins.
Since there's very little driveline infringement into the cabin there's room aplenty for cargo in back, and the dual tailgate is great both for loading the vehicle and providing a perch as you do up your hiking boots. There's also underfloor storage that comes equipped with the necessary tubing for the on-board air compressor as well as a first aid kit. And yes, you have a frunk, and it gets a removable floor for even more storage.
Strong points
Combo of traditional, modern materials
Spacious
Proper-sized digital dash
Weak points
Few hard buttons
No Apple CarPlay or Android Autod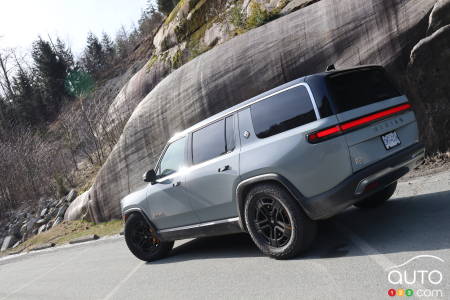 The drive
The R1S comes with four EV motors – one per wheel – that produce 831 hp and 908 lb-ft of torque. The SUV is good for 465-515 km of range depending on spec (our tester is at the lower end of the scale due to its off-road tires) and can be charged at up to 200 kW.
To help you charge as you drive, there are two levels of brake regen; this can never be fully shut off and as a result, the R1S is in one-pedal drive mode most the time. At slower speeds, you can simply release the throttle and the R1S will come to a complete stop.
I've driven many one-pedal drive modes before, and I can't recall the last time it felt this natural. Things quickly become intuitive, and at times I realized only after the vehicle stopped that I had never actually touched the brake. It even works at higher speeds on twisty roads, although it eventually cancels itself out if things get too fast.
With that much power and torque, once you dip into the pedal of this thing you're flat-out gone. Which is what the instant release of over 800 horses and 900 (!) torques will do. You are off the line in a hurry and while I wouldn't call the R1S a performance SUV – it does weigh about 7,000 lb, after all – it is fun to dip into that throttle pedal, that's for sure.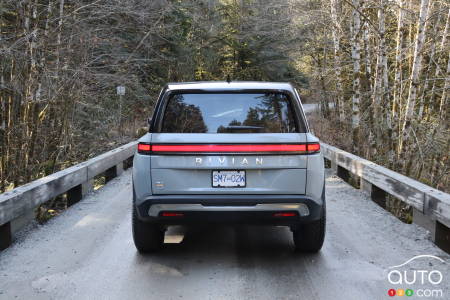 The R1S zips along with gumption and with all that torque you don't have quite the let-down when at speed as you do in some other EVs that can run out of puff as speeds increase.
To show that there is actually fun to be had when off the beaten track, Rivian has provided both Rally and Drift – yes, Drift – modes to allow you to tap into your inner hooligan. Rally mode is a hoot as you really feel that power going rearwards and providing a sports-car feel in the most un-sports-car-like circumstances on a fast gravel road. It's when those off-road tires earn their keep.
But what really does it for the R1S is the handling. More specifically, it's the steering, which feels almost hydraulically assisted, as if you were driving a Nissan Frontier. It's an uncanny feeling for an EV of any kind, as they do tend to isolate occupants as much as possible, for instance by eliminating unnecessary vibrations through the steering wheel. There's not really any of that here, just a good amount of weight.
I did find the lane-centering and lane keep assist system too sensitive; I was happy to turn off via sliders in the menu.
Strong points
Natural one-pedal drive
Lots of power
Good steering feel
Weak points
Very heavy
Backup camera located too low
All-terrain tires and big wheels hurt range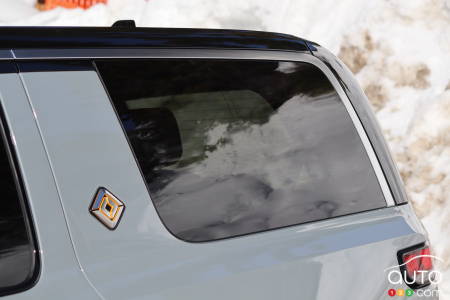 A few of your questions about the 2023 Rivian R1S:
Is the four-motor version of the R1S the only option?
For now, yes. A dual motor model with 418 km of range will be available soon.
Is there a two-row R1S in the offering?
The R1S comes only as a three-row SUV, but there are rumours of a two-row "Sport" version possibly on the way.
The final word
This is a lifestyle-focused vehicle meant to contend with the likes of the Jeep Wrangler 4xe and Land Rover Defender, according to Rivian. That means unique styling both inside and out – indeed, this SUv is as distinctive-looking as are the Wrangler and Defender. It is a darn cool thing that turns heads left, right and centre.
And while some may balk at the $125,000 starting price, that's in the same ballpark as the GMC Hummer or BMW iX in xDrive50 form, for example. And the Rivian makes more power and range than those models when similarly equipped. Plus, to my mind the R1S looks better than both of those and gets that certain je ne sais quoi that comes with being a bit of a disruptor brand.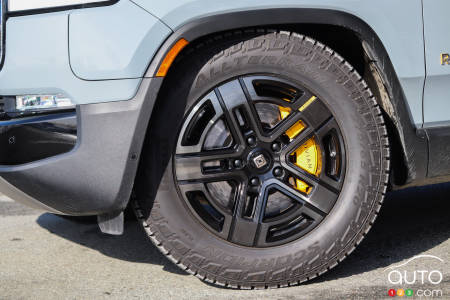 The competition
BMW iX
GMC Hummer SUV
Jeep Wrangler 4xe
Mercedes-EQ EQE SUV
Tesla Model X
Volvo XC90 Recharge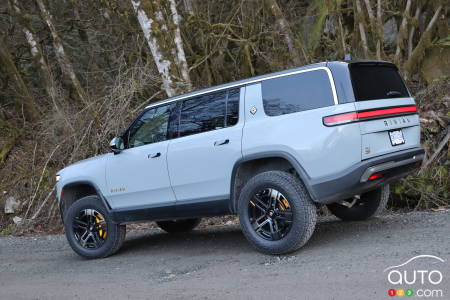 Road Tests and Reviews

Experts

Consumers