• Auto123 gets in a first drive of the 2024 Chevrolet Silverado HD.
Oshawa, ON - In December 2019, GM ended vehicle production at its Oshawa, Ontario plant. The plant was at a crossroads. Fortunately for the plant, a year later, a new agreement between the automaker and the Canadian Auto Workers Union (Unifor) breathed new life into the plant.
Basically, a $1.2 billion investment was announced, which has since been increased to $1.5 billion, all with the aim of modernizing the plan to produce LT (light) and HD (ultra heavy-duty) versions of the Chevrolet Silverado pickup. Incredibly, a year later, the first new model rolled off the production line, an HD version. The first regular Silverado followed in 2022.
Now we're at the 2024 Silverado HD. Production of the model, which gets some beneficial tweaks for the new model-year, began this past March.
Last week we were invited to visit the factory and test drive a new truck fresh off the assembly line. The program entailed a Montreal-Oshawa return drive, with a deviation via Ottawa on the way in my case. We racked up just over 1,000 km in the new pickup, enough to get an excellent idea of its qualities.
2024 Chevrolet Silverado HD versions: old and new
For 2024, the same versions are available: WT, Custom, LT, LTZ and High Country. Added to this are the ZR2 and ZR2 Bison variants, which will join the range a little later. Then, with the High Country variant, the best-selling model in the range (accounting for 35 percent of sales), there's the Midnight Edition, which adds black accents to just about everything (grille, skid plate, wheels, bumper, 20-inch or 22-inch wheels, etc.).
The Silverado HD is still offered in 2500 or 3500 configurations, with three cab types (regular, double and crew) and different box lengths. You can't change a winning combination, and the possible combinations seem endless. For buyers, that's always appealing.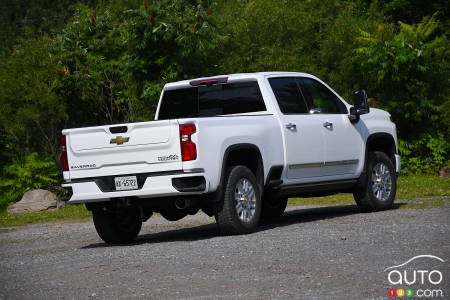 Revamped styling
The current generation was first presented in summer 2019; four years later, it was time for a little aesthetic refresh. The latter is welcome, because frankly, the front end was pretty awful. The lines have been softened, the grille revised and the headlights redesigned, so that the overall look is more harmonious. It's always a matter of taste, but the consensus opinion we've heard is favourable.
And as is always the case with the different variants in the catalog, each one is easily recognizable, whether it's a WT (Work Truck) model with its simplistic appearance, a High Country version with its abundance of chrome, or a Z71 variant with its sportier look (available with LT and LTZ models).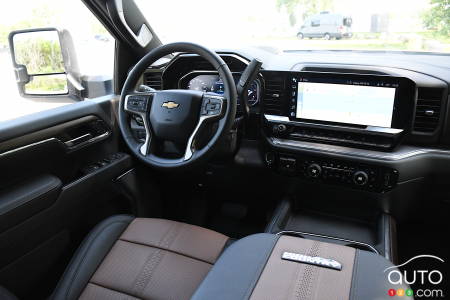 More luxury inside
There are substantical changes on board, but only starting with the LT model. The new dashboard features two big screens, 13.4-inch and 12.3-inch, for the multimedia system and digital instrument cluster respectively. Once you've done away with analog dials, you'll appreciate the amount of information at your disposal, as well as the clarity of what's presented. The Apple CarPlay and Android Auto apps are still wirelessly accessible, but the new interface also offers Google's integrated system with the multiple functions it offers.
We'll have to try it out with a few more GM models before we form a real opinion about it.
What is striking is the level of luxury now offered on board HD vans. Of course, we were at the wheel of a High Country variant, but still, when you're finding top-quality leather and wood trim on board, it's clear things have changed. In the old days, an HD pickup was more rudimentary and work oriented. Now it's much more versatile and luxurious.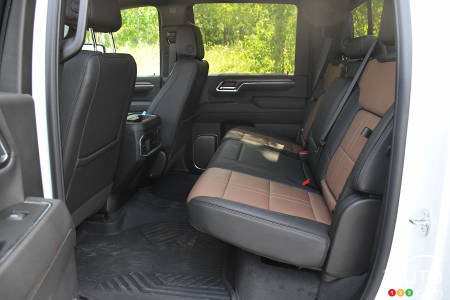 Understandably, this comes with a hefty price tag. The base price of the model we tested is $96,730, with all associated costs. A base WT version will set you back just over $60,000.
Here are prices for the 2024 Chevrolet Silverado HD:
Silverado HD WT: $60,230
Silverado HD Custom: $64,430
Silverado HD LT: $64,630
Silverado HD LTZ: $77,130
Silverado HD ZR2: $95,298
Silverado HD High Country: $96,730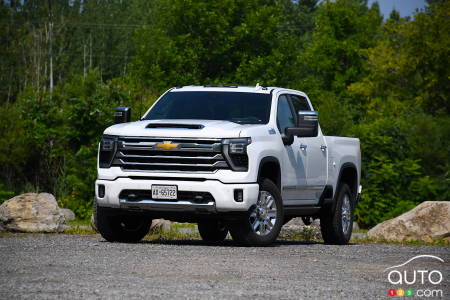 2024 Chevrolet Silverado HD powertrains: continued improvements
Under the hood, Chevrolet still offers the same two mills: a 6.6L V8 gasoline engine, and another 6.6L V8, this time diesel-powered. Each gets improvements for 2024.
In the case of the diesel engine, power has been increased to 470 hp and 975 lb-ft of torque (previously 445 and 910). This powertrain is still mated to a highly efficient 10-speed Allison transmission.
The other major change for 2024 is that that 10-speed unit now serves the gasoline engine also. Until now, that engine, which offers 401 hp and 464 lb-ft of torque, was married to a 6-speed auto transmission. However, that tandem wasn't very interesting and power wasn't well exploited. I had the opportunity to observe this when the model launched in Oregon in 2019. Unfortunately, it was impossible to try out the new combination this time around, but it's going to happen eventually.
The arrival of the new transmission, we're promised by Chevrolet, makes much better use of the power on offer, which translates into better performance. To be confirmed in subsequent tests.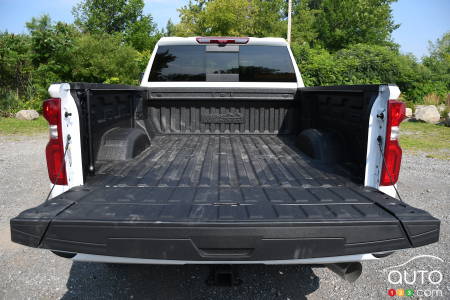 Maximum towing capacity with both engines is 19,080 lb with the gasoline engine, 36,000 lb with the diesel. Obviously, this varies enormously according to cab and gearbox configurations, but it gives you an idea.
As for my 1,000-km trip with the diesel engine, it reminded me just how much of a workhorse this block is. I had the opportunity to haul around 1,500 lb of material, and it was hardly remarkable.
When it comes to fuel consumption, you have to put things in perspective. You get this model for work and towing, and you live with the amount of fuel it uses. Driving with no load on 800 of the 1000 km covered, I recorded an average of 11.9L/100 km.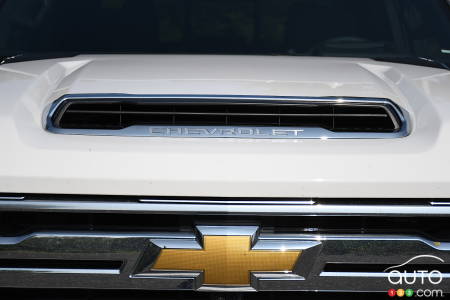 The final word
2024 is a year of both change and continuity for the Chevrolet Silverado HD. Still a work vehicle at heart, it serves those looking for capability first. At the same time, buyers get a versatile, spacious and well-built model - as our visit to the factory enabled us to see for ourselves.
And with production now with a Canadian flavour (the model is also assembled in Michigan and Indiana), local consumers are promised better accessibility than ever.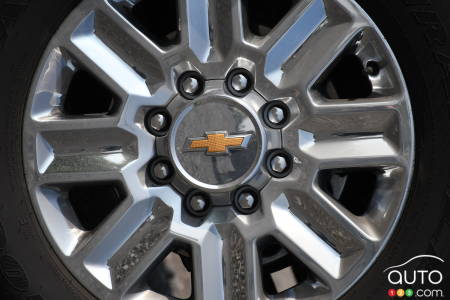 Your questions about the 2024 Chevrolet Silverado HD
Will this model also be electrified, like the regular 1500 version?
Not at present. We're told they're looking into that, but they acknowledge that HD models are likely to be the last to be fully electrified.
What can we expect from the ZR2 version?
The same type of adjustments and improvements as the Colorado and Silverado 1500 models: higher ground clearance and Multimatic shock absorbers. We'll be keeping an eye on the latter, which are likely to soften the HD version's smooth ride.
What are the best-selling models between the 2500 and 3500 series?
The 2500 series, in a proportion of 65 percent.
Strong points
Towing Capacity
Possible Configurations
Reasonable fuel consumption unladen with diesel engine
Weak points
Bouncy ride when unladen
Expensive bills
Limited turning radius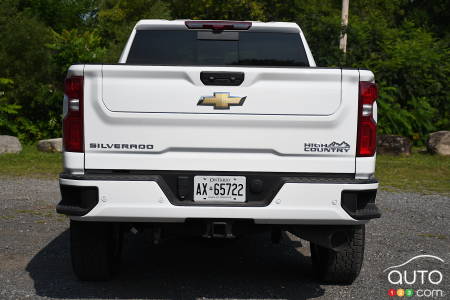 Competitors of the 2024 Chevrolet Silverado HD
Ford F-250 and F-350 Super Duty
Ram 2500 HD and 3500 HD
Specifications sheet of 2024 Chevrolet Silverado HD