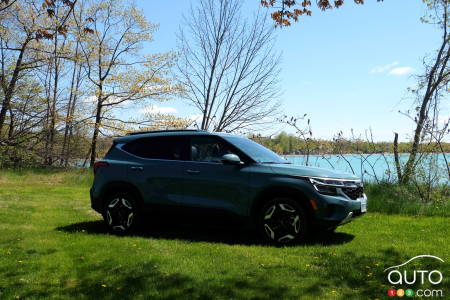 • Auto123 gets in a first drive of the revised 2024 Kia Seltos.
• The biggest change is the addition of an improved powertrain to the offering.
• There are a few design nips and tucks as well.
Prince Edward County, ON – For a new segment that had to squeeze its way into existence between the subcompact and compact SUV segments, what you could reasonably call the Subcompact-Plus SUV category is doing very well for itself, thank you. Canadians do love their smaller SUVs.
As Kia told us when introducing us to the revised 2024 Seltos this week in beautiful Prince Edward County sitting along Lake Ontario: This is a segment that serves customers (urban millennials and suburban types, mainly, says Kia) who have moved on from the compact car but don't quite need the size of a true compact SUV (like the Kia Sportage, for instance).
Evidently, there are a lot of those customers, and evidently a lot of THOSE customers like the Seltos, which has in just four short years become a leader in the segment. A segment that unofficially counts 15 models; Kia's success with its Seltos is a feat to be acknowledged.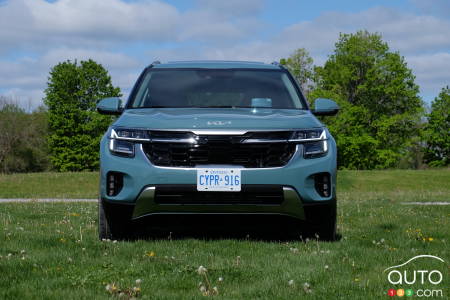 What's new for 2024?
For 2024, the model has gotten a little love just to make sure it stays a leader. Notable updates include some exterior design adjustments front and back, as well as the addition of a power tailgate on upper trims. But more importantly there are more standard features inside, as well as a new integrated display for the instrument cluster on the left and the multimedia screen on the right of the dashboard.
There's a new trim, the X-Line, which is essentially an appearance package to toughen up the Seltos' looks, and a revised powertrain for the two highest trims in the range.
Note that the 2.0L 4-cylinder engine delivering 147 hp and 132 lb-ft of torque is back for the lower trims of the Seltos (LX and EX). It works with a continuously variable transmission (or IVT, in Kia parlance). The revised 1.6L turbo with new 8-speed auto box kicks in with the SX and is also used in the new X-Line trim.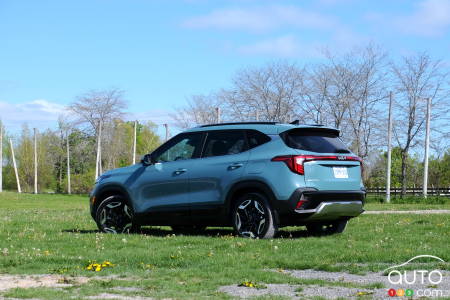 The exterior
Kia fiddled with the lighting elements but otherwise the Seltos returns as the same handsome thing it was on its debut. Because why fix it if it ain't broke.
Other than the new headlight design (which now includes LED headlamps and LED DRLs), the front end gets a modified radiator grille, tweaked bumper with new vertical fog lamps and a redesigned skid plate. At the back the bumper is also refreshed, the rear combination lights are different (and also LED) – as per industry trends, there's now a continuous horizontal light spanning the vehicle's width - and there's a new tailgate garnish. There are new wheel designs to freshen things up further; all trims get 17-inch alloy wheels, with the SX version getting 18-inch alloy wheels.
The new X-Line trim, which is the SX but with a visual package, brings with it custom black alloy wheels, a unique roof rack and a different paint finish on the front and rear skid plates.
The colour palette for the 2024 Seltos includes two new choices, Pluton Blue (seen on our tester) and Valais Green. Interior choices are simple: Black or brown.
Strong points
Same handsome design
Nifty wheel designs
Rear lighting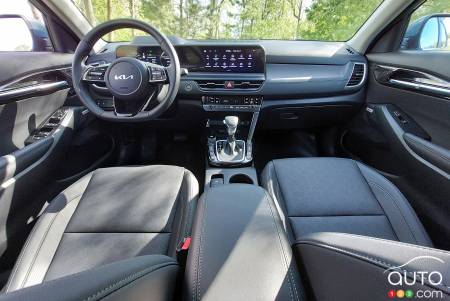 The interior
Like we've seen in other recently updated Kias, the new Seltos gets a new integrated screen display for the dash, with one continuous glass harboring the 10.25-inch instrument cluster and 10.25-inch multimedia screen (base models get a 4.2-inch instrument cluster and 8-inch multimedia screen). It adds a real premium feel to the Seltos. Otherwise, the climate control vents have been redesigned and there are new accents on the dash portion facing the passenger.
Different themes are available on the customizable digital instrument cluster. Top grades get driver memory seat, and there are now two USB chargers for rear seats.
The seats have been revised as well, and here we were left a little perplexed by what felt like seating that was slightly less comfortable than in the previous Seltos. Short of doing a side-by-side test that's hard to really confirm, but these do feel a little firm. That and the fact the lowest seat position leaves drivers sitting relatively high in the cabin (a plus for some, a minus for others) makes it a good idea for potential buyers to sit in the Seltos to get an idea if it's for them.
Note that Kia has put effort into making the cabin quieter (via a new film applied to the windshield, for one) and sure enough our ride through the gentle beauty of Prince Edward County was a very peaceful one. Mind you, there being no highways to be found there, we never tested the noise levels (or smoothness) at speeds above 90 km/h. That will be another element for would-be buyers to test out…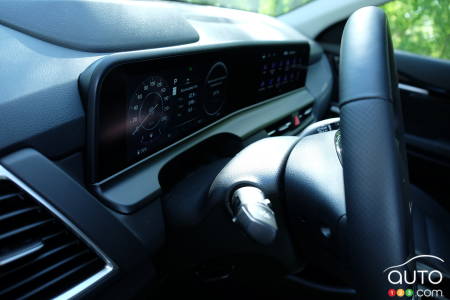 Technology and safety
As you'd expect with a model revision, there's more standard tech in the 2024 Seltos than before, including new safety functions (forward collision alert, lane keep follow assist and blind spot collision avoidance assist).
Note the debut of the digital key feature with this model. Previously seen with the Telluride and Sportage, this gives owners the option of accessing their vehicle using only their smartphone.
Strong points
New integrated instrument cluster/multimedia screen
Interior space
Visibility
Tech-generous from the base model on
Weak points
Seating could be more premium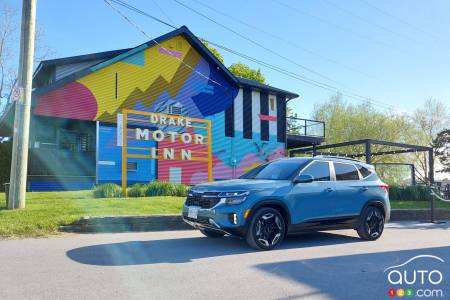 The drive
As mentioned, our day in Prince Edward County did not provide the opportunity to test the new Seltos on the highway, so that will be for another time. But we had plenty of occasion to put the SX's updated powertrain to the test in every other situation.
That powertrain includes a boosted 1.6L turbo engine, which now delivers 20 more hp than previous, so 195 hp, as well as 195 lb-ft torque. It works with a new 8-speed auto transmission that replaces the old dual-clutch unit, and overall there's little to complain about from what's under the hood. The new transmission delivers a more linear progression through the gears so acceleration is prompt and satisfying, especially since the 195 horses on hand are plenty for this amount of vehicle. Maximum torque being available at 1600 rpm, we never found ourselves rocking on the steering wheel for want of oomph either!
The suspension has been retuned for 2024 to provide enhanced comfort, and it does, but this Seltos still feels like a relatively firm-bodied SUV, not unpleasingly so because that makes for a good handler on winding roads.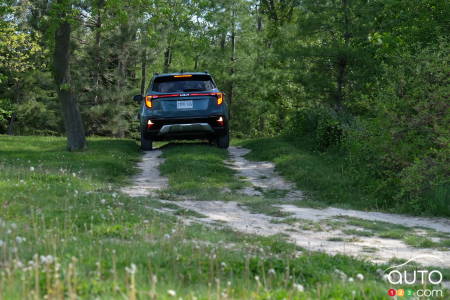 Those urban folks looking to buy the SUV will appreciate the tight turning radius and off-the-line quickness, largely unfettered by screaming from the new powertrain unless you really get aggressive with the right pedal. Which few Seltos drivers are likely to do.
We touched on the seating of the new Seltos and that may be an issue on longer road trips, but over the course of a few hours it was adequate anyways.
Official fuel consumption ratings for the Seltos SX is 9.1L/100 km city-highway combined; we registered a very good 8.1L/100 km, a tribute more to the leisurely environment we drove in than to any particular efforts we made to be stingy. Add some stop-and-go driving in there and the figure would likely quickly revert to norm. But still, this is no gas guzzler.
Note that the Seltos can be had with front-wheel drive with the base EX trim. AWD is an option on that model and standard in the rest of the range.
Strong points
Revised 1.6L powertrain is an improvement
Nimble on the road, great in the city
Good acceleration
Weak points
Seating comfort in the long run?
For when a hybrid system?
Not rated for towing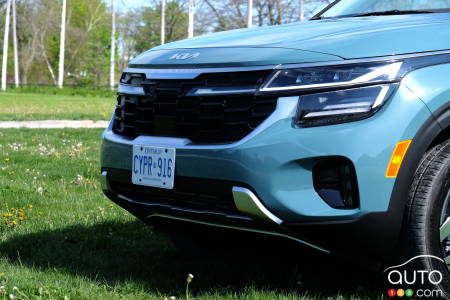 Here's pricing for the revised 2024 Kia Seltos (not counting $2,000 in additional fees):
Seltos LX FWD - $25,195 CAD
Seltos LX AWD - $27,195
Seltos EX AWD - $30,195 - Brings in sunroof
Seltos EX Premium AWD - $33,495 - Brings in power liftgate
Seltos SX Turbo AWD - $35,795
Seltos X-Line Turbo AWD - $38,395 - New trim
A few of your questions regarding the 2024 Kia Seltos:
Is there a hybrid version of the Seltos?
There is not, nor does that seem to be in the cards, at least for now.
Is the 2024 Seltos more expensive than the 2023 edition?
Yes it is. The base model has gone up by $3,000, while the SX Turbo is $3,200 costlier than before.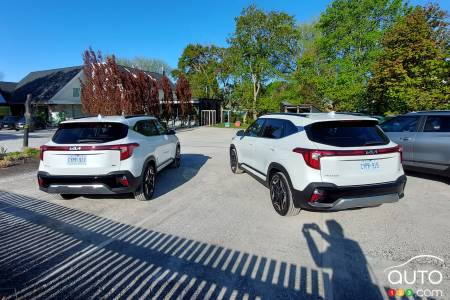 The competition
Buick Encore GX
Chevrolet Trailblazer
Honda HR-V
Hyundai Kona
Mazda CX-30
Mitsubishi RVR / Eclipse Cross
Nissan Qashqai
Subaru Crosstrek
Toyota Corolla Cross
Volkswagen Taos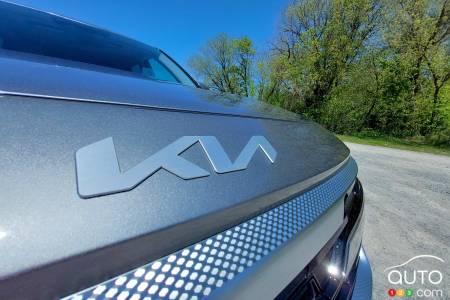 Road Tests and Reviews

Experts

Consumers