• Auto123 gets in a first drive of the 2024 Porsche 718 Boxster Spyder RS.
It's common knowledge at this point that the next version of Porsche's mid-engined sports car won't be "engined" at all but rather run on EV power. But that hasn't stopped Porsche from updating the gas-powered model. The automaker is sending it off with a bang with the 718 Spyder RS, the last version of the ICE-powered 718 and available for both 2024 and 2025. So get 'em while they're hot!
See also: 2024 Porsche 718 Spyder RS: The Ultimate Boxster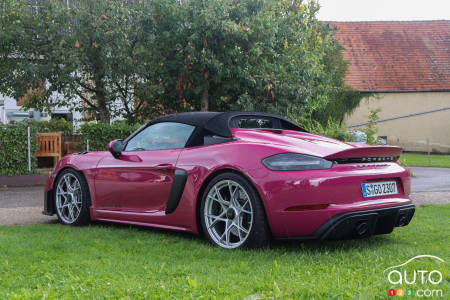 Exterior of the 2024 Porsche 718 Boxster Spyder RS - 9.5/10
Speaking of hot, this latest 718 certainly looks the part, with aerodynamic add-ons and carbon-fibre bits to make it stand out from other sports cars and also other versions of the 718. You have to love the double-bubble canopy with exposed carbon roll hoops at one end, and an enlarged "ducktail" spoiler at the other. For weight-shedding purposes, it's fixed as opposed to the adjustable one on the GTS 4.0 version.
That's a running theme with the Spyder RS. Porsche has found ways to get it down to a lithe 1,410 kg - the hood, along with the fenders come in carbon-fibre as standard. It can be made lighter still if you add the $14,350 Weissach package. That delivers:
Carbon-fibre wing mirrors;
Air intake blades and seatbacks;
Partially exposed carbon fibre hood;
The option to select lightweight magnesium wheels and exhaust tips from the 911 GT2 RS-based 935 track special.
Even without all that, the Spyder RS's nylon door pulls and soft top mean it weighs 40 kg less than a PDK-equipped Spyder and less even than its fixed-roof Cayman GT4 RS twin.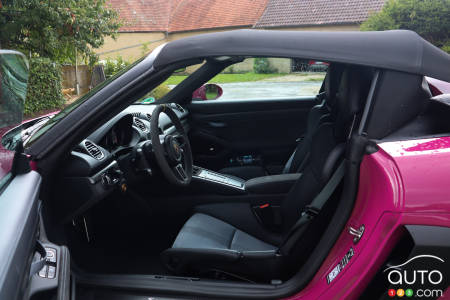 Interior of the 2024 Porsche 718 Boxster Spyder RS – 8/10
It's great that the soft top only weighs around 10 kg, but it is a challenge to install as it comes in two pieces and requires about 10 steps to do so. Best to do as Porsche suggests: leave the top at home, and use your almost $200K sportster only when the weather allows. And save yourself even more weight as a bonus. Sound cynical? Perhaps, but having driven with both top up and down, down is definitely the way to go and chances are anybody who owns one of these, owns a few other cars better suited for inclement weather.
Otherwise, the interior is highlighted by standard fixed-back carbon bucket seats, which do well to hold you tightly in place. Too tightly, perhaps, for wider drivers like myself, which is why Porsche will allow you to select more comfortable 18-way power sports seats instead, at no extra charge.
It should come as no surprise that all the cockpit's controls sit perfectly in the hands of the driver, so much so that you have no choice but to opt for a slouch-free driving position. Which is what you want because that's how you get the best leverage over the Race-Tex suede steering wheel and with that, more control.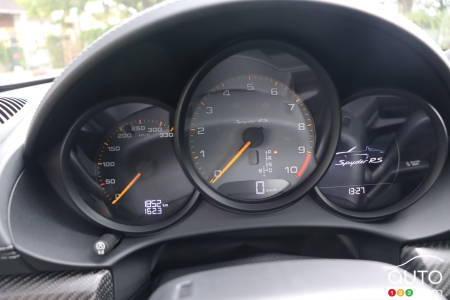 Tech in the 2024 Porsche 718 Boxster Spyder RS – 7/10
Tech is probably not that high on the priorities list of someone looking at one of these, but it is worth noting that we're not at the forefront of the infotainment game here. Though this is a new trim, the 718 itself is an older vehicle and it still get Porsche's old infotainment system. That means the screen is a smallish 7 inches in diameter, and the buttons on it are small as well. Same goes for the hard buttons surrounding it. Good that they're here, it's just they're a little tough to reach on the fly. There is wired Apple CarPlay, however, and the 6-speaker audio system is fine.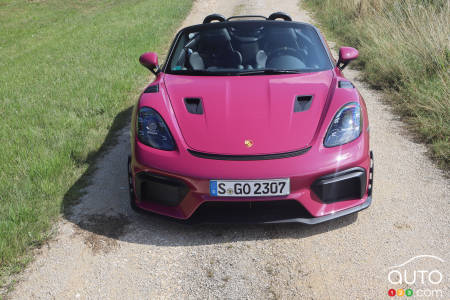 Driving the 2024 Porsche 718 Boxster Spyder RS – 9/10
The lightness and the styling are all great indicators that this is one special 718, but confirmation comes when you start to push things. It takes maybe two blocks and two turns of the wheel to determine that this is a car built for drivers.
Not only does the Spyder RS get race-car-inspired seats, it runs via a race-car engine courtesy of the 911 GT3 Cup Car. That means a naturally aspirated 4.0L flat-6 good for 493 hp and 332 lb-ft of torque, fed to the rear wheels (and their sticky Michelin Pilot Sport Cup 2 tires) through a 7-speed PDK dual-clutch transmission. Which is your only choice – just as it is in the GT4 RS -- because Porsche simply does not build a manual 'box that works with this engine in a mid-engine alignment.
In any case, the PDK is quicker and while Porsche maintains that the GT4 RS is the track car and the Spyder RS is the road car – they've even tuned the suspension and steering to reflect this – it remains a car that really does ask for its components to be turned up to 11.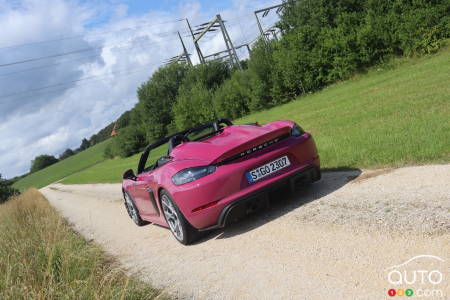 Actually, turned up to 9,000 may be more accurate because that's where you'll find the redline in this thing and if you think that many revs in a drop-top is going to be quite the auditory experience, you are correct. Whether in the passenger or driver's seat, the ripsaw noise coming from just over your shoulder as the revs climb is an awe-inspiring thing, and it really does feel like only a race car could sound this way.
And it revs so quickly, too. There's of course no turbo lag to speak of so the response on throttle tip-in is immediate, sending the needle flying 'round the tach at breakneck speed. An experienced driver or racer could, but most normal drivers are going to have a hard time keeping up with those revs with a manual transmission. Paddles remove all that delay and the blip you get on downshifts is the perfect exclamation point on the proceedings.
Do I miss a manual shift option? Yes, I do – unless I'm taking this thing on track, I don't really need all that responsiveness – but I understand why they've done what they have.
Then there's the chassis and steering. Oh boy, the chassis and steering. No car fit for the road – especially one that's been given extra tuning with that in mind – should feel this immediate, this direct and this forceful. Most every twitch of the wheel bigger than a half-inch off centre prompts front axle response as if the Spyder RS is responding as quickly as it does to give the impression that it's predicting what the driver wants. It isn't, of course, but it's all so darn inertia-free that you'd never know it.
There's of course an electric power steering rack, but Porsche has managed to make it so there's some proper feel through the wheel rim to the point it's as if it were hydraulic. Everything feels just as it should in a car that looks like this and is as focused as this. For the money, you'd be hard-pressed to find a better driver's car.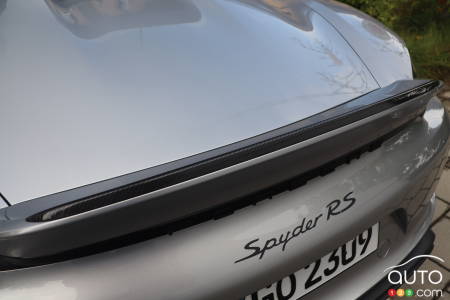 Your questions about the 2024 Porsche 718 Boxster Spyder RS
Does removing the top affect storage space?
Slightly, because the rear portion of the top does need to be folded flat and stored in either the frunk or rear storage area. All told, there's a combined 245 litres of storage space.
How much weight is saved by the optional magnesium wheels?
The special wheels – which can only be had as an option if you spec the Weissach package first – save 10 kg of unsprung weight.
Does the Spyder RS come with ceramic brakes?
Not as standard, but they can be added as an option.
The final word
The Spyder RS's handling, its looks and its powertrain are what you get from a company that knows precisely how to build and style a sports car, and Porsche has clearly put a lot of weight behind its development.
But that's probably not entirely how it's going to be remembered. There are plenty of sports cars out there – from Porsche and otherwise – that are absolute masters of the craft. Very few of them, however, represent the end of an era like the Spyder RS does. Indeed, while the 911 (993) is lauded for being the last air-cooled Porsche, so the Spyder RS is the last gas-powered Boxster. Sure, it starts at $188,800 in Canada, but can you really put a price on future legend status?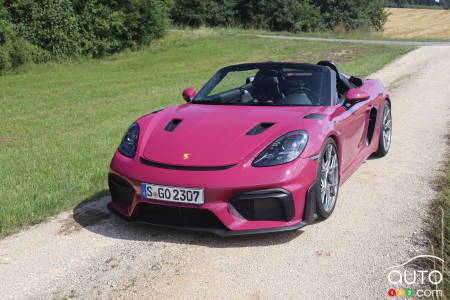 Strong points
Race car handling
9,000 RPM redline seems too crazy to be true, but it is
Thrilling looks
Legend status
Weak points
Fussy top
Aged infotainment
No manual transmission option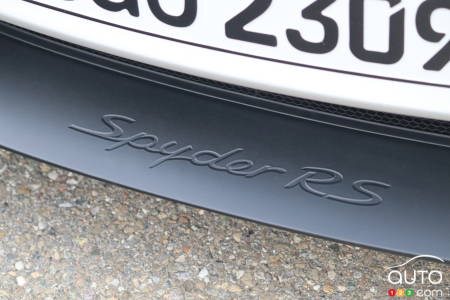 Competitors of the 2024 Porsche 718 Boxster Spyder RS
Aston Martin Vantage Roadster
BMW M4 Competition convertible
Chevrolet Corvette Z06 Convertible
Jaguar F-Type R75 convertible
Specifications sheet of 2024 Porsche 718 Spyder RS