Most presentations put on by auto manufacturers are made to be interesting, while some are even memorable. The latest event organized by Porsche Canada falls, very clearly, into the second category. Invited journalists were given the opportunity to try out the new Porsche Macan and Cayenne on a long stretch of Cape Breton Island's famous Cabot Trail. Quite a stroke of genius to combine two of the world's most agreeable SUVs to drive with a road legendary not just for the driving experience it delivers but for the magnificence of its scenery. Auto123.com was there for it, and I have the pleasure of sharing with you my experience on this exhilarating road trip.
The program spanned two days and was divided up into 5 stages, with drivers getting a different vehicle for each one. Here is a step-by-step account of this highly enjoyable road test.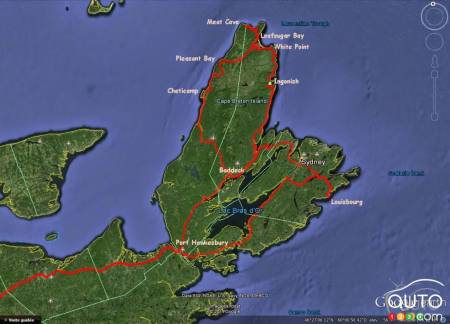 Stage 1: Halifax Airport – Gabrieau Bistro, Antigonish
The first segment was spent behind the wheel of a Porsche Macan Turbo powered by a 3.6L V6 engine delivering 400 hp and bolted to a 7-speed dual-clutch PDK transmission. Optional equipment includes sport exhaust system, 21-inch alloy wheels and the Sport Chrono package, while all-wheel drive and active suspension are offered standard. The suspension is adjustable to three settings: Comfort, Sport and Sport Plus.
The route that led us to an establishment that has been named Best Restaurant in Nova Scotia consisted mainly of highways and relatively straight provincial roads. We were able to get a feel for the passing abilities as well as the steering precision of the Macan; both proved excellent. The engine displays a fair amount of pep, hardly surprisingly given the 400 horses at its disposal. On the other hand, the navigation system stubbornly directed us more than once to turn left onto a road that didn't exist. Nothing's perfect…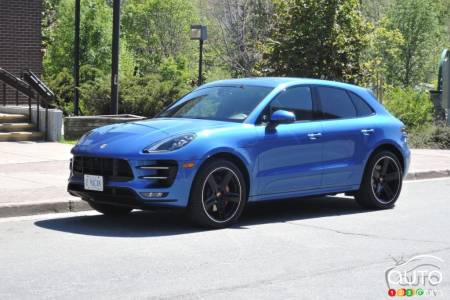 Stage 2: Gabrieau Bistro – Cabot Links Golf, Inverness
The second stage provided a memorable run to complete the first day, as we switched to a Macan Turbo equipped with the Performance P package that ups the power output to 440 hp, working with the same 7-speed PDK box. In addition to offering more power, this model features a dry sump engine, larger disc brakes and, like our first Macan test car, high-performance tires.
The 40 extra horses combined well with the model's basic characteristics to deliver strong performance and driving pleasure. Fortunately, it also happened that the roads we were traveling on were increasingly sinuous, providing a perfect platform for maximizing our enjoyment. What's more, the responsiveness of the engine allowed for confident overtaking in even relatively short passing windows.
But how easy it is to just roar past the speed limit with this little hot-rod! Fortunately for us the local police seemed to be busy elsewhere. We were also amused to note that several of the road signs we came across on the Cabot Trail were in English… and Gaelic.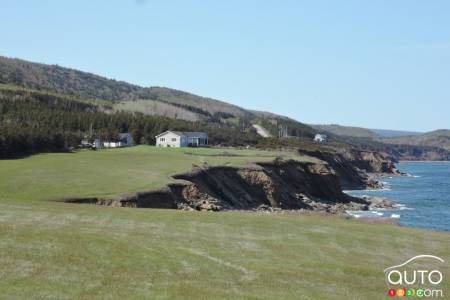 Second day
Stage 3: Cabot Links Golf – MacIntosh Brook Camping, Pleasant Bay
We only reluctantly left behind our previous day's Macan Turbo Performance P, and the Cabot Links golf club bordering the sea, at the start of day two. Of course, the change of cars was not exactly a step down for us, as we inherited a bright-red Cayenne GTS to take us in the direction of the Aucoin bakery in Cheticamp, and from there on to MacIntosh Camping. As with all the Cayenne models we would try out that day, the GTS was powered by a 3.6L V6 delivering 440 hp. This model's engine, however, was twinned with an 8-speed Tiptronic transmission and equipped with stop-start technology. Its MSRP, including all options, is $125,490, a jump of around $15,000 from the most expensive of the Macan models.
The first thing we noted was that the driving sensation was not notably different than what the Macan offered, in terms of both steering and the responsiveness of the engine. And while the transmission is not dual-clutch, it proved very gentle, and its gear shifts imperceptible. In addition, the similar set-up of the dashboards in the two Porsche models made it easy for us to find our way around. After a couple of hours spent acclimatizing ourselves to the car's multiple command displays, their arrangement seemed to us second nature.
On this second day crossing Cape Breton, the scenery was, if anything, even more impressive than the previous day. The road that winds its way along the ocean was a big motivator for us to explore the driving qualities of the Porsche Cayenne GTS.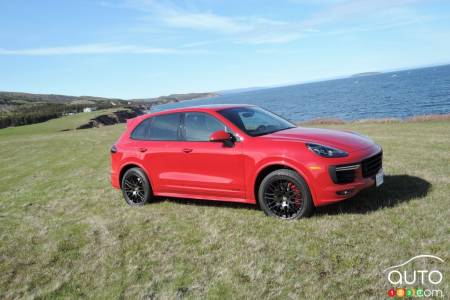 Stage 4: Macintosh Brook Camping – Castle Rock Country Inn
We set out on our second-to-last stage at the wheel of another Cayenne GTS. With a total price tag of $134,855, it was the most expensive of the cars we tried out over our two-day trek. The mechanics were generally unchanged, but what really set this model apart was the array of accessories it came with. We're referring mainly to luxury and comfort options, but also some esthetic differences: the tachometer, for example, featured silver-coloured lettering over a red background - a nice touch of exclusivity for this model.
We'd be hard-pressed to find a better-equipped V6 Cayenne than this one. Even the automatic climate control is a step above, as it features four zones; the front headlights, meanwhile, incorporate LED lights, for the tidy sum of $1,680. Mind you this also buys a dynamic headlight-management system that allows the headlamps to follow the curves of the road.
So it was that we enjoyed a segment of the Cabot Trail that offered up truly spectacular scenery and winding roads in a car that offered optimal power but also improved sound insulation, comfort and safety. A perfect environment, in other words, for appreciating the qualities of the Cayenne. We should also point out that, even when in Sport Plus mode, the suspension was not unduly firm.
Stage 5: Castle Rock Country Inn – Cambridge Suite Hotel, Sydney
We were treated to another Cayenne GTS model for the last stage of our tryout, and like the previous day we were accompanied by brilliant sunshine. This time our car distinguished itself by the luxury amenities and esthetic details it spoiled us with: Bose surround sound system, exclusive 21-inch wheels, automatic door-closing system, carbon elements inside, and a special decorative scheme that brought the price up by more than $3,000. In terms of the drive this car was similar to the previous two, but it was a brilliant showcase for the multitude of options buyers of the Cayenne have access to. This model also included the $800 Chrono Sport package.
Our last stretch of Cape Breton driving was less serpentine, and it took us in late afternoon to the city of Sidney. In the end we were highly appreciative of this unique opportunity to discover a good part of the Porsche Macan and Cayenne family of models. In addition to getting a great feel for the performance and road handling they offer, we got a delectable taste of the many options available for each. It was a fantastic if short-lived immersive experience!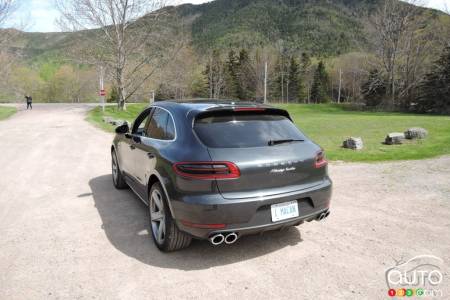 On your bucket list?
The Cabot Trail on Cape Breton Island offers visitors one of the most spectacular scenic routes in Eastern Canada. Its winding trajectory enchants motorists and motorcyclists alike, and no bucket list is complete without its inclusion. It's an ideal destination for those who refuse to pay visit to the land of Uncle Sam for their next holiday for a variety of reasons, starting with the unfavourable exchange rate. Discover instead a gorgeous, serene part of our country!
Road Tests and Reviews

Experts

Consumers
2017 Porsche Cayenne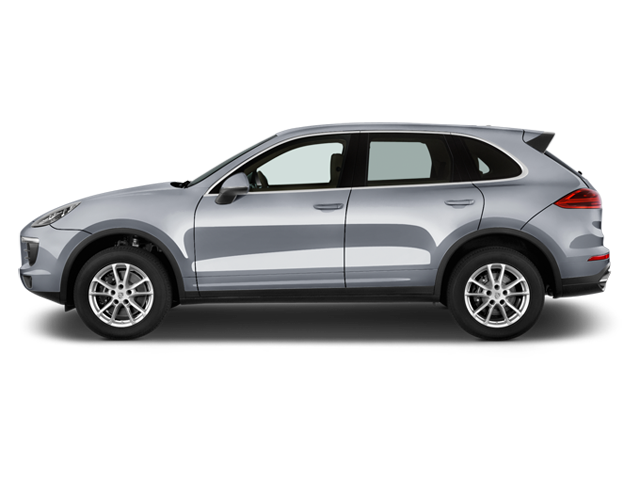 2017 Porsche Macan