Auto123 reviews the Porsche Panamera 4 e-hybrid Sport Turismo.
When discussing an automobile, it's not often you'll be able to mash the words performance, fuel economy, generous space and ideal family vehicle into the same thought. If it were easy to combine these assets in a vehicle, all manufacturers would do it. And yet, Porsche manages the trick with the Sport Turismo version of its Panamera.
Note that our specific model for our test was a 2019 version (there are a few cosmetic changes for 2020); which we had been scheduled to drive earlier in the year. However, the pandemic pushed that back to July. Here's our story, then, of gratification delayed.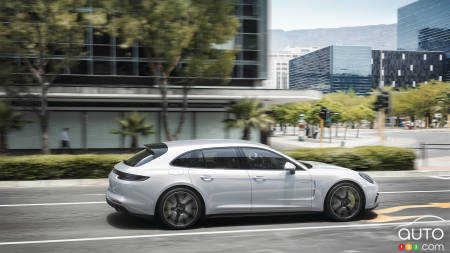 Master of many trades
This family-friendly version of the Panamera is surprising on more than one level. First, the performance, because after all we're dealing with Porsche. Using technology developed for the Porsche 918 that runs on the 24 Hours of Le Mans, Porsche slipped under the hood of this model a 2.9-litre turbocharged V6 engine that on its own produces 330 horsepower. It's backed by a 14.1 kWh electric motor that produces the equivalent of 134 hp, giving your a total of 457 usable horses. Add to that a generous 516 lb-ft of torque and you get a machine capable of cruising at 278 km/h and getting to 100 km/h from a stop in 4.5 seconds.
These performance capabilities don't make the model particularly greedy either. In a week of mixed testing with about 75 percent of our time spent on highway, we managed to maintain an average fuel consumption of 8.3L/100 km.
Surprisingly practical
The wagon format is not only beautiful, it's also very practical. During my week I twice headed out for a cycling outing, and just by lowering the rear bucket seats, the car swallowed the bike whole without flinching. You get 1,245 litres of usable space by folding the rear seats down. In a Porsche car.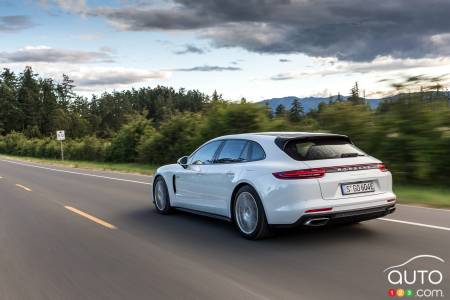 Driving à la carte
There are several drive modes to choose from. E-Power mode is the most environmentally friendly and gives you approximately 40 km of 100-percent electric driving range when the battery is fully charged. Ideal for city commutes or weekend shopping trips.
The mode we found most practical and advantageous for everyday driving is E-Hybrid Auto, which is between all-electric mode and Sport mode. In this mode the system still favours efficient electric driving, but quickly switches to the V-6 when the car needs power or to recharge the battery. There's also an E-Hold mode that allows you to keep the electric charge and use it later.
We were impressed to what extent everything works with such smooth discretion. If it weren't for the tachometer that swings up and down as the gas engine quietly turns on and off, you'd have no inkling of the constant, complex mechanical ballet taking place under the hood or of how close the electric motor and gas engine are.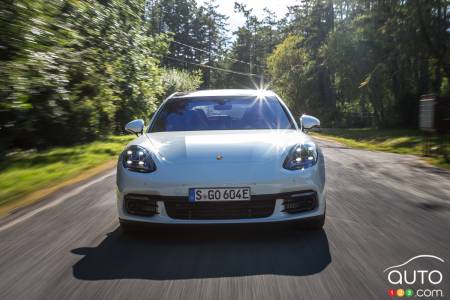 A word about Sport and Sport Plus modes. These are the modes designated for raising pulses, of course. Use either of them and the 2,170-kg car suddenly feels much lighter. The optional 21-inch wheels on our tester clung ferociously to the road; you're in the care of a sports car that spins at close to 7,000 RPM. Putting the 8-speed transmission in manual mode allows you to shift gears behind the wheel and your wagon becomes a true sports car, though with one small exception: the symphony coming from under the hood isn't quite up to par. The engine remains too discreet and you can't help but pine for the full melody of a V8.
On the few winding roads we drove on, we tested out the optional rear-wheel steering system that complements the 4WD. You can feel the weight of the car, but the Panamera sticks strongly to the road without a second thought.
Familiar interior
The interior isn't much different from other Panamera models, though one thing struck us when we first climbed in – or dropped in, we should say. Porsche always places low seats in their cars, but this Panamera Sport Turismo's is particularly low. Fortunately, you can adjust the seat height.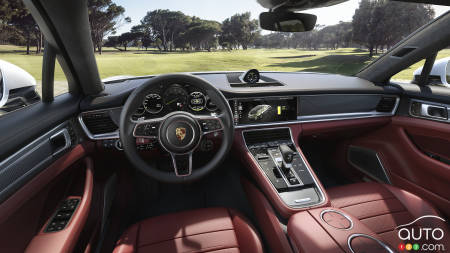 The interior is upholstered in leather and the sculpted sport seat provides a flawless driving position. Rear passengers benefit from virtually the same seat format and unlike the sedan, which is a strict 4-seater, the 40/20/40 split rear in the Sport Turismo version offers a small spot in the middle, for emergencies.
The dashboard is dominated by a 12.3-inch infotainment screen and the centre console acts as a large touchscreen with haptic controls. On the dashboard, the 'Porsche Advanced Cockpit' remains central. We liked the large head-up display and the panoramic sunroof on our tester.
Conclusion
As we said at the outset, there is such a thing as the perfect compromise. This Porsche with a name that spans two postal codes is proof that you can actually have it all in a vehicle. But it comes at a price, which ensures this near-perfection is accessible only to the very few. Our test car in Chalk Grey (a colour that adds $3,770 to the price) costs $168,415 with options. Keep in mind that the base price of this Panamera 4 Sport Turismo e-hybrid is $121,800. That means our tester came loaded with a whopping $47,000 in extra options. That's something.
We like
Impeccable road handling
Faultless finish
Efficient technology
We like less
$47,000 in options
Little feeling from the engine