Lithium-ion batteries represent the perfect solution for hybrid and
electric vehicles
according to the organizers and participants of the 15th annual International Meeting on Lithium Batteries (IMLB), which kicked off in Montreal on June 27.
In an interview for CBC/Radio-Canada, the event's chairman explained that Li-ion batteries meet the needs of these vehicles better than any other type of batteries. At the same time, Dr. Karim Zaghib, chief researcher at the Hydro-Quebec Research Institute (IREQ), warned people about the illusion that Li-ion technology can provide as much range as a conventionally-powered automobile.
Compared with other types of batteries such as lead, nickel-cadmium and nickel-metal hydride (NiMH), Li-ion batteries offer many benefits, including superior range, the lack of "memory" effect and environmentally-friendly manufacturing.
However, Hydro-Quebec says that Li-ion technology also poses a few problems and inconveniences, like overheating during summer and the need to warm up the batteries during winter. That's why they developed a patented battery that uses ferrous phosphate instead of cobalt for the cathode.
Test drives
The 2010 IMLB is set up by the Electrochemical Society, a New Jersey-based, nonprofit, educational organization concerned with a broad range of phenomena relating to electrochemical and solid-state science and technology.
Hydro-Quebec
is one of the sponsors.
Throughout the conference, participants can test-drive a number of electric vehicles and plug-in hybrids that naturally rely on Li-ion batteries. Auto123.com got in on the action and will soon bring you a series of related features and reviews. Here are some of the models available for testing at the IMLB:
Mitsubishi i-MiEV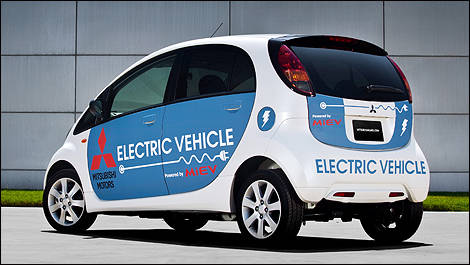 Photo: Mitsubishi
This electric four-seater based on the
Mitsubishi i
features a 47-kW motor and a 16-kW/h Li-ion battery. It can reach speeds of up to 120 km/h and cover a distance of 120 kilometres on a full charge, which requires 7 hours.