In the history of automotive racing, Mario Andretti occupies roughly the same position as Wayne Gretzky in hockey: one of if not the top legend of all time. And, like No. 99, the Italian-American driver has always been an eminently likeable person and an incredibly ambassador for his sport.
Above all, however, what speaks loudest for Mario Andretti is his track record. He was a Formula One champion, and won the 24 Hours of Le Mans, the Indianapolis 500 and NASCAR's most prestigious race the Daytona 500.
It's no surprise then that any car connected to the man is sure to generate a ton of interest in the car collectors' universe. Especially when the car happens to be one of the most mythical creations in the history of Lamborghini: A Countach.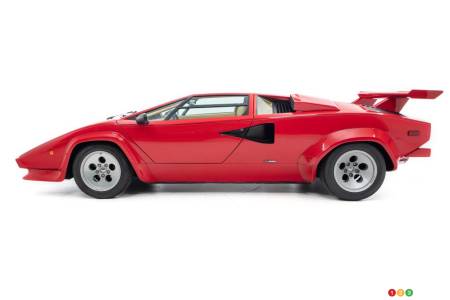 Now available for sale, the 1984 Countach is fittingly red, with a wonderfully contrasting beige interior. There you'll even find Andretti's personal logo at several points. Another particularity of this model is that it's fitted with a carburetor, so a very early Countach since fuel injection came soon afterwards. The unit serving this car is a 5.0L V12 with an output of 371 hp.
This Lamborghini has been part of Mario Andretti's collection that also includes Diablo, Aventador, and Murcielago models from the Italian manufacturer, as well as a 1989 anniversary edition of the Countach. The car up for sale has been completely restored and it's said that the engine performs as well as in its early glory days.
Motor Car Gallery, charged with selling the 1984 Countach, has not specified a price; we do know that generally a model such as this will sell for a few hundred thousand dollars, but given the close Andretti connection we can expect a selling price in the neighborhood of $500,000 here.