1993 - 1997 Chevrolet Camaro Pre-Owned
Chevy, it seems, has always been asleep at the wheel when it comes to the ponycar market. Two and half years behind Ford in entering the then-lucrative market during the ponycar wars of the late '60s, Chevy is once again playing catch up; releasing teaser photos and road tests of their 2009 Camaro Concept while Ford's retro-styled new Mustang, already more than a year into production, runs away with all the sales. But, for all their tardiness, Chevy's Camaro has typically been the better engineered and faster ponycar; a fact that was especially applicable to the first few years of the Camaro's fourth, and last generation.
Successor the popular third-generation Camaro/IROC-Z, the 1993 Camaro's styling was a complete departure from the previous model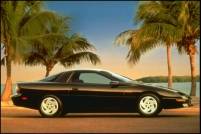 The fourth generation Camaro was major styling departure from the chunky previous model. (Photo: General Motors of Canada)
. Where the old one was all angular flat surfaces and creases, the new Camaro was smooth and sleek, with only a few stylistic nods to its predecessor; namely the headlight buckets and hood scoops. With the majority of these curves rendered in dent-resistant composite, the new fourth generation Camaro looked new both inside and out, with a new gauge cluster and more upscale interior to match, even offering leather in 1994. The seats are supportive and comfortable, and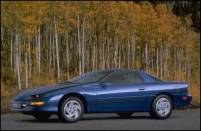 A steeply raked windshield combined with a Corvette-like profile means the Camaro has aged well. (Photo: General Motors of Canada)
legroom is sufficient for most people below 6'2", although the steeply raked windshield and low roof make the Camaro a somewhat claustrophobic experience, even with the tinted glass T-tops giving an almost targa-like cabin feel.
Also unfortunate is that the interior quality itself leaves much to be desired. Filled with awful plastics and a questionable console layout, fourth generation Camaro interiors feel like a cheap Corvette, and that's a very bad thing considering that the original MSRP on a measly base coupe was still $17,395 CDN ($13,339 U.S.); remembering of course that that was a lot more money back then than it is today. To be blunt, buyers expected more for their money.
And unfortunately, those buyers that opted for the aforementioned base coupe didn't get a whole lot under the hood to ease the painful vibes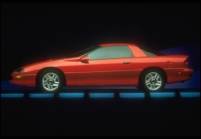 Base coupes were equipped with either 3.4L or 3.8L V6s, with outputs ranging from 160 to 200 horsepower. (Photo: General Motors of Canada)
emanating from their wallets. Equipped with a measly 160 horsepower 3.4L V6, the base coupe was intended to be the sales leader; appealing to female college students with its curvaceous body, and more importantly, their dads, with its inability to accelerate at anywhere near what could be described as a dangerous rate. That said, 1994 saw the addition of an optional 200-horsepower Buick-derived 3.8L V6 that was made standard for all base coupes in 1995. Easily distinguished from other models of Camaro with its single exhaust exit, the base coupe was available with a standard 5-speed manual gearbox or an optional 4-speed, overdrive-equipped automatic. Finding one of the 5-speed equipped base coupes will be difficult though, as the vast majority of V6s were equipped with the automatic;
The RS package added an aero kit and spoiler lip to the base coupe, making it the most aggressive looking Camaro available. (Photo: General Motors of Canada)
in 1993, specifically, a whopping 54 percent of Camaros were base coupes, while only 8.5 percent were equipped with the five-speed. Also, the famous (or infamous) Camaro t-tops proved to be slow selling in the fourth-generation's opening years, with only 3,340 of the total 39,103 1993 Camaros being thusly equipped. Interestingly enough, all base coupes came with steel wheels and hubcaps, with alloy wheels being optional. If that sounds uninteresting, consider that those steel wheels came wrapped in dismal S-rated tires that necessitated the unfortunate use of a 170 km/h (105 mph) speed limiter to prevent the car from running faster than the tires could handle; also a very bad thing. Finally, for those looking for the ultimate show-before-go Camaro, Chevy introduced the RS in 1996. Incorporating a new lower front fascia and a three-piece spoiler, the RS proved to be surprisingly successful, especially as an option on convertibles (made available in 1994).