In the early '90s, I was an aspiring preteen car fanatic. I was nine years into a Hot Wheels collection, could talk at length about turbocharging to anyone who'd listen, and read
Motor Trend
on a near-daily basis.
I also had a poster of the
1993 Mazda RX-7
pinned to the wall in my bedroom -- just behind where I often sat and listened to "Whoop There It Is" on my Sony Walkman while playing Mortal Kombat on my Sega Genesis.
Elsewhere, the RX-7 was being sold as Mazda's $45,000-plus flagship sports car. Largely regarded as the highest-performing street legal Mazda ever made, it's the source of that "Zoom-Zoom" DNA present in Mazda's products to this day.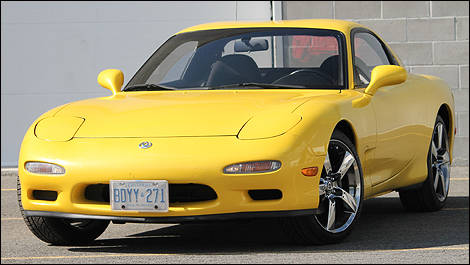 In the early '90s, the RX-7 was being sold as Mazda's $45,000-plus flagship sports car. (Photo: Justin Pritchard)
This was a special car for the Japanese automaker, and largely the reason that Mazda stashed one brand new, bright yellow, unmodified unit away at their head office for two decades.
For a time, it was even parked in the front lobby -- the same front lobby I walked into to pick up my first ever test car (a
Mazda MX-5
) seven years ago. So, effectively, this particular yellow RX-7 watched from a few feet away as I started my career reviewing cars.
Recently, I had the rare chance to realize a childhood dream and spend a week driving that exact RX-7.
Sentimental value? Very much. Picking up the "brand new," 20-year-old RX-7 brought more of a nervous, excited pang to my stomach than any car in recent memory. But, that's what happens when a great big kid gets to play with one of the coolest toys he could never have as a child.
A supercomputer-designed suspension, lightweight hollow sway bars and four-wheel ABS brakes were advanced for their time. Ditto for the sophisticated, sequential twin-turbo setup -- which helped the Mazda RX-7's 1.3L rotary engine generate 255 hp and 217 lb-ft of torque.
Two turbochargers meant two boosts of power smoothly merging with one another -- perceived by the driver as virtually lag-free torque from just beyond idle to just shy of the 7,500 rpm redline. This is the sort of technical, mechanical wizardry that makes excited, aspiring car fanatics salivate.
Rear-wheel drive and a 5-speed manual were standard in the 1993 Mazda RX-7. All said, it was fast by the standards of its day, and is still quick and potent 20 years later. At full rip, torsos are pressed into seatbacks as the persistent whistling of the turbochargers enters the cabin -- which is sweet.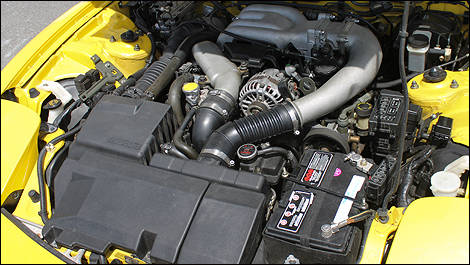 The Mazda RX-7's 1.3L rotary engine generated 255 hp and 217 lb-ft of torque. (Photo: Justin Pritchard)