Good, Reliable Transportation
Want cheap, reliable, practical transportation? Look no further than Suzuki's Esteem Wagon, and it looks pretty good too.
If you're looking for cheap, reliable, practical family transportation, the Suzuki Esteem Wagon might be the perfect fit. (Photo: Suzuki Canada)
It's purely A to B transportation, with a back-to-basics interior and only a modicum of convenience controls. Still, those that don't consider the car as an extension of a person's libido should find it satisfactory for hauling friends, family and belongings from home to work, home to school, home to the grocery store, and back home again.
The Esteem Wagon came onto the scene in the fall of 1997 as a 1998 model, a year after the sedan. Both models ran for five years, with the wagon outlasting the sedan that bowed out after model year 2001.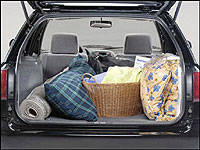 The Esteem Wagon has plenty of room for hauling friends and family, groceries, or whatever else you can fit in the back. (Photo: Suzuki Canada)
While 150 mm (6 inches) longer than the sedan, the Esteem Wagon shares the 4-door's basic chassis architecture. Its additional length benefits the car's cargo capacity, aided further by split-folding rear seatbacks.
But cargo isn't the only thing enhanced with the wagon, as increased rear headroom at 965 mm (38 inches) benefits backseat riders. Shoulder and hip room, at 1,316 and 1,323 mm (51.8 and 52.1 inches) front and rear respectively for the former and 1,290 and 1,224 mm (50.8 and 48.2 inches) front and rear respectively for the latter is decent too, impressive for the Esteem Wagon's compact external dimensions.