Toyota's 2005 marked the end of the
Toyota Celica
, a long-lived model that's now been written into the import-tuner history books. The latest generation Celica was sold from 1999 as a 2000 model until a sales nose-dive killed it off some 6 years later.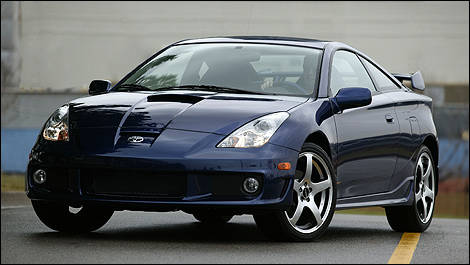 2005 Toyota Celica TRD
Celica's styling was and is still instantly recognizable. A sleek and compact side profile is capped up front by a slim, steeply raked set of headlights, and in the back by a distinctive spoiler, small taillamps and a wide, planted stance.
Celica was available to North American shoppers in two forms: the GT and the
GT-S
. Both got a 1.8 liter engine, though the GT-S utilized a trick valve timing system to generate 180 high-revving horsepower while hitting the magical 100 horsepower per liter mark. The standard GT model made due with a 140 horsepower variant of this engine.
A four speed automatic was available on each, though a manual five or six-speed gearbox was standard on the GT or GT-S, respectively. In any case, Celica was a front wheel drive.
Inside, look for a pair of cupholders, several storage compartments, aluminum pedals and a set of high-performance instruments. Leather was available- as was a sunroof, cruise control, keyless remote and a full suite of power accessories.
Celica owners tend to rave about the car's looks, styling and performance, especially in the up-tuned GT-S model. No major issues were reported with
fuel consumption
, though some owners complain about the engine's lack of usable power. The GTS's engine is a screamer and needs to be revved hard to generate full output, but pulling off 8000 RPM gearshifts anywhere near a lurking cruiser is probably a bad idea. Unlike something with a torquier and more versatile engine (like, say, a Subaru WRX), the Celica GT-S's performance advantage is less than obvious in city driving conditions.
Comfort and ease of access tend to be the most poorly rated attributes when asking owners about their Celica.
As an import tuner machine, there's a good chance that a used Celica you're shopping for will have been modified to some degree. This isn't necessarily a negative, but you'll want to be sure you're aware of any modifications made, the legality of said modifications, and the owner's reason for selling the vehicle.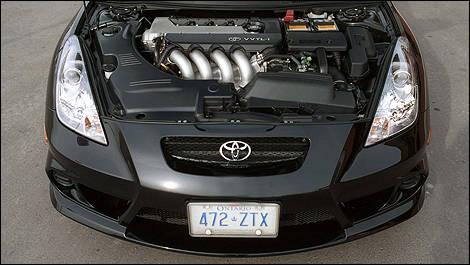 2005 Toyota Celica GTS TRD