2000 Hummer H2 Concept - GM's in the Driver's Seat of Tomorrow's Hummer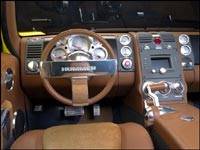 The world's most intimidating 4x4 stands virtually on its own atop the mountain of off-road vehicles presently available. Now that General Motors is at the helm of Hummer they are teasing us with the Hummer H2 Vision Vehicle - a kinder, gentler and altogether smaller Hummer. With its debut at January's North American International Auto Show in Detroit, the H2 gives us a hint of how an entry-level Hummer sport/utility might look like in the not too distant future.
The H2 draws on 97 years of Hummer heritage, with roots that trace back nearly a century to the 1903 Overland Runabout. It's with this respect to an icon that GM has gone about preparing the H2. It's not too difficult to derive which gene pool that it spawns from. Its rugged exterior yells, "move over econobox" with as much attitude as its bigger brother. The familiar seven-slot grille of the current Hummer production vehicle is found pasted on to an equally tough, yet somewhat more refined looking snout.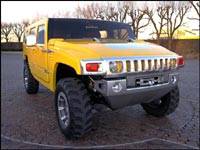 Although more sophisticated than the Hummer we have all grown to love (or hate, depending on your personal taste) the modern looking H2 still keeps the current model's best traits intact. Its aggressive stance and sheer rawness initially attracted a flurry of well-heeled customers. Due to a starring role in the Gulf War, its 'John Wayne' gruff appearance earned it immediate status as "American Legend". Its new refined sibling should broaden sales opportunities for this 4x4 manufacturer by attracting a new set of slightly less traditional customers, reducing the cost of entry while still managing to maintain its brand image and retain its current loyal following.