2001 Volkswagen Microbus Concept - Retro Lovers Unite!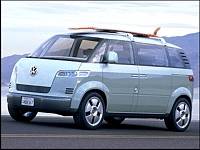 Cool ride, Mom. Yes VW's Microbus will be an exciting alternative to boring, similarly styled minivans. (Photo: Volkswagen)
Do you like retro styling? It seems there are a lot of people that favor the plethora of blasts to our automotive past we've experienced lately, with easily as many up in arms over the lack of "original new ideas", or at least that's their argument. Me? I like some of them but others I wish were left buried in memory land.
For instance, the stunning silver Mustang GT concept that took the 2003 Detroit auto show by storm in January is hardly forward thinking, but what a gorgeous car. The GT40 on the other hand, or should I say Ford GT, is at least as good looking but so closely resembles the original 1960s Le Mans winner that it left me wondering why Ford had bothered. After all, kit carmakers like GTD out of England were already improving on the original.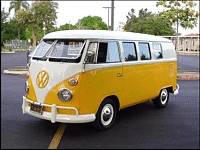 Ben Grave's '66 VW Microbus is in great shape. It's easy to see that the new concept only pays homage to the originals curvy shape. (Photo: Ben Grave)
Volkswagen has done well with its New Beetle, albeit sales aren't quite as brisk as when it first arrived, then causing palpitations in the hearts of young women across the nation. A somewhat late on the scene convertible version of the sporty arc is once again driving interest, but it won't promote the same hysterical effect as its coupe sibling initially did.
It seems a pattern has emerged in the retro market, showing a softening of sales after the initial love affair with a new model wanes. While there may be some retrospective designs that thwart the theory, BMW's Mini comes to mind, the seemingly short lifespan of vehicles that look too far into the past may cause VW to rethink its plans to produce its funky Microbus concept that first appeared in the 2001 Detroit show.