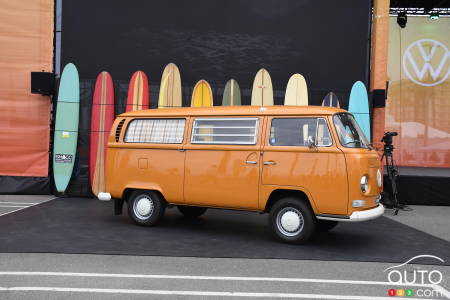 • Nearly 300 old Volkswagen Microbuses turned out in California to welcome the all-new ID. Buzz. Auto123 was on hand for the first Volkswagen Bus Day!
Huntington Beach, CA – The official unveiling of the North American version of the Volkswagen ID. Buzz took place on Thursday evening, and we were on hand for the occasion. That model is of course the electric incarnation of the legendary Microbus offered by VW starting in 1950. The first two generations of the model were a huge success in the United States, especially in California, where yesterday's presentation took place.
It might feature an all-electric powertrain, but the new model takes stylistic cues from the old, creating an interesting bridge between the past and the present/future.
On Friday, VW put on a little party to introduce the stretched ID. Buzz to the general public. But there was a special flavour to the event: a horde of old Microbuses made their way there to welcome their all-electric descendant. It was the perfect opportunity to renew old acquaintances. You could feel the pride of the owners, happy to celebrate the arrival of the new model.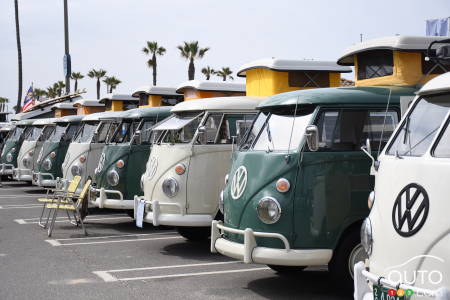 And so that this day will never be forgotten, a new official day has been created for the model: Volkswagen Bus Day. The National Day Calendar association and Volkswagen's U.S. division worked together to establish International Volkswagen Bus Day. The day will be celebrated every year on June 2, and pay homage to both the iconic Microbus and the new Volkswagen ID. Buzz.
It will be interesting to see the old models cohabiting with the new, all-electric ones at future gatherings on June 2nd.
In the meantime, here are a few photos of old Microbuses that caught our eye on the first Volkswagen Bus Day.