Amid this spectacular backdrop, Chief Graham put the MDX through its paces, testing performance and evaluating comfort, convenience and drivability levels. Functions included the usual array of urban and rural driving one might expect to undertake when road-testing a vehicle, however, a particular technique that piqued my interest and raised an eyebrow involved driving in tight circles in a parking lot. "But why" I so naively asked? "To reset the LCD compass," came the confident reply. It says so in the manual the Chief insisted. And who's going to accuse the Chief of Police of pointlessly going in circles? Certainly not moi. I want to continue testing cars without fear of the black Mariah appearing in my rearview anytime soon.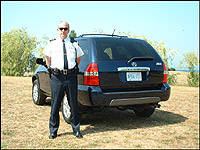 In their respective fields, the MDX and Chief Constable Graham are both high achievers. (Photo: Rob Rothwell, Canadian Auto Press)
Like the MDX he piloted to Kamloops, Chief Constable Graham is a high achiever. After 34 years of dedicated service with the Royal Canadian Mounted Police, and plenty of hair loss, you'd expect him to kick back and enjoy retirement. Nope, not even close! He spooled up the turbos, sold the house and moved to Vancouver where he successfully competed for the Office of Chief Constable - an office often targeted by the critics of law and order. But such doesn't detour the scrappy Chief who speaks his mind, whether its testing political waters or testing all-wheel drive SUVs such as the 2003 MDX.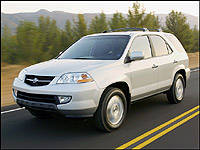 The MDX is whisper quiet and tracks well a high speeds. (Photo: Honda)
With a glint boyish enthusiasm in the eye the Chief described his findings, gave his evidence so to speak. "Whisper quiet at high speeds," he said. "Tracks well at high speeds," he added. Hmmm, do I detect a pattern here? For 2003, the MDX received a substantial boost in the number of horses in the paddock - from 240 to 260. Ah ha, the pattern is explained.
MDX horsepower is generated by Acura's i-VTEC 3.5-liter (214 cu in) DOHC V6, featuring intelligent variable timing of its 24 valves. This technology improves torque production throughout the powerband by matching the most efficient valve timing to varying engine rpm. There is no arguing that the MDX is mobilized by one of the sweetest V6's in modern production. This fact was not lost on the Chief, nor was the engine's willingness to tease the tachometer's redline - all within safe, legal operating parameters of course.