2003 Lamborghini Murciélago Roadster Concept - Exotic and Topless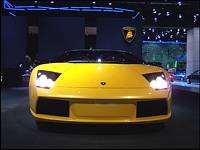 Most of the talk surrounding Lamborghini lately has been centered on the brand's 'entry-level' V10 powered L140. While it would have been nice none of the media present at this year's North American International Auto Show in Detroit, including myself, expected to see it there. But Lamborghini surprised us nonetheless.
The unexpected concept not only appeared ready for production but all expected the Automobili Lamborghini PR staff to break out the order sheets and sign up the drooling masses. More interesting than its introduction the Italian firm hasn't even named the new concept. Being for all intents and purposes a Murciélago with the lid chopped off I hereby dub it Murciélago Roadster - how creative.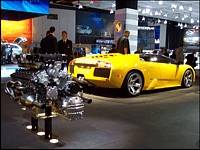 Penned by Luc Donckerwolke, Head of Lamborghini Design, the new Roadster follows a tradition of drop top exotics that started way back in the 1960s with the 350 GTS. That first model was followed by the glorious Miura Roadster, one of my all-time favorite supercars. Last but hardly least, from a performance perspective, was the Diablo Roadster, one of the most powerful production convertibles to ever be sold in Canada. A Countach convertible was never produced.
A Murciélago Roadster would quickly leave any thoughts of previous Sant'Agata Bolognese convertibles in the proverbial dust - it would take about 3.6 seconds to 60 actually. Like the coupe the Roadster boasts a 571-hp 6.2-L 48-valve DOHC V12 engine with 479 lb-ft of tantalizing torque that connects to all four wheels via a 6-speed manual transmission. Top speed should still be in the vicinity of 330 km/h (205 mph).