Is This the Japanese Brand's Future Performance Car?
After one of the most exciting press introductions among the smaller manufacturers presenting at January's North American International Auto Show in Detroit, American Suzuki Motor Corp.'s (ASMC) always amiable president, Rick Suzuki, unveiled one of the coolest concepts of the week.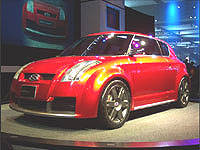 Good things do come in small packages. Here, the Suzuki Concept S is being unveiled at the Detroit auto show. (Photo: Trevor Hofmann, Canadian Auto Press)
The Japanese brand, regularly lauded for safety, environmental responsibility and reliability, showed proof that sometimes very good things actually do come in small boxes. But to call the curving Concept S a box isn't doing it justice. Compared to some of the previous debuts of decadently mammoth ultra-luxury boxes, the pesky Suzuki seemed downright sexy. The Concept S' swelled and curving fender flares, sporty hunkered-down rally profile, and glittering array of performance parts put it into a league of few. It's a performance car that real people might actually be able to afford if produced.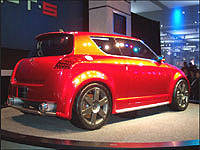 A unique and memorable rear end styling. (Photo: Trevor Hofmann, Canadian Auto Press)
As it turned on its rotating pedestal I couldn't get over how attractive it was. The fat twin motorcycle-style exhaust pipes protruding out just above its rear diffuser, industrial designed 6-spoke alloy rims and exposed metal gas cap adding to its sporting image, its tall vertical multi-reflector halogen headlamp clusters that creep up to the mid fender point, stimulatingly stylish.