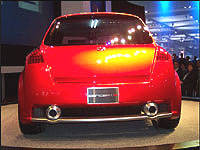 Attractive, yet familiar design cues. (Photo: Trevor Hofmann, Canadian Auto Press)
But while the Concept S is a radically new shape, I can't help but notice how much certain aspects of the design mimic the Nissan Murano, especially the rear quarter window, and how the rear fenders curve downward to integrate the taillights. As stunning as it looked under the hot spot lights, the glimmering burnt orange paint scheme doesn't help matters either - more than similar to the Murano poster vehicle's paint job.
But if it's going to be compared to anything, the award winning Murano is a decent reference. Of course the Concept S is about half the size and conceptually the antithesis of an SUV, especially inside where its cargo capacity is next to nil if all four occupants are in place. Just the same its rear seats split and fold flat for larger items, making it as utilitarian as most subcompact hatchbacks.
But load capacities wouldn't be part of the sales pitch to potential buyers if the racy runabout were produced. Aligning with the insatiable passion for technology found in today's youth, Suzuki has packed in a truckload of gear.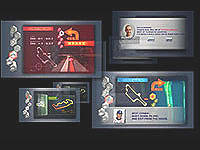 Navigation system meets video game. (Photo: Suzuki)
High on the wow-factor list is the car's 'Advanced Navigation System'. The video-game-like system automatically follows predetermined routes downloaded from the Internet or via email. It also allows live communication with other vehicles that use the system, plus exchanges data while locating the positions of the cars it's 'talking' to on its infotainment monitor.