JCW Upgrade Boosts Horsepower to 210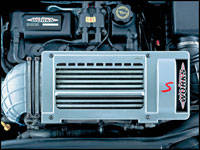 The 'Works' kit liberates an additional forty horses from the stock Cooper S, giving drivers of the tiny British subcompact near unlimited thrills. (Photo: MINI U.S.A.)
What's the fastest and quickest OEM MINI that money can buy? If you said the Cooper S Works, you'd be wrong. While it's true that it's a mighty MINI that's still covered by the factory warranty, the 'Works' is a package which must be ordered separately. If you wanted one, you'd have to be an existing owner with some extra cash in the wallet, not to mention ten hours of time to install it, or even more cash to throw at your local MINI service center for installation. But, from October onwards things will change as the MINI Cooper S will be available with the Works kit, directly from the factory.
After two and a half years and 10,000 units sold, demand for the JCW (John Cooper Works) kit has increased. As if being the only MINI-endorsed tuning kit on the market weren't enough, BMW has added the icing on the Cooper cake by officially making it part of its production line option list this October. While the 2006 Mini Cooper S and Cooper S Cabriolet supercharged inline-four is stronger than ever, with a 170-horsepower 1.6-liter now under the abbreviated hood, the kit liberates an additional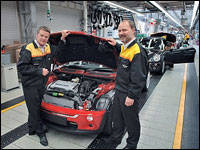 The Cooper S Works option purchased straight from the factory comes with all the performance goodies. (Photo: MINI U.S.A.)
forty horses giving drivers of the tiny British subcompact near unlimited thrills.
The Mini Cooper S JCW kit, purchased separately is an engine treatment which injects some added kick into the standard motor, includes a new cylinder head with higher compression, an upgraded supercharger, increased output fuel injectors, a racing-spec air filter, revised engine mapping, and new pulleys for the supercharger. The 210 horses that the kit provides trims the MINI Cooper's 0 to 60 mph sprint down from 7.1 seconds to just 6.5 seconds.