When people think of the electric car, they still see that small, comical, short-ranged automobile that we all fear we'll be stuck with when the world's runs out of petrol. But for years' already, California-based Tesla has been offering the Roadster - a cool-looking two-seater that goes the distance.
Tesla has now brought out the five-seater Model S, available with a extra two seats for small children.
The opposition on the electric car market has so far been scarce for Tesla, the main competition being, at best, still in the shape of promising prototypes. Audi has the R8 e-tron, supposed to come out towards the end of 2012.
Infiniti has the LE concept - an 100% electric-powered car unveiled at the New York Auto Show - but has yet to confirm a date for when it will be commercialized.
Price for the Model S varies according to the battery range. The first of three option is a 40 kWh version (costs $50,000), that can take you anywhere in the 257 km range. Then there is the 60 kWh ($60,000) good for 370 km, and finally the 85 kWh ($70,000) that will go 483 km.
That last alternative also comes in a faster trim, that will do 0-100 km/h in 4.4s (rather than the 5.6s of the "standard version"), but costs $15,000 more for the same range.
All batteries are guaranteed for eighth years.
Design with efficiency in mind, the Tesla S is sleek to look at. No exuberant wheels, no door handles sticking out, even the electric plug is tucked behind the rear headlamp for better aerodynamics. The car having no exhaust system, the body was closed at the back to further reduce drag under the car.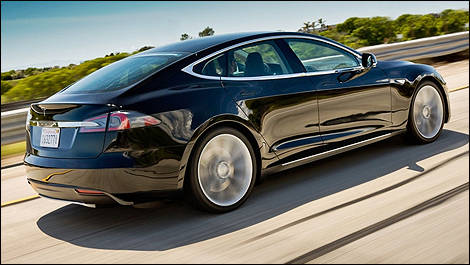 Design with efficiency in mind, the Tesla S is sleek to look at. (Photo: Tesla)
The black microfiber seats help to give the interior a sporty look. Other textures are optionals, such as napa leather. Also available is a panoramic glass roof.
To better stay in tune with all the car's systems, the onboard computer is operated by the driver through a 17 inch high-resolution screen. Navigation and audio systems are displayed, as well as the battery's charge. It also features two USB and WiFi ports, 12 speakers and can store up to 3,000 songs.
For charging, adaptors allow you to plug in either North American 110 or 220V.
The Model S will be available starting this fall. So far, Tesla only has one dealership in Canada, which is located in Toronto.