Taking a Cue from Chrysler with Bolder Future Designs
The current Sportback is, well, a Lancer wagon. Its name is sporty, and it goes pretty well since Mitsubishi figured out that only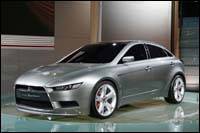 The current Sportback is, well, a Lancer wagon. Could the new Sportbackconcept, introduced earlier this week in Frankfurt, be a thinlydisguised version of its replacement? (Photo: Mitsubishi Motors NorthAmeirca)
outfitting it with a conventional (read no manual-mode) four-speed automatic gearbox wouldn't exactly attract the sport compact crowd that was hot on the five-door market segment when it debuted. Now, a five-speed manual is also available, at least in the U.S. The Canadian division either didn't havethe foresight or couldn't substantiate the nominal sales it would experience to keep the updated model around. But the Lancer will soon be getting thoroughly updated, and with that comes an opportunity to redefine the Sportback model, and hopefully in doing so come up with something that will be more enticing among sport compact buyers.
Could the Sportback concept that just debuted in Frankfurt be a thinly disguised version of what we can expect? I, for one, hope so. It looks fabulous. There's nothing cutesy about this one. It's as bold as a Chrysler 300C, but in an oh-so-Japanese way. The most aggressive bit of design is its shark-like bisected grille opening, appearing as if it could suck the pavement right off the road as it applies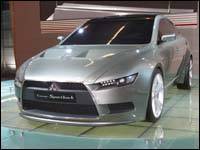 The headlight cutouts are also uniquely Japanese. Creased sharply as if shaped by an origami paper folding expert. (Photo: Mitsubishi Motors North America)
F1 levels of downforce. Whether or not it actually does apply downforce is another question, but from a design perspective it's wonderfully intimidating.
The headlight cutouts are also uniquely Japanese. Creased sharply as if shaped by an origami paper folding expert, they mimic those in the rear - albeit flipped upside down. Some will critique the Sportback's styling as too close to others already on the market, such as Infiniti's FX when viewing from the rear three quarter, or Mazda's RX-8 when attention is focused on the front wheel arches. But in the case of the latter, Mitsubishi has used this design language for much longer than Mazda. Just take a look at the Montero's curvaceous front fenders. The new Ford Iosis concept might be closest to the Sportback on the Frankfurt stand, but Ford designers could learn a thing or two from those at Mitsubishi in this respect. Where the Sportback's angled grille opening is menacingly aggressive, the Iosis' grille looks as if it was pulled directly from a previous generation Ford Windstar minivan, about as well integrated into the design as a VW Beetle with a Rolls-Royce front end (remember those)?