Styling Updates are Subtle but 300-HP V6 is Anything But
Having attained the title as the most popular sports car in North America nearly every year since its launch, Nissan has chosen to update its iconic 350Z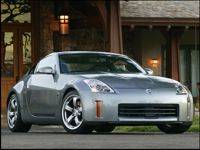 Nissan has chosen to update its iconic 350Z sports coupe and roadster for 2006. (Photo: Nissan Canada)
sports coupe and roadster for 2006. Now in its fourth model year with over 100,000 units sold, the Z will undergo its first update, increasing specification in coupe mode, and making minor changes on both models to improve value and sporting character.
Like Porsche's 911 Club Coupe, Nissan didn't choose to launch the new in the hustle and bustle of a major auto show but amongst a crowd that truly admires the Z in particular. This coming year's model was shown for the first time at the 18th International Z Car Convention in Syracuse, New York, which took place in mid August.
Speaking of the occasion, Mark McNabb, VP and General Manager of Nissan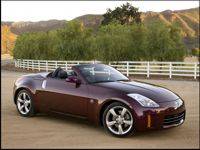 The updates that constitute the revision include new headlights with xenon low and high beams, LED tail lamp clusters and a new grille. (Photo: Nissan Canada)
North America said, "We're proud to once again be participating in this great grassroots Z gathering," He also added, "We're also pleased that our loyal Z owners will be among the first to see the enhanced 2006 350 Z model."
Highlights from the event, which took place on the 15th to 19th of August, included a track day at the historic Watkins Glen road course, an autocross competition, drifting demonstration, charitable auction, car show, and an appearance by Yutaka Katayama, also known as Mr. K, or Mr. Z for his involvement in the Z-project.