Want a cool used car? With the second-generation Audi TT now on sale, first-generation machines are rapidly finding their way onto dealer lots as trade-ins. Audi put attention to radical styling on the map with the first-generation TT- which competed with the likes of the Nissan 350Z, Mercedes-Benz SLK, Honda S2000, BMW Z4 and Porsche Boxter. None of these managed look quite as unique as the Audi. It tends to be considered gorgeous- though some say it's akin to an overturned bathtub. It all depends on who you ask.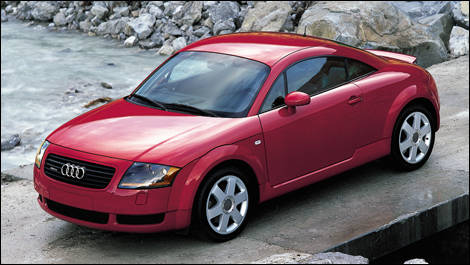 2002 Audi TT Coupé
TT came with a slew of engine, transmission and drivetrain configurations to match a variety of needs. Four cylinder turbo engines were available in 1.8 litres displacement producing 180 or 225 horsepower. A step up to six-cylinder territory got owners into the 250 horsepower range from a 3.2 litre powerplant. Five-speed or six-speed manuals were fitted, and an automatic could be had in newer models as well. If you aren't a die-hard horsepower enthusiast, either four-cylinder engine should do you well. Quattro all wheel drive was optional on the 180 horsepower engine and standard on the larger ones.
This machine earned a loyal following of fans and owners- but also a list of well documented problems and issues. Not to frighten anybody - because the TT provides more in terms of motoring enjoyment than it does in headaches. In fact, as far as a used sports car goes, investigation reveals this one to be one of the better choices. It always pays to be informed.
The most famous issue you'll come across is a handling-related recall, as the TT was prone to something called lift-off-oversteer. If cornering too quickly, the car could easily lose control if the driver jumped off the accelerator. The TT's handling was called into question, and a recall was issued in order to make several corrective modifications. These included a rear spoiler to add downforce, as well as upgraded stabilizer bars.
Another common issue is timing belt maintenance. A timing belt is changed periodically to ensure that it never actually breaks. If it does, catastrophic engine damage is likely. TT owners report repairs in the range of $4,000 to $6,000 if this occurs. This is well known, as a higher-than-comfortable number of owners reported premature failure of timing belts well before the 170,000 kilometer recommended service interval.
Read this twice: it's imperative if buying a used TT that you know the mileage on the engine's timing belt and have it changed religiously. Many owners suggest changing the belt every 100,000 km to be safe.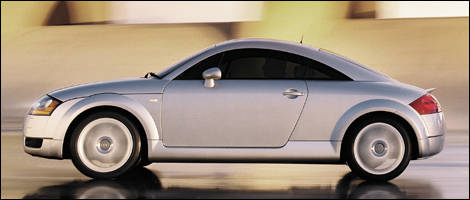 2002 Audi TT Coupé