Ok, cue the Elgar, and with the sound of Land of Hope and Glory ringing in my ears, I shall now proudly declare to the world that I'm a proud British subject, and that I absolutely adore the new
MINI Clubman
.
Never mind the fact that the MINI brand is now owned by BMW, a German company, or the fact that I'm actually a dual Canadian/British citizen nowadays. None of that matters to me, because if I want to wave my automotive team flag, I don't really have much choice.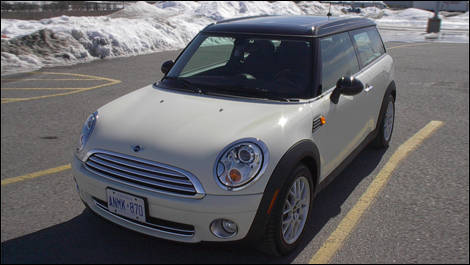 I'm a proud British subject, and I absolutely adore the new MINI Clubman.
You see, we may build a ton of American and Japanese cars here in Canada, but do we really consider them Canadian vehicles? I don't think so, not in the real sense of the word!
So until such time as some new Canadian car manufacturer emerges and finally produces the "Saskatchewan Screamer", I'm going to don my Union Jack boxer shorts and sing the praises of the British motor car industry, or at least, what's left of it!
Which brings us nicely to this week's test vehicle, the new MINI Clubman?
This vehicle makes so much sense to me. After all, I was brought up in the days of the original MINI, when they produced so many model variations, that it was difficult to count them all.
There was the original little MINI, the MINI Cooper and Cooper S. Then came the MINI Traveler (the Woody Wagon), the MINI Van (not to be confused with the people carrier of later fame), and there was even a MINI Pickup truck.
That was the practicality of a front transverse-mounted engine in a small front wheel drive vehicle. Something, that over the years, many other manufacturers came to realize.
So now we have the launch of the new Clubman, although, in many ways, I think that it should have been called the Traveler after the original MINI station wagon. BMW took a little poetic license with that and named it after the old Clubman model which was, in fact, a disastrous attempt by British Leyland to update the original MINI by fitting an ugly square shaped front end to it. Not a popular decision to say the least, and was therefore soon dropped from the range.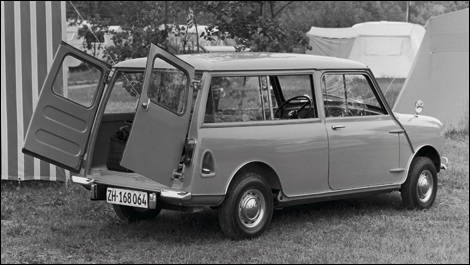 Morris Mini-Traveller