It's nice to see at least one American automaker staying true to their family-hauling roots. In a market where crossover SUVs have largely made the minivan irrelevant, Chrysler and Dodge are the only remaining American brands that continue to offer one.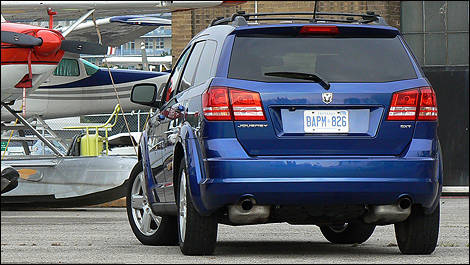 Decked out with a full arsenal of goodies, the nicely-loaded tester came in at just over $29,000.
Of course, the latest generation of Dodge's famed people-mover is only available in a '
Grand Caravan
' designation-- indicating its lengthy wheelbase and hefty size. The Grand Caravan is like the regular minivan combo, but supersized. Much to the likely disappointment of folks who got by on the shorter-wheelbase magic-wagon, a standard-length Dodge minivan is no longer available.
Well, sort of.
The Dodge Crossover
The
Dodge Journey
fills the hole left in Dodge's lineup by the standard-length Caravan, replacing it with a machine that does most of the same tricks in a smaller package. Journey's lack of sliding doors slots it into the catch-all 'crossover' category, though it's different from many of the 'me-too' competitors that reside here.
How so?
There's a level of thoughtful utility and handiness that puts the Journey a step above its competition where real-life functionality is concerned. Chrysler's minivan expertise is glaringly apparent here, and that's a good thing.
Covert compartments and storage galore
The tester was jam-packed full of clever and highly-useful storage solutions-- and we're not just talking the basics. Beyond the typical cubbies and compartments, designers snuck storage into some far less likely places.
The front passenger seat, for instance, opens up to reveal a covert bin beneath its cushion. This is ideal for keeping high-value items out of sight, and the seat-back can even be folded flat to create a flat workstation as needed. It's ideal for those using the Journey as a mobile office from 9 to 5.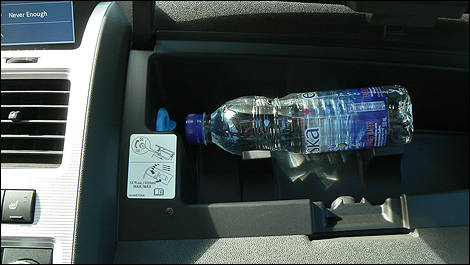 In the upper glove-box of which functions as a chilled mini-fridge, keeps beverages and snacks cool on the go.