One could arguably say that Buick survived GM's slash-and-burn restructure process because the brand is living large in China. Over there, it's considered a top-tier luxury brand and enjoys breezy sales, which has enticed GM to capitalize on their newfound reputation.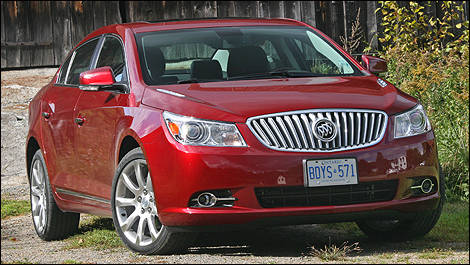 Buick's renaissance is arguably centered on the LaCrosse and the Regal. (Photo: Luc Gagné/Auto123.com)
As such, Buick's Chinese line-up includes the Enclave, the LaCrosse and the new
Regal
, but also the GL8 minivan (a reskinned Buick Terraza), the Park Avenue (a Holden Commodore clone) as well as the Excelle family, which are rebadged Daewoos and was used to be sold in North America as the
Chevy Optra
or Suzuki Reno/Forenza models. In North America, we're spoiled with the exclusive Lucerne (whoopee...).
So Buick's renaissance is, arguably, centered on the
LaCrosse
and the Regal. Our test car, a loaded-to-the-sunroof LaCrosse CXS, is a breakaway from the baroque luxo-liners of yesteryear. Not that this car isn't luxurious, mind you.
The cockpit is an inviting environment. At nightfall, a soft blue glow creeps out of the dash, the door panels and the centre console to create a soothing ambiance. What looks like stitched leather dash and door trim is actually vinyl, but nonetheless looks better than hard and hollow plastic.
There is a dizzying amount of buttons on the centre stack, which are all the same colour and of similar size. We can't imagine the geriatric crowd mastering this switchgear while driving, because after a week of commuting in the LaCrosse, we are still confused by the layout.
The Buick also benefits from upscale creature comforts such as a heated steering wheel, cooled front seats, a power rear window sunshade, head-up display, a blind-spot monitor, a power panoramic sunroof and a dual-screen, rear-seat DVD entertainment system. Eat your heart out, Cadillac.
Rear-seat space isn't all that generous because headroom is limited, but the bench can sit three across comfortably.
After a week of commuting, we are still confused by the dizzying amount of buttons. (Photo: Luc Gagné/Auto123.com)