For Japanese manufacturer Mazda, the
Los Angeles Auto Show
is a true celebration. Having just taken back the reigns of its destiny by buying back 20% of Ford's shares, the automaker is taking advantage of the California show to launch is most popular model, the
Mazda3
.
And popular is quite an understatement. Worldwide, the Mazda3 represents 30% of the manufacturer's total sales. If the exterior design changes aren't blatant, except for an obvious resemblance with the
new Mazda6
, the front fascia has been seriously updated. The hood lines are directly inspired from what Mazda has been serving up on its numerous prototypes for years in terms of style, and are more flowing. The head lamps and air intakes under each line are all liquid.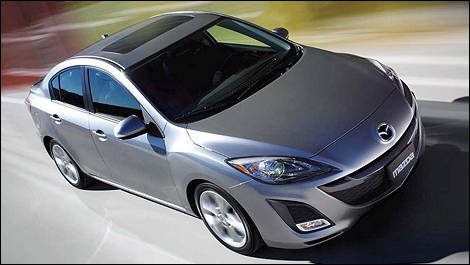 Mazda3 2010
Currently only available as a sedan, it's keeping its 2-litre engine but will offer a more powerful 2.5-litre version, which Mazda promises will be more
fuel efficient
and less thirsty. Mazda says, however, that the little car has retained its sporty and dynamic personality.
These statements will be easily verifiable, as a group of journalists, Auto123 included, are taking advantage of the show to hit California's roads behind the wheel of this latest machine in the next few days.
photo:
Mazda
2008 Mazda 3