The electric car project is fast becoming a reality. That is, if we're to believe the various automakers and their spokespeople. Nissan, for instance, proudly exhibited and championed the Leaf at the New York International Auto Show. Carlos Tavares, Executive Vice President of Nissan North America, seized the opportunity to meet with a few Canadian journalists and detail his company's plan for the
Leaf
— "pending government approval."
According to Tavares, there won't be a Leaf in showrooms if the Harper administration doesn't provide incentives to consumers. Given the current times, that might spell bad news for the Japanese electric car in Canada or at least delay its entry on the market.
"In the United States, buyers get a federal tax rebate of $7,500. Add the California tax credit of $5,000 and the Leaf only costs about $20,000, which is a very attractive price," he explained.
Consumers literally have to receive government subsidies in order to go ahead and purchase an electric car, a situation deemed "normal" by Tavares as the economy slowly but surely rises back. "For the next 3 to 5 years, this type of financial support will indeed prove indispensable. If we're unable to get it [in Canada], we might very well choose to turn to another market," he said.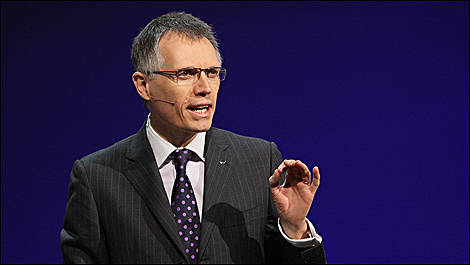 Carlos Tavares, Executive Vice President of Nissan (Photo: Philippe Champoux/Auto123.com)
"The lack of financial support and people's limited knowledge of electric vehicles will likely translate into marginal sales during the first few years," he confessed. "In a couple of weeks, we'll be launching a pre-order campaign in the U.S. So far, 80,000 potential buyers have shown interest on our website. We'll see in August how many of them actually turn their interest into a pre-order. The various tax incentives at least guarantee a certain sales volume."
In other words, no incentive and no guarantee mean no market for the Leaf.
For now, Carlos Tavares refuses to comment about the possibility of such measures in Canada. "All I can say is that consumers are demanding solutions and that the government must listen to them. It's up to the government to make choices accordingly," he claimed.
Nissan on the right track
The meeting at the New York Auto Show also included discussions on newly-developed Nissan products like the QX56 sport utility vehicle, which just made its world debut.
"The QX56 is a highly-capable SUV in any situation and a true Infiniti with regard to luxury and feel. We used the Nissan Patrol platform because it satisfies all these requirements," said Tavares. "As for the
Armada
, it will soon bow out in favor of a more competitive alternative. Consumers will decide when the time is right. Finally, the Quest minivan will be back simply because the market still demands it and the competition remains scarce. Nissan can't pass up on such an opportunity. "