The New York International Auto Show is the most popular car exhibition in North America — and for good reason. Not only does it take place in a world-famous megalopolis, but it also sets the stage for non-stop surprises and stimulations.
Kia Forte 5-Door (Photo: Philippe Champoux/Auto123.com)
This year, never was the show more spectacular and exciting than during the second media day. The Korean manufacturers, in particular, took the Big Apple by storm and used it as a launch pad for several hot products.
Kia literally stole the spotlight with no less than four new models, proving that the company's design is maturing way beyond what we had predicted just months ago. The big guns include the Kia Forte 5-Door, a compact hatchback whose lines point to a rosy future. That said, their greatest accomplishment is arguably the next-generation Kia Optima (a.k.a. Magentis in Canada), which introduced a bold, head-turning look. The Sportage CUV (cousin of the equally well-executed Hyundai Tucson) and the
Sorento
SX (a new model in the Sorento lineup) rounded out Kia's product offensive.
Meanwhile, Hyundai seized the opportunity to unveil their spectacular Equus premium sedan in front of North American journalists. Is there really a market for this kind of model? The optimistic folks at Hyundai sure seem to think so, especially in the U.S.
Elsewhere, it was hard to overlook a sports car like the
Subaru WRX STi 4-Door
. I mean, have you seen the rear wing spoiler? Just like in the good old days of the STi…
And of course, the launch of Scion the day before, despite a lack of high-end products, represented one of the first encounters between Canadian auto journalists and the emerging, youth-oriented Toyota division that's coming north of the border this fall.
Overall, the 2010 New York International Auto Show had a more pleasant feel to it. The pace, the atmosphere, the smiles… Every representative from every automaker looked enthusiastic, even those at Toyota despite one of the worst crisis in the company's history. Recent sales results, particularly in March, indeed confirm that the auto industry is once again sailing in the right direction. Clearly, New York was the first genuine expression of this revival.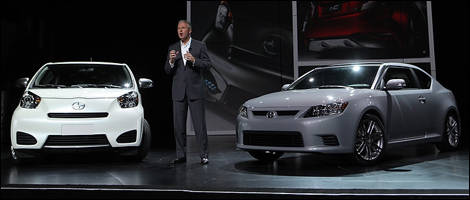 Photo: Philippe Champoux/Auto123.com