Subtlety has never been Lamborghini's claim to fame. But the
Sesto Elemento concept
unveiled at the Paris auto show lifts the Italian automaker's look of lethal aggression to new heights.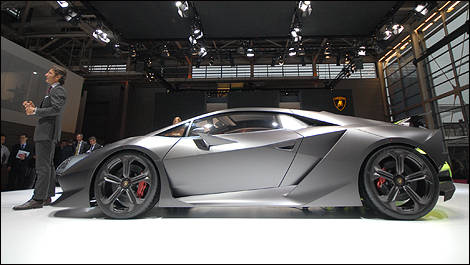 Photo: Matthieu Lambert/Auto123.com
Hatchet-like, the Sesto Elemento is cut like a giant wedge with recurring triangular themes repeated throughout the design. Deep sidelines begin at the front wheel arches, culminating in an abrupt slice at the bulging rear haunches.
Its name is Italian, meaning "sixth element" and is derived from science's periodic table where the sixth element is carbon. The Sesto Elemento is a showcase of carbon-fibre reinforced plastics (CFRP) technology, Lamborghini being the world's first manufacturer to master this process.
Carbon-fibre panels have become almost commonplace. But the Sesto Elemento's entire front frame, roof and floor, exterior panels, major suspension components, and rims are made with carbon fibre. It's also used extensively throughout the interior, a forged composite tub fixed to the carbon-fibre monocoque. The result is an ultra-low curb weight of just 999 kg, including the V10 powertrain. With an output of 570 hp, the full- time all-wheel drive Sesto Elemento has an astounding power-to-weight ratio, sprints from 0 to 100 km/h in 2.5 seconds… yet delivers reasonable fuel consumption due to its light weight.
"The Lamborghini Sesto Elemento shows how the future of the super sports car can look – extreme lightweight engineering, combined with extreme performance results in extreme driving fun" comments Stephan Winkelmann, President and CEO of Automobili Lamborghini.
We certainly are looking forward to an extreme future.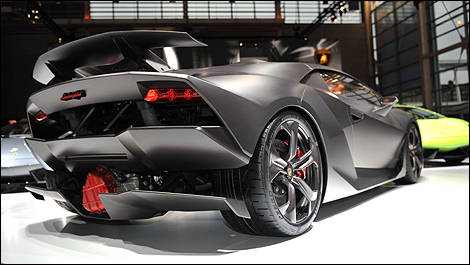 Photo: Matthieu Lambert/Auto123.com