On day two of the Paris Auto Show, I wandered the pavilions looking for ideas, companies and products that demonstrated any type of green bias. Low and behold, they were all over the place.
Everybody is on the bandwagon! From the largest carmakers to the very numerous tiniest independent companies that perform conversions, there was no way for me to delve deeper into all of them.
Apropos, what also caught my attention was the significant number of microcar companies on hand. Ligier, Chatenet, Due, Aixam, Mega which makes many mini-trucks and some cars, to name a few, are all prominent on the European landscape. Hey, here's an interesting bit of info: for many of these microcars, you don't need a driver's permit! I had no idea...
The following is my list of cars, technologies and companies that I think deserve some extra attention. Be sure to click through the gallery and the links to find out more. Who knows, someday, one of these companies or ideas may become as common as an Esso station with a Tim Horton attached to it.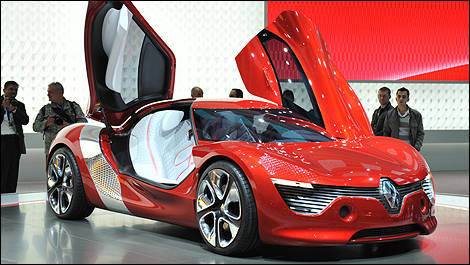 Photo: Matthieu Lambert/Auto123.com
1- Renault DeZir:
Say what you will about the overall design of the car, whether it looks too much like an
Audi R8
or not, the
DeZir
is a compelling exercise in design, both functional and artistic. With the DeZir and the Z.E. line-up, Renault is in the early stages of an EV onslaught of unprecedented scale. The group of Z.E. Cars includes the Fluence, a 4-door sedan, the Kangoo Express, a compact delivery van, the Zoe, a compact people mover and finally, the Twizy, a scooter-like 2-seater with four wheels.
I picked the DeZir more as symbol of Renault's intents than for its technology, which is considerable, than its looks. Although, I must say that the opposite scissor doors are very cool. There are rumours circulating about that would have this car become the next Alpine. Read more here on the DeZir.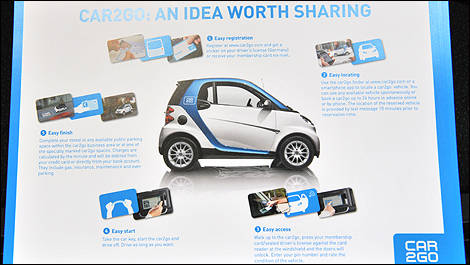 Photo: Matthieu Lambert/Auto123.com


2- smart 2GO edition:
This is an innovative urban mobility program that puts smart cars at members' disposal. In a big city, this is the ultimate way to get around at minimal cost and without all the headaches that are usually associated with automobile ownership. Obviously, many of us would have a hard time parting with their beloved cars, but for those that only require four wheel on occasion, this is the best deal going.
The special fortwo features a new control unit with touchscreen interaction and a 100 Watt solar roof panel to recharge the vehicle's battery and power its telematics.
The North American operation is based in Austin, Texas and it has just reached 10,000 registered members and since the program was launched, over 80,000 rentals have been made.
(
http://www.youtube.com/watch?v=kK9LCMOsvHk
)