If you haven't noticed, Hyundai is on a bit of a rampage with their latest models. Built to carry forward on the high-speed, high-style momentum started by the
Genesis coupe
and
Sedan
, the Korean automaker is gearing up the
2011 Sonata
for sales success, too.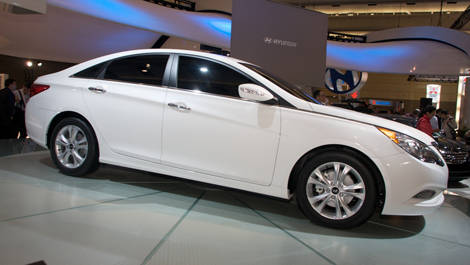 photo: Michael Wong
Styling is the big story here. Showgoers at the Canadian International Auto Show (CIAS) in Toronto, Ontario, checked out the Sonata's sleek, elegant and sophisticated new look. Visuals are a major departure from the more generic-looks of the outgoing Sonata, thanks in part to the brand's new 'Fluidic Sculpture' styling language. Apparently, we'll be more of it soon.
If imitation is the sincerest form of flattery, designers at various German automakers should be blushing like schoolgirls. The 2011 Sonata has definite influences from the Volkswagen Passat CC, Mercedes CLS, and Audi A6. Look for factory wheels ranging from 16 to 18 inches in diameter, accented by chrome trim, fog lamps and plenty of detail.
Inside, the dash and console flow into one another with an ultra-modern and swoopy shape. Climate and infotainment controls look Volvo and Infiniti-esque, respectively. Leather surfaces, push-button engine start and Genesis Coupe-inspired gauges were all on full display as well.
More big news occurs under the hood. Hyundai engineers have been busily tweaking their 'Theta' series four-cylinder engine to accept high-compression pistons and a direct injection fuel delivery system. The end result is a highly revised 'Theta II' 2.4 litre unit with an estimated 200 horsepower. The engine delivers reduced emissions and mileage compared to the outgoing powerplant, too.
Shoppers can opt for a six-speed transmission in their choice of manual or automatic, as well as a turbocharged four-cylinder engine after the Sonata's initial launch. No V6 engine is available or planned at this time-- though Sonata's entry-level engine makes about 25 more horsepower than any of its key competitors.
According to Hyundai, options will include a slick touch-screen navigation system on all trim levels, an Infinity audio system, and standard iPod and USB inputs for your tunes. A Bluetooth phone system will be standard on all models as well, helping owners to safely yak on the go.
Speaking of safety, Hyundai's 2011 Sonata will get advanced airbag technology, an Electronic Stability Control (ESC) system and high-tech braking hardware with standard antilock.
Is it safe to get excited about the new Sonata? It seems so-- relatively speaking. It's clear that Hyundai's zeroed in on some fairly widespread weaknesses in the Sonata's competitive set, including a lack of exciting styling and some key features on certain models. That said, the Sonata's new promise of style and performance will be put to the test when it enters the ring with its sportier competitors-- namely the Mazda 6 and Nissan Altima.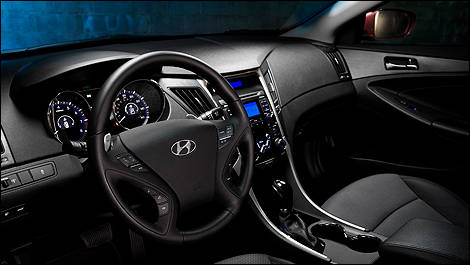 Photo: Hyundai